The Maid of Orleans
Pyotr Ilyich Tchaikovsky
Deutsche Oper am Rhein
Deutsche Oper am Rhein, Dusseldorf, Germany
–

Listing details and ticket info...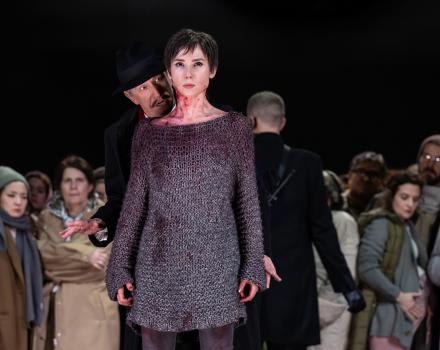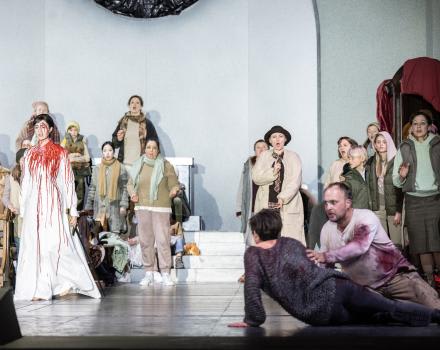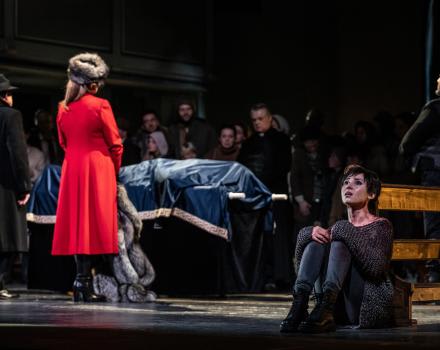 As Tchaikovsky's The Maid of Orleans is performed so rarely, it is a pity that Elisabeth Stöppler's production, conducted by Vitali Alekseenok, is not staged more conventionally. The whole action takes place in an empty church. There is no pageantry whatsoever and The Maid of Orleans desperately needs spectacle if it is to succeed theatrically.
The chorus is dressed in modern casuals. The king and his court wear suits. The production is drab and colourless, except for one or two striking sculptural chorus tableaux at ends of acts.
Generally, the cast stand, sit and kneel among the pews. Nobody, apart from Evez Abdulla as Dunois, the French military leader, looks remotely medieval. The only acknowledgement that the action is taking place in the 15th century is that Joan wears a chainmail sweater.
For those of us who have neither seen nor read Friedrich Schiller's play, it is a major surprise that Joan (Maria Kataeva) should fall passionately in love with Lionel, a Burgundian knight and enemy of France. Instead of killing Lionel (Richard Šveda), she falls in love with him. "I love you more than life," she declares.
For those of us brought up on Bernard Shaw's 1923 play, Saint Joan, and Carl Theodor Dreyer's 1928 French silent film, The Passion of Joan of Arc with Renée Jeanne Falconetti as Joan, the even bigger surprise is that there is no trial.
Maria Kataeva looks more tormented than most Joans I have seen. "I feel terrible," she says. She looks terrible. It is difficult to believe Lionel loves her and even more difficult that she loves Lionel. Kataeva's Joan doesn't look like she would fall in love with anybody.
Joan is given a doppelganger, an angel vision, who stalks her throughout. The most dramatic moment is when Joan's own father (Sami Luttinen) accuses her of being an agent of the devil. However, Joan is burned at the stake, not for her heresy but for giving her soul to a mortal rather than to God. She has to atone for her sinful passion. It's a lot of romantic nonsense.
King Charles VII (Sergej Khomov) frankly confesses he prefers kissing his mistress, Agnes Sorel (Luiza Fatyol), to ruling the country and saving France from England. Khomov throwing money in the air and Fatyol, in a fur coat, look like caricatures.
Tchaikovsky's opera has its biggest impact when the chorus is fervently delivering prayers for victory and peace.
Deutsche Oper am Rhein's The Maid of Orleans can be viewed free on the OperaVision channel.
Reviewer: Robert Tanitch