The Maids
Jean Genet, translation by Martin Crimp
HOME Manchester
HOME Manchester
–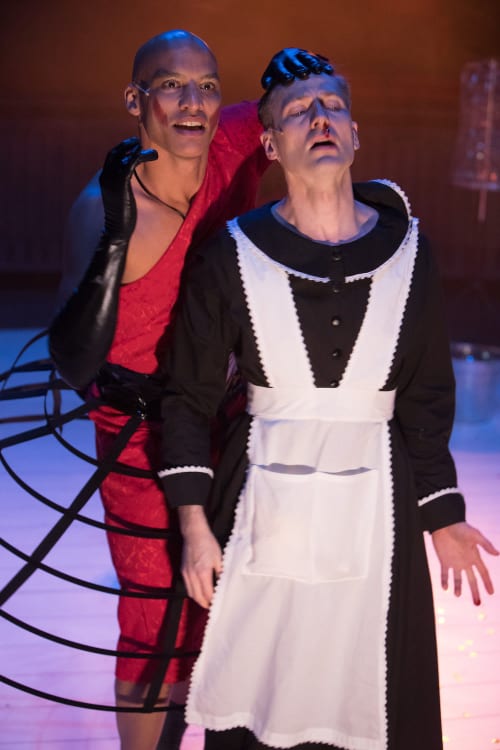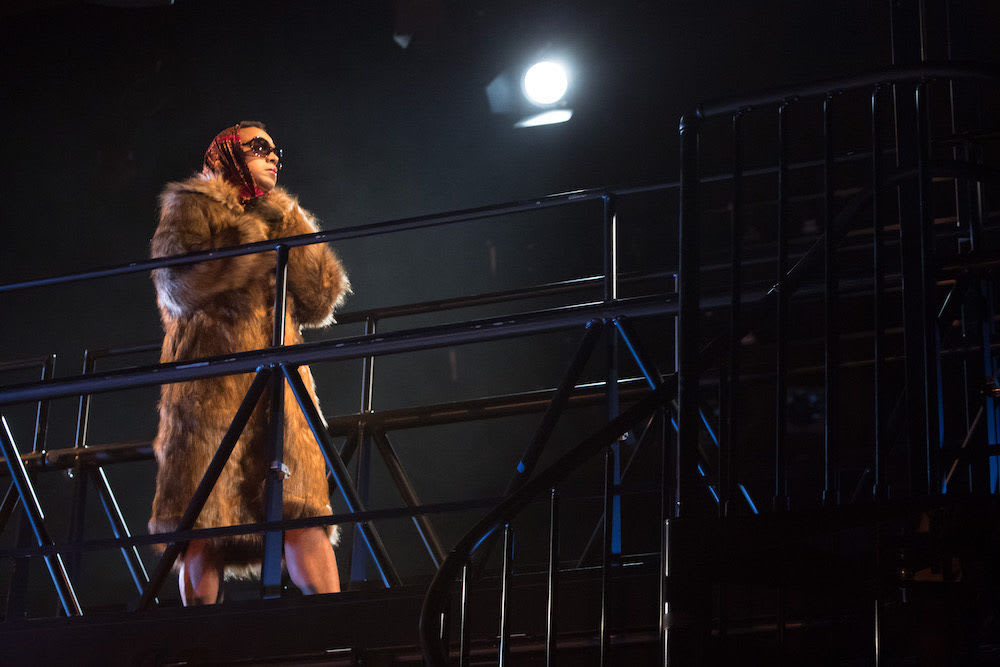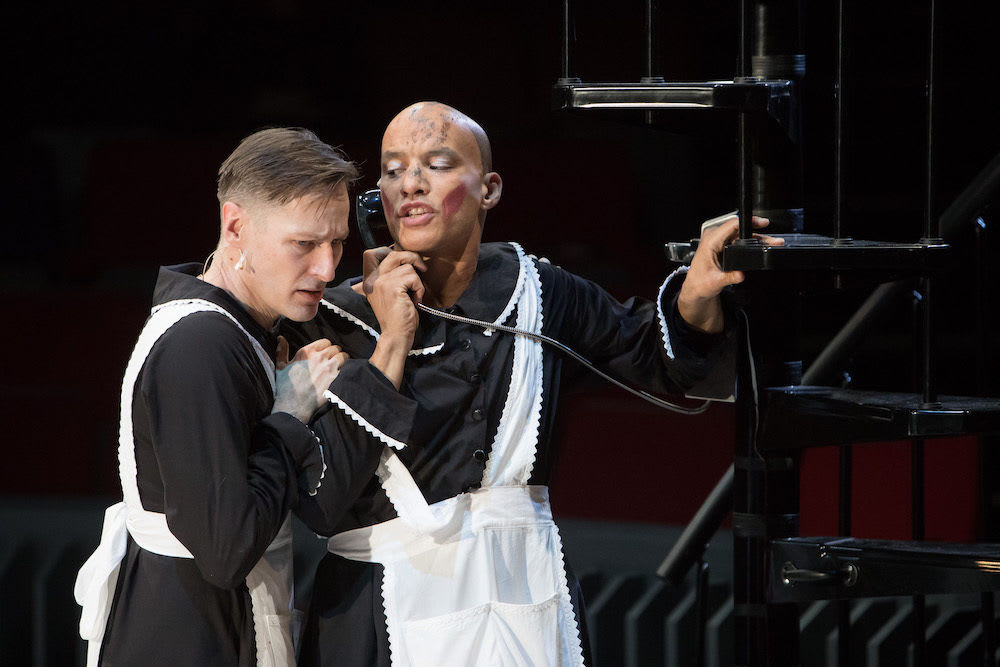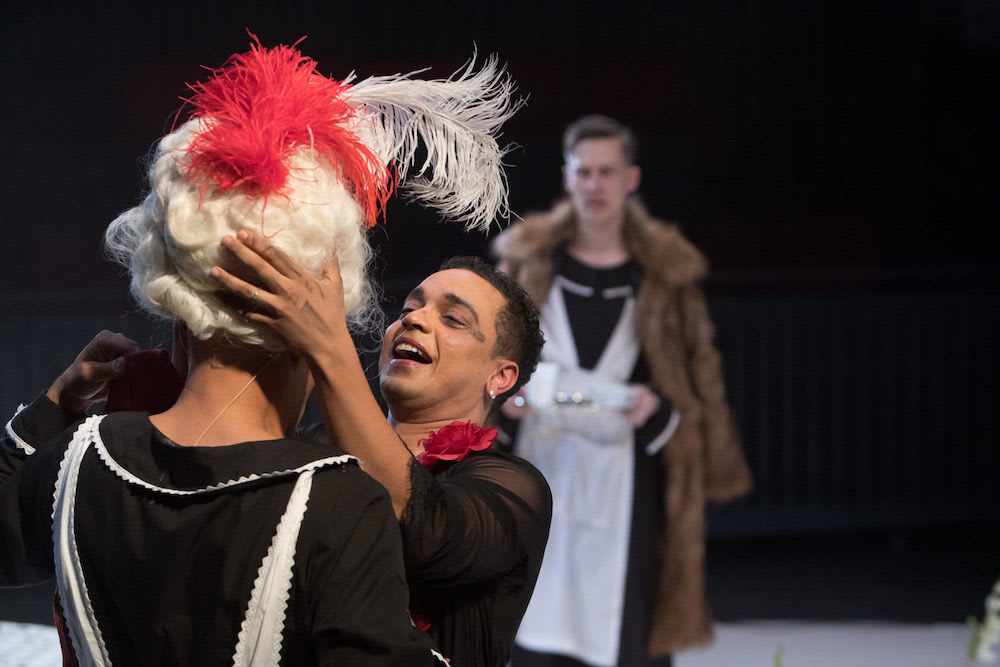 Entering Home's Theatre 1 is quite disorientating as it looks very different to how it ever has before. The stalls have been removed, replaced by a raised, round stage, and the seating now goes around the circle and across the usual stage to create a complete in-the-round space that looks as though it has always been like this, not something cobbled together for just one production. A brilliant job from Home's stage crew.
Inside the circus ring, director Lily Sykes has framed Genet's play to bring in some of the author's life. The three actors begin as prisoners in mustard-coloured overalls with numbers on their backs while titles on a screen provide statistics of Genet's own transgressions of the law and, in case we hadn't noticed, emphasis that the three female roles are played by men, not women. This isn't something unique to this production as these parts have often been cast as men, and in fact even Sartre was convinced that his friend Genet wrote them to be played this way.
After some opening interaction with the audience and an interesting visual depiction of the confusion of good and evil, the play begins with Claire (Jake Fairbrother) and Solange (Luke Mullins), the titular maids who are also sisters, play-acting the murder of their absent mistress, Claire donning their employer's red dress to take the part of their victim. However they don't quite complete the ritual, which involves strangulation with a rubber glove.
They are interrupted in their fantasies and squabbling by a phone call from the mistress's husband, who has been let out of prison on bail. It seems that he was arrested on the evidence contained in some anonymous letters sent by the maids, but they don't want their mistress to discover it was them, which she might if she gets hold of the letters and has the handwriting examined. When Mistress (Danny Lee Wynter) eventually arrives, she is distraught about her husband's arrest and appears to be a kind employer, saying she will leave all of her expensive clothes to her loyal maids, although she is full of class entitlement and doesn't understand the lives of those in the lower classes.
Once she is told of her husband's release, the cup of camomile containing the barbiturates, the proposed method of assassination, is brought out and there is a tension about whether or not the Mistress will drink it with a section that looks like it is influenced as much by slapstick comedy as by the popular thriller. Except here it doesn't really come across as either, despite a particularly compelling performance by Wynter who does raise a flutter from the audience whenever he starts to raise the cup to his lips.
In fact the whole production looks good and is performed with great conviction but doesn't live up to the opening visual section: as soon as the play as written kicks in, the pace slows and it becomes very wordy, the visuals from the on-stage camera and hanging screen hardly used effectively again. I certainly feel like I missed a few important story details when I found my attention wandering.
With concentration, you will be rewarded with some great lines and the conflicting morality does come across through the confusion of the plot and the staging, especially at the end, although after an hour and a half of slow, often confusing dialogue (that felt a lot longer to me), you may have lost the will to care by that point.
Reviewer: David Chadderton