The Man in The Middle
Ron Elisha
Theatre 503 and Cheepuk
Theatre 503
–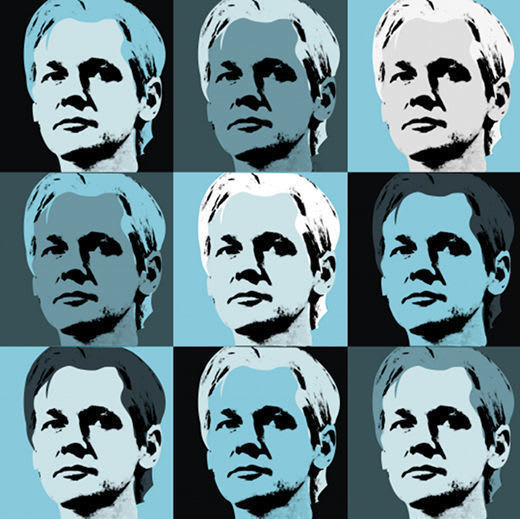 In an age of information technology, there must be very few people on the planet who have not heard of the notorious Julian Assange. In fact the programme notes state that he is "clearly one of the most significant figures to emerge on the world stage in recent years." Catapulted to fame via hacking, leaking documents and rape charges, he is a man embroiled in a sea of politics, human rights issues and PR spin.
This play charts the rise and fall of this contradictory man and the character is skilfully played by Darren Weller who strikes just the right balance between sincerity and arrogance. He creates a certain charisma in his interpretation whilst managing to remain a frustrated outsider. Opinions vary hugely regarding the real Assange and this stage version is no different.
"Ensemble production" is a phrase perhaps overused in recent years but suffice to say this play is very much a group showcase. The variety of accents and contrasting characters assumed by all of the actors offers detailed snapshots. Politicians, journalists, lawyers and PR men are all represented following their own agendas. Even Barak Obama and David Cameron feature in a comical yet icy vignette.
For such a small performance area, I have yet to see a production at Theatre 503 where the stage hasn't been used effectively. The conceit of using plain tables and a constant backdrop creates an impersonal atmosphere appropriate to the number of scenes in undisclosed offices and prisons. The screens, although not entirely necessary, change the look of each scene and tie in well with the digital projections used throughout.
This is a production that asks more questions than it answers and rightly so, for it does not just centre round Julian Assange but also broader philosophical themes encompassing perception and the very notion of truth. Despite this subject matter, however, this is a script full of biting wit. With deadpan delivery, the absurdity of many of the situations is highlighted but the script carefully manoeuvres around a concrete judgement or conclusion.
I am seriously considering viewing this production a second time as the script is so full of ideas and opinions that the audience is, ironically, given almost too much information.
Reviewer: Amy Yorston