The Man Jesus
Matthew Hurt
Ros Povey, Zoe Simpson and Seabright Productions in the Lyric Theatre Belfast Production
Curve, Leicester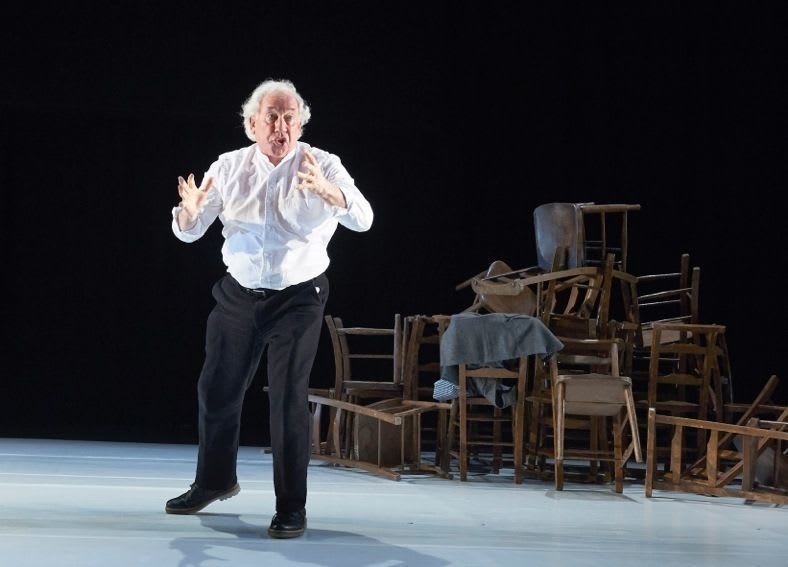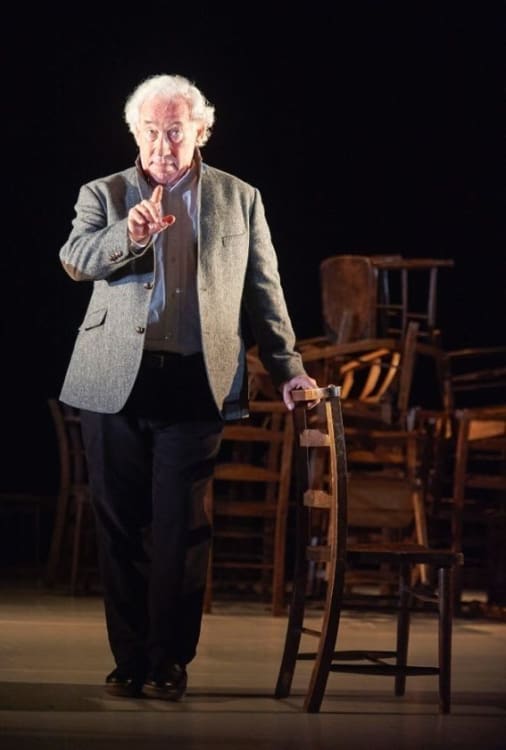 A stage bereft of adornment save for a projector screen and pile of wooden chairs gives due warning that The Man Jesus is more about the man rather than the iconography.
Following a successful première in 2013, master of the one-man play Simon Callow returns for an autumn tour of biblical proportions, performing an almost two-hour play at forty-one venues with barely a break in two months. He takes charismatic command from the start, skilfully portraying twelve individuals whose lives were touched by Jesus the Messiah, Jesus the rebel leader or Jesus, a simple carpenter from Nazareth depending on viewpoint.
Writer Matthew Hurt uses The Gospel of Mark to inform this absorbing play, beginning and ending with the views of Jesus's mother Mary and including, amongst others, the recollections of John the Baptist, Judas, Joanna, Herod and Pilate.
Callow's great skill is in his differentiation between these quite different characters, transforming from humble fisherman to well-to-do woman to Roman ruler via subtle changes in physicality as well as vocally: a turned up collar for Judas, grand, theatrical gestures for Pilate. His portrayal of Mary from ostracised young woman to bereaved mother is particularly poignant.
By using a range of regional accents, Callow reinforces the premise of the play which, according to Hurt, is "to reduce the figure of Jesus Christ to a mere man". The northern and Scottish accents and characterisations would not be out of place in Coronation Street along with echoes of Billy Connolly, all giving the sense that Jesus was an ordinary man who, in the last few years of his life, did extraordinary things.
There are regular reminders that these events played out whilst Jews were under the control of a brutal Roman regime; roadside crucifixions of 'terrorists' were commonplace, rape and exploitation of wives and daughters a constant reminder of the power of the occupying force.
Although the play does not dwell on the miracles, there is the sense that those whose lives were touched by Jesus found his compelling eyes and quiet confidence evidence enough that he will be the saviour to lead them away from occupation to freedom. However, one man's freedom fighter is another's terrorist and, although we are well-versed in how this particular story ends, the combination of excellent writing, sublime acting and direction (by Joseph Alford) provides an uncomfortable escalation of tension during the final scenes.
Fiammetta Horvat's minimalist set design and Mark Howland's understated lighting ensures the focus is entirely on Callow telling a version of the greatest story ever told and, as a storyteller, he is mesmerising.
Reviewer: Sally Jack