The Man Who Left Is Not the Man Who Came Home
Kevin Dyer
Farnham Maltings
Ropetackle Arts Centre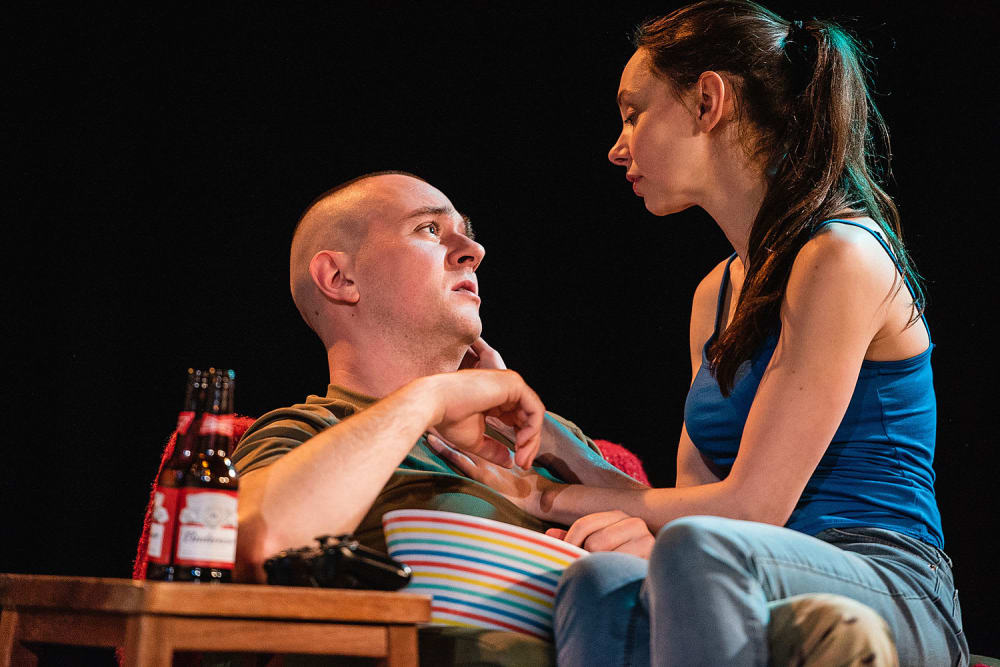 Good quality verbatim theatre is not always easy to find, particularly in suburban theatres and arts centres. Hurrah for The Man Who Left Is Not the Man Who Came Home which is currently touring after starting life at The Maltings in Farnham.
Born out of writer Kevin Dyer's wish to share stories of women "who watched their men go", this feels like a play for the modern day, so vital and up to date, with government cuts, world conflict and our understanding of PTSD improving every day. As part of the tour, The Man Who… stopped off at the brilliant community theatre The Ropeshackle Arts Centre to tell this Shoreham audience about "real lives at times of immense change."
The piece often feels like a Radio 4 'play for the day', a documentary drama feature with the narration from 'real' military wife Samantha Trussler interspersed with dramatic dialogue and flashbacks. Samantha clearly tells us that this is not her story being presented, yet there are moments that seem to resonate with her personally as she struggles to watch some of the more intensely angry scenes. This in itself is engaging as we try to imagine what life is like for the couples whose own lives are impacted by work in the armed forces.
It is rare that new writing has the opportunity to be so well researched and performed with such naturalistic commitment but this is one of those wonderful evenings of a synthesis of strong writing, subtle direction and performers who had clearly bought into their characters.
For those that like their theatre to have sparks of originality, they won't be disappointed with this production. There are many moments that challenge theatrical convention, which just adds to the engaging storytelling of Dyer's script. Sam Wilson's Ashley is already on stage offering to make pancakes for the audience as we wait for the start of the show, not quite knowing what to expect next. This creates a gentle way into the performance and offers a glimpse into the jovial, kind Ashley, the friendly soldier who left for war but did not come home the same man.
Wilson is well-cast as Ashley as we instantly warm to him and his charming wit. The change from before service to after is played effectively, without ever straying into villainous melodrama. We like Ashley, but we do not like whom he had become and this only helps to multiply the feelings of empathy towards his wife, Chloe, played by Stephanie Greer. The portrayal of their relationship is very convincing and, from the moment that Greer eats her first pancake through to the inevitable marital problems, there is never any doubt about her feelings of love, frustration and pain.
Perhaps the most interesting aspect of this particular performance is the way that the two stories are intertwined. It is such an interesting idea to have a 'real' storyteller, talking from experience, as this seems to make the performance more vital, more live and in the moment. Samantha Trussler speaks in an almost matter-of-fact manner, which in some ways makes her words more poignant. There is no dressing up of what the experience is like for those left at home and yet there is a glimmer of hope in Samantha's own story which seems important. There are nice touches with David Haworth's kitchen design and use of props to help tell various stories and keep us engaged with all of the action taking place in one space. The moments of drilling into the back of cupboards is a little distracting, though perhaps this may have been purposeful?
The performance was followed by a discussion with the audience, a reverse Q and A if you like, where the performers asked us, the audience, to share our thoughts and feelings. Suddenly the performance took a new turn and began a conversation that many wanted to carry on having, long after the lights had gone down. This is a fitting end to a really engaging piece, doing what all good theatre should do, namely leaving the audience reflecting on the performance well into the evening.
The tour continues throughout the country until the end of the month and I can't recommend it highly enough.
Reviewer: John Johnson