The Man Who Planted Trees

Puppet State Theatre
Scottish Storytelling Centre
–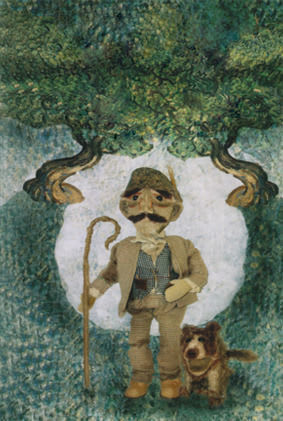 It's great to approach a venue and see the "sold out" notice across the poster, especially for a show as good as this one.
Puppet State has performed The Man Who Planted Trees at the same venue for seven out of eight Fringes, and between has toured the world with it. It has somehow achieved that elusive formula of a show that appeals equally to adults and to children.
Based on the story by Jean Giono, the play is about Elzéard Bouffier, a simple farmer in the south of France who has set himself the task of planting thousands of trees on parched land that previously could only support lavender. After many years, the trees bring life to the region which in turn breeds prosperity for the people, but inevitably politics intrudes even into this remote area, especially during the two world wars.
The story is framed by storyteller Jean (Richard Medrington) and puppet Dog (Rick Conte) discussing how they are going to tell the story to us, the audience, with Dog playing the part of Elzéard's dog. Dog is a bit cheeky and mischevious and very funny—even after all these years the exchanges between them still feel fresh and do change, semi-improvised, from one performance to the next—but he still gets the most poignant, silent moment towards the end after his master dies.
This was a five star show when I first saw it a few years ago and somehow they've kept it as fresh and funny as it was then. This isn't one of those shows that kids love and adults are relieved not to be bored by, or vice versa, but a show that both adults and children love.
It's a beautiful tale with an important message that will bring tears of laughter and of sadness to anyone with any heart at all. The last few performances at the Fringe were sold out, but it moves to London's Southbank Centre from 22 August. See it if you can, at least once.
Reviewer: David Chadderton