The Man Who Thought the Moon Would Fall out of the Sky
Devised by the company, with dramaturgy by Susan Mulholland
NORTH
Northern Stage, Newcastle
–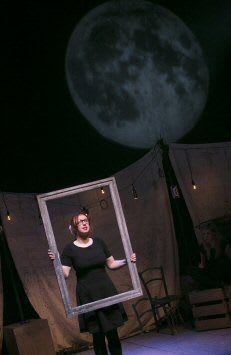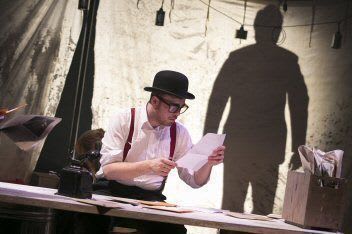 NORTH is a new company made up of seven recent graduates, emerging artists and actors created by Northern Stage. It offers them a three month opportunity to make work, develop skills and take the next step with the full support of a professional theatre company.
The Man Who Thought the Moon Would Fall out of the Sky (hereinafter referred to as The Man for the sake of brevity!), directed by Mark Calvert and designed by Andrew Stephenson, is the company's first venture. Based on a 19th century scrapbook found in the Tyne and Wear Archive, it tells a small part of the story of a man who was fascinated by the moon. It features live music played and sung by the company, comedy and a touch of pathos.
The Man tells the story through a variety of means: direct addressing of the audience, sometimes through microphones downstage on either side, offering narration or comment; through music; through scene re-enactment; through shadowplay and through imaginative and playful use of props. I was particularly taken with the use of open suitcases as books being read by a little boy—clever and funny.
The cast wear plain, predominantly black clothing to facilitate easy swapping of parts (a number of them, for example, play The Man) and this has the additional effect of distancing the story from its original nineteenth century setting and giving it a contemporary, even timeless feel.
Calvert keeps everything moving at a good pace and the seven actors—Michael Blair, Alice Blundell, Maria Crocker, Meghan Doyle, Stan Hodgson, Alexandra Tahnée and George Williams—give their all in terms of energy and commitment but it has to be said that The Man is a slight piece, offering the company a chance to demonstrate their versatility but giving the audience little more than an amusing picture of a somewhat oddball character.
That said, as a showcase for these young actors and a first experience of professional theatre it works well and the first night audience thoroughly enjoyed it.
Reviewer: Peter Lathan