The Many Apologies of Pecos Bill
Greg Wohead
House
South Street Arts Centre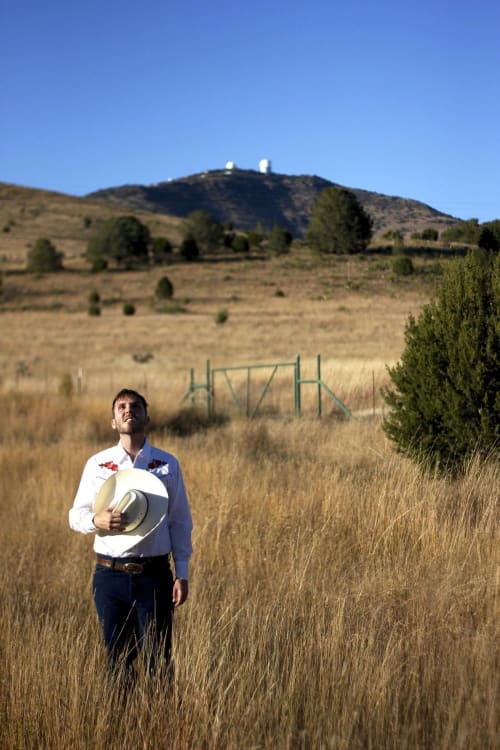 This Texan lullaby opens with the audience, in a wave, recreating the sound of a passing storm, from the friction in the air, to the water droplets getting heavier, louder and faster, and then fading out to silence.
It's a beautiful, sonic beginning to a piece of stripped-back, simple and effective storytelling, delicately layered with expert sound and music from Mat Martin, looping and finger picking throughout.
This is a classic tall tale, with what seems like the essential catfish thrown in, and, like a tall tale, it is a heady mixture of fantasy and reality. It is very reminiscent of Tim Burton's film Big Fish, as both stories draw on the same tradition of storytelling.
Our protagonist, part Greg, part coyote, part superhuman cowboy, perched atop a ladder, spins us this tale like a lasso and we are caught. Like most things in the States, everything is bigger, and so is this story, even down to the shadow of a giant wooden cowboy who oversees the state fair, 'Tall Tex' in front of whom families, lovers, and children alike have all posed for their photo.
The story also features a huge rollercoaster that our narrator is a bit too frightened to ride. His cowboy self and his coyote self aren't though and they carry him through and he both wins and loses the mythical woman of his dreams.
Each line of story, each version of the truth, is told in a slightly different way: from a book, on top of a ladder, through song. The grandest story is told through a microphone, to signify the huge space this reality takes up, eventually mixing with all the other strands until audience and protagonist are no longer sure which is real and which is fantasy.
It is a very simple technique, but in order for it to work it must be done gently and thoughtfully without unnecessary accoutrements around it. Greg Wohead's pieces that I have seen to date have all done this expertly. Hidden in a rambling Texan tale of deserts and cowboys is a very concise, considered and poignant piece of classic storytelling.
One line of story is a highly detailed, somewhat over-laboured description of the minutiae of packing a suitcase and boarding a plane. We forgive the repetition, because underneath is the pain, laced with excitement, of leaving home. It is much like taking that first step onto the rollercoaster you have always been scared of, or swallowing your fear to reach for the girl of your dreams' hand. It is scary, and you may miss the person or the place you were before, but it's worth it in the end.
This piece demonstrates, for those who do not already know, that not all contemporary theatre has to be ground-breaking, challenging or uncomfortably questioning; this is an image that some people have. What contemporary theatre offers us that other forms can't is the opportunity to be part of the story, to add sound, to feel connected. What use is a beautiful lullaby if it is not sung just for you? Greg Wohead sings and speaks just for us, and it is friendly, engaging and full of charm.
This tall tale is told and sung like a homesick love song, interwoven with a coming of age tale, delivered with warmth and a sprinkling of nostalgia for the Texas he has left behind.
This show is produced by House and you can catch it on 21 November at Little Theatre Cafe, Sheringham, 26 November at The Place, Bedford, 27 November at West End Centre, Aldershot and 28 November at Letchworth Arts Centre.
Reviewer: Liz Allum