The Marriage of Figaro
Composer: Wolfgang Amadeus Mozart, librettist: Lorenzo Da Ponte
New Orleans Opera
Mahalia Jackson Theater for the Performing Arts
–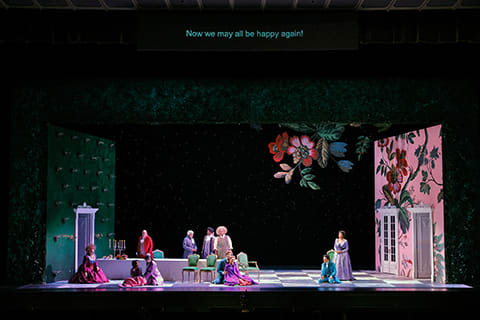 There are some pieces in the opera repertoire that are just so familiar that reviewers sometimes approach them with a bit of dread: "what," we think, "can we say new about this??" And if we're tempted to do so with an old chestnut such as The Marriage of Figaro, easily one of Mozart's most animated and famous operas, then maybe, just maybe we're missing the point: maybe we're just to enjoy a pleasant evening listening to beautiful voices.
This is also the place for newcomers to the world of opera—New Orleans Opera welcomes their audience to come as they are and to react as they wish. They are rejecting the stiff approach of Opera as Art (sniff!). Good for them!
In this case, the production itself, not just the opera as opera, is one that I have seen at least twice before, with costumes created by the Washington National Opera Association and Jennifer Johnson serving as costume director. They have stood up to multiple productions.
One wonders too what directors might do with such a chestnut: either hit it hard with a revisionist approach and hope that audiences are willing to take that journey with you, or, better, simply enjoy the work for itself. In this case, Chas Rader-Shieber took the less chancy path and thus welcomed his audience to a stunning evening in the theatre. Every action is determined by the libretto; it's that sort of opera. Cherubino (sung by Sun-Ly Pierce) is both a striking young goof, but also runs across the stage with knees high in the air. Really high. And really fast. Cherubino's first entrance got the audience in just the right mood and set us all to laughing.
After all, if lesser-known plays are lesser-known for a reason, then it stands to reason, I think, that famous operas, and perhaps especially famous comic operas, are famous for a reason. The Marriage of Figaro is one such work. It's approachable, funny and beautiful. And it always will be. Yes, there is the practice of Droit du seigneur ('right of the lord'), which Count Almaviva has rightly dropped: his right as lord to take the virginity of a servant on the night of her wedding. Almaviva has ended that practice, but has decided to revive it in the case of Susanna, Figaro's bride to be. The tradition was heinous enough; to bring it back, simply cruel.
The rest of the opera, dramatically speaking, flows from that decision, and from other romantic decisions and opportunities including the discovery that Figaro's would-be suitor Marcellina is, in fact, Figaro's long-lost mother, basically a "Curses! Foiled again!" moment that moves the opera to its happy ending. Shieber and the cast's instincts for humour are just so, the right action at the right time in the right way.
The singing was just right as well. What makes the Mozart / Da Ponte comic operas is not necessarily their somewhat overtaxed framework and set of traditions. But here, it's the singing. When Susanna and Marcellina do their famous bit ("no, you first, no you!"), it's accompanied by music that is just what is needed. Cadie J Bryan and Margaret Gawrysiak's short duet shows off their perfectly matched voices.
So too with the rest of the ensemble with Theo Hoffman's Count Almaviva working well with Laquita Mitchell's Countess Almaviva. Anthony Reed's work as Figaro hit just the right tone throughout; while the very solid work of the various buffoons that let the machinery of the opera work, with Joel Dyson's Barbarino emerging from the trio of the three country girls into her own right as a soloist.
And a thank you to the partnership between Xavier University's opera programme and the New Orleans Opera Association—which allowed Xavier students to experience the new voices of today. Kudos all around.
Reviewer: Keith Dorwick