The Marriage of Figaro
Wolfgang Amadeus Mozart and Lorenzo da Ponte
Welsh National Opera and Grand Theatre de Geneve
Wales Millennium Centre, Cardiff
–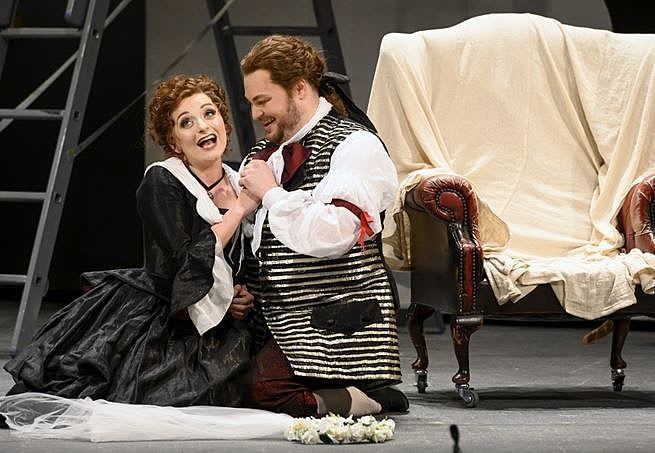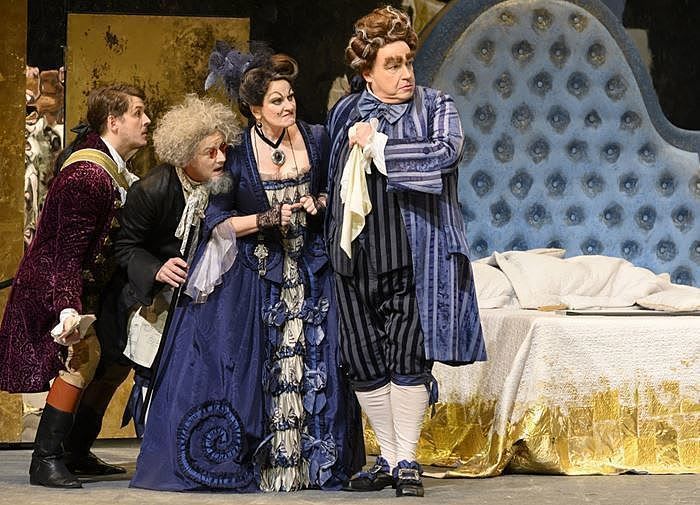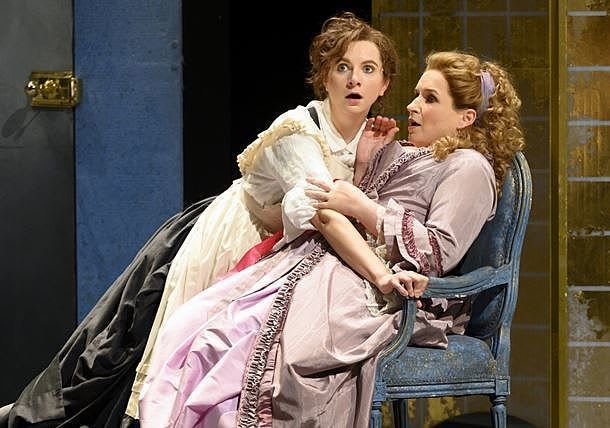 It's common to refer to Mozart's masterpiece, anticipating feelings of the French Revolution, as a piece of radical theatre, master outsmarted by servant, gullible menfolk by the smarter sex.
It might equally be regarded as the first truly great opera about the intimate feelings of real people, the story not of one marriage but of three, and with another in the making.
In a libretto teeming with separate plots for each of the four acts, there are few choruses, relatively few, albeit sublime arias. It's those magnificent ensembles, those wonderful climaxes for up to nine principals that really define the work's greatness.
And it's in those lingering moments between people in love—not necessarily with each other—that this WNO revival works best.
From the moment he steps on stage, and the opening bars of "Se vuol ballare", there's no doubt that David Ireland's confident Figaro will be the master of his master.
There's a natural swagger to Jonathan McGovern's Count, but delicacy combined with passion in his lovely duet with Soraya Mafi as a perky Susanna and a poignancy in his closing contrition that makes one almost believe in the womanising reprobate.
Anna Harvey perfectly captures the character of Cherubino, the wide-eyed, love-struck boy playing the strutting soldier.
Conductor Carlo Rizzi is sensitive to every small variation in mood and tempi, and for example takes Cherubino's military "Non so piu cosa son'" at a particularly lively pace to match the spirit of an impulsive lad whose heart is on fire.
There is by contrast a melancholy languor, emphasised by internal lines heard on the woodwind, as Anita Watson's Countess recalls departed days of happiness and in the soliloquy "Porgi amor".
But still it was those sharply comic ensembles that stood out for me, the spikey confrontation of Susanna with the splendid Leah-Marian Jones's Marcellina, the act 2 finale, and act 3 sextet in which Figaro's true—and very operatic—identity is revealed.
The opening scene is depicted reasonably enough as a half-decorated box-room that is to be the bedroom of Figaro and Susanna, yet Ralph Koltai's sets of two large moveable panels ill-serve the intimacy of the piece, looking as if the expediency of a travelling show has triumphed over appropriateness of interpretation.
The lighting, by Paul Woodfield, is however superb throughout, and at the moment when the Duchess makes her final entrance in one of Sue Blane's brilliant costumes transforms her into a glowing angel of mercy.
Reviewer: Colin Davison