The Massive Tragedy of Madame Bovary
John Nicholson
Jermyn Street Theatre
–

Listing details and ticket info...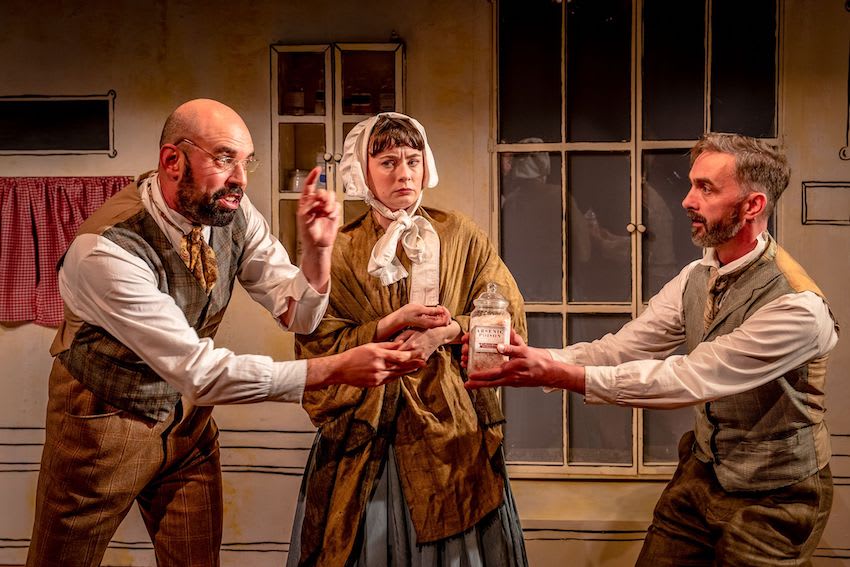 The title is perhaps a give away that this is not quite the dramatisation of Flaubert's novel that you might expect. Emma Bovary is bored by her life as wife of Dr Bovary in a boring village but John Nicholson sets out to make sure that you aren't bored too. He sticks to the original story, though promising a happy end instead of final tragedy.
There is a double layer of framing. The actors chat with the audience about their adaptation and a pair of self-styled 'Vermin Extermination Executives' open the story. They do have a plot purpose in changing the finale, though that will prove thwarted. Meanwhile, script and Marieke Audsley's production set out to gather laughs aided by Amy Watts's design.
The set provides plenty of apertures where props can found or places to simply draw them. Need water to fill your pail? Draw a tap and real water is suddenly forthcoming; draw a gramophone and there is music; need an egg? Draw a duck and a hand appears below that holds one.
Jennifer Kirby as Emma is an innocent, easily swayed when offered excitement. When life with Sam Alexander's Charles Bovary proves disappointing, she finds a succession of lovers. Her wild extravagance playing the bourgeoise lady brings disaster, while her loving husband seems oblivious. Dennis Herdmann plays most of the lovers and Alistair Cope takes in most of the other roles from chemist to coach driver, peasant, mayor, nun—even a cow. Exiting through one door, they are suddenly back as someone else.
The cast drive the action with great pace and style carrying off a succession of visual gags, emphasising movement or an explosion of energy as Emma imagines an exciting life to "The Windmills of Your Mind".
By the interval, the emphasis on zany humour risks becoming too repetitious but the second half finds some fresh tricks and allows a darker world to break through. I didn't find it as hilarious as did most of the audience, but the cast certainly earned their warm applause.
Reviewer: Howard Loxton