The Massive Tragedy of Madame Bovary
Gustave Flaubert, adapted by John Nicholson and Javier Marazn
Peepolykus
Everyman Theatre, Liverpool
–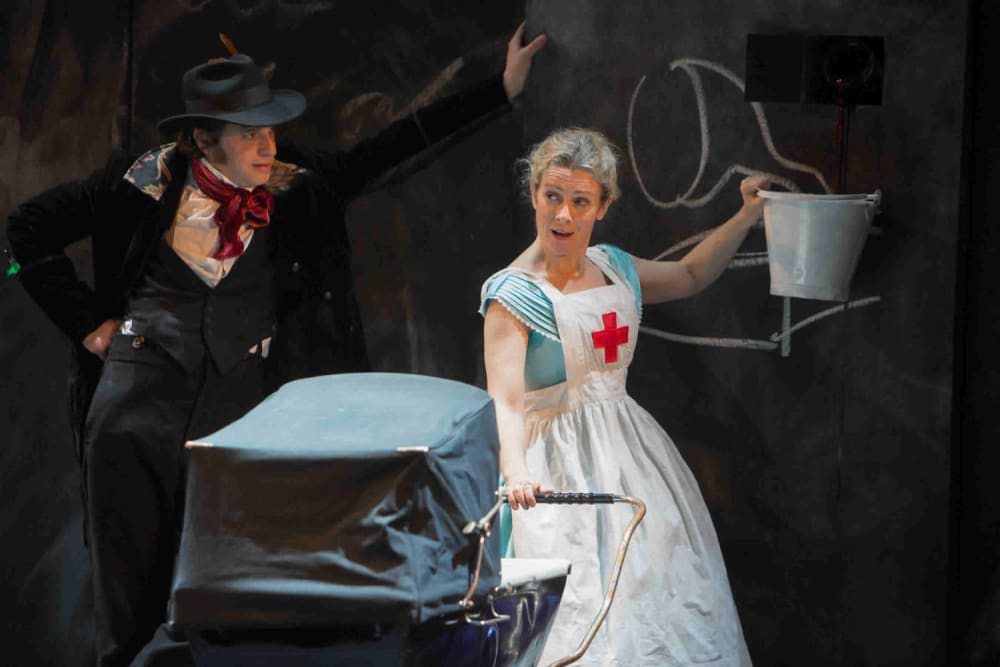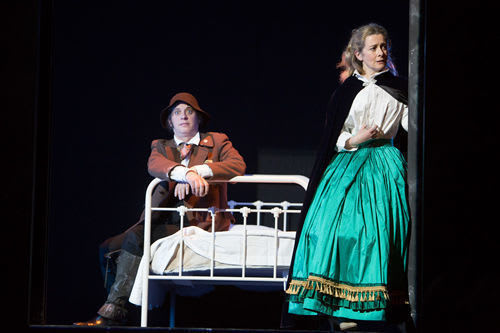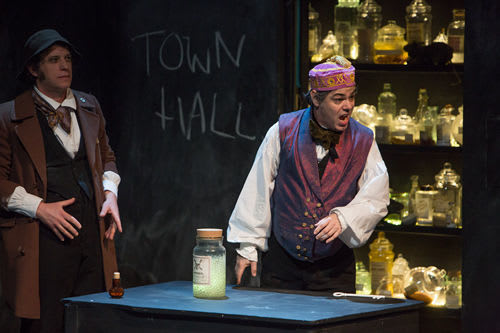 Just imagine the pitch: a two and a half hour stage adaptation of a mid-eighteenth century French novel of 700+ pages. Hmmm. If that premise had your eyebrows pointing northwards, be assured you were probably not alone. Dragons Den would have given it short shrift and Duncan Bannatyne's eyeballs would no doubt have been rolling around their sockets.
Far from being a dour portrayal of French provincial life, however, The Massive Tragedy of Madame Bovary as envisaged by Liverpool's Everyman Theatre is in fact a riot. Peepolykus Theatre has essentially juiced Flaubert's original novel upon which this production is based, by which I mean they've extracted all the sweet and tangy bits leaving the pulp behind.
The result is an evening of zesty fun. It's Flaubert alright, but not as you know him. From the moment Javier Marzan informs the audience he's just a framing device and not to worry, the tone is set for an evening of cleverness. Oh tease me, do.
It's just one of many moments where the fourth wall collapses. Acting time-outs might be one of the oldest tricks in the book, but in this production they do work particularly well.
Whether it's Emma Fielding (Madame Bovary) stopping the clock or the whole cast discussing which ending to run with, this production scores heavily in irony. The strings operating these particular puppets are clear for all to see—gloriously so.
Humour is further aided and abetted by Conor Murphy's set—a veritable wall of portholes-cum-chalkboard that facilitates the farce in no little way. Cows 'n' cockerels ascending from on high only add to the surrealism. And, thanks to a lilting accordion, the flavour of France is never far away.
Hi-energy performances from a quartet of skilled comic actors ensure that nuances are never lost. Jonathan Holmes (Himself & 'Everything Else') brings to mind Steve Pemberton in all his League of Gentlemen grotesqueness. Subtlety is the overriding impression watching John Nicholson and Javier Marzan in multiple roles. Work rate is phenomenal.
But it's the delightful performer-text-audience interplay that marks this production out for distinction. Nudge, nudge—there's more than a hint of Python here along with the ingenuity one encounters with touring companies such as Lip Service. It all adds up to a rather enchanting box of theatrical tricks.
With the exception of a slight lull midway through the first act, this production simply bowls along. How to sum it all up then? With Madame Bovary, Peepokylus refreshes the parts other adaptions cannot reach. Odd, I know. But that's the kind of night it is.
The Massive Tragedy of Madame Bovary is an ambitious undertaking, one that teases and pleases in equal measure—bang on the money as Mr Bannatyne might say. Can't speak for the other dragons, but I'm definitely in.
Reviewer: David Sedgwick