The Medium
Music and libretto by Gian Carlo Menotti
Croatian National Theatre
Croatian National Theatre, Zagreb
–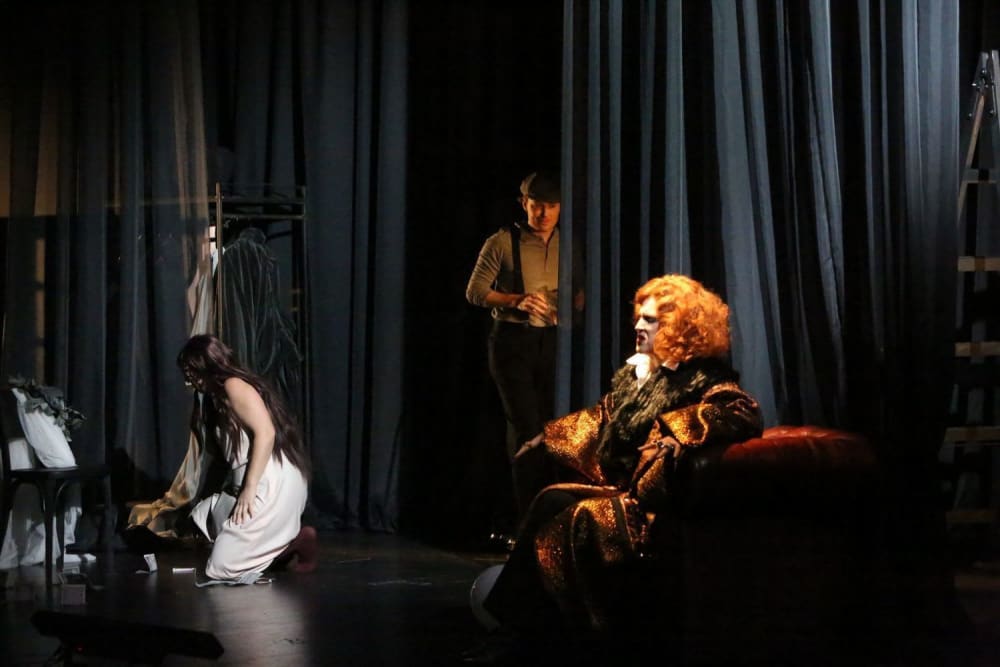 Italian-American composer Gian Carlo Menotti (1911–2007) attended a séance in a small town in Austria in 1936. He accompanied some friends who wanted to contact the spirit of their dead daughter.
The visit inspired him ten years later to write an eerie and macabre chamber opera which was first performed in the USA at Columbia University in 1946.
Revised, it opened In New York in 1947 and ran for over 200 performances. It was broadcast live on American television in 1948. Menotti directed a film version in 1951 in the style of a film noir. The opera is short and lasts just one hour.
Madame Flora (Dubravka Šeparović Mušović), a fake medium, uses her daughter, Monika (Ivana Lazar), and her adopted mute gypsy son, Toby (Leonard Lampert), in her sham séances, which exploit vulnerable parents who want to contact the spirits of children who have died.
Lampert remains silent and ambiguous throughout, so it is difficult to know whether Toby really is the half-wit Madame Flora says he is or not.
During a séance, Madame Flora, also known as Baba, feels something or somebody touch her hand and throat. It unnerves her. She becomes more and more afraid, more and more hysterical. "Oh, God, what is happening to me?" she cries. She thinks she is being punished for her sins. She confesses her duplicity to her clients but they refuse to believe she is fake.
The Medium, directed by Caterina Panti Liberovici and conducted by Josip Šego, opened at the Croatian National Theatre in Zagreb last month. Conductor, orchestra and audience, all wore masks.
Mušović and Lazar have their moments but the production is weak and there is nothing in it that begins to compare with the frightening dramatic authority Maria Power, who created the role of Madame Flora, brought to the opera.
The Medium is being streamed on the OperaVision channel.
Reviewer: Robert Tanitch