The Meeting
Charlotte Jones
Chichester Festival Theatre
Minerva Theatre, Chichester
–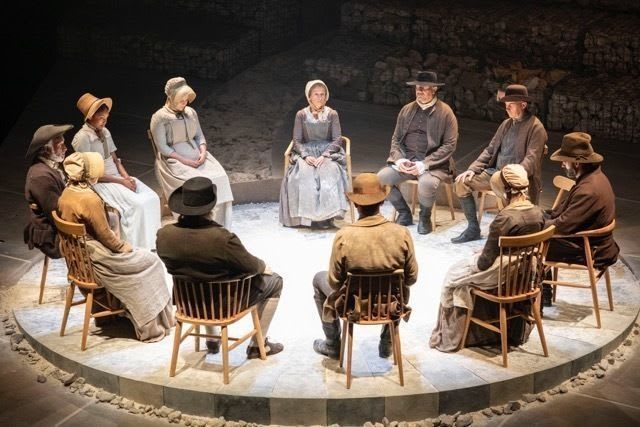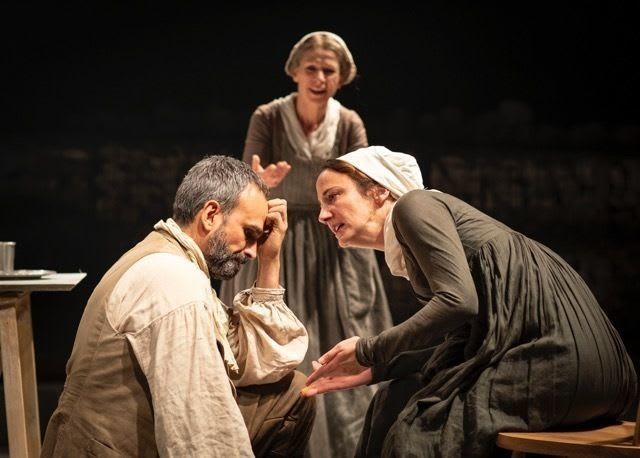 Charlotte Jones says "The middle aged female voice is not heard enough in theatre" and has made her heroine Rachel determined that it is time for her voice to be heard.
Rachel, who has been the 'voice' of her deaf mother since birth, now wants to express herself in her own terms. The Quaker meetings give her a chance where, intentionally a time of silent contemplation, a person feeling the spirit move them can speak out and give 'ministry' to the group. Rachel has been giving a little more 'ministry', and of a political and forceful nature, than these pacifists can take, something which Elder James Rickman (Jim Findley) ponderously points out to Rachel's husband, Adam.
The play is set in a small Quaker community in Sussex in 1805, with Napoleon's troops just across the water, which makes the pacifist Quaker community not exactly popular with the local populace whose sons are dying in battle. It could be dangerous for them to step out of their haven, but Rachel feels the need to visit the graves of her three sons who all died at birth, each one being named Nathaniel.
Accidentally meeting a young red-coated soldier who has been invalided out of the army, she discovers that he is called Nathaniel. Is this an omen? Her husband Adam wants an apprentice; could this be the son she couldn't give him? Or is it the sexual attraction between them which make her hide his red jacket (and knife) in the sewing basket intended for her baby's crib and smuggle him into the community?
Lydia Leonard makes Rachel really live. She has all the tightly controlled, but desperately sorrowful, emotion of someone who feels a failure as a women having given birth but with nothing to show for it. The agony of her remorse and horror at having given way to a moment of sexual abandonment evokes sympathy rather than blame, and we feel with her the restless spirit of a highly articulate and intelligent woman feeling stifled by her surroundings.
The surroundings, or rather Vicki Mortimer's set, are cold, hard, unfeeling stone, with the meetings taking place on a flagstoned circle where chairs are whisked in and out (or hung, strangely, inside a metal circle which obligingly lowers for the purpose). Integral to Rachel's stonemason profession, terraces of rough rocks are ready to be split and carved, all in contrast to the the intense, hot emotions building up to an explosion of anger and blame shattering the peace to smithereens.
Jean St. Clair as Alice, the deaf mother, is genuinely deaf and in no way is her acting ability marred. She can make her feelings felt with an expression, or a gesture, or more explosively by throwing a jug of water as she does over the soldier, being aware of the disruptive effect he is going to have on the society and, ironically, it is she who determinedly, but seemingly painfully, has the last word.
Laurie Davdson is convincing as the 'take life as it comes' soldier and Gerald Kyd is pleasantly engaging as the solidly dependable Adam. Also, the two I enjoyed for a little light-hearted comedy were Leona Allen as teenage Tabitha wanting nothing more than status in the society by having a husband (and a lovely dress in which to wed) and her mother Biddy (Olivia Darnley), an irrepressible chirpy chatterbox but with a sting in her tail.
Intensely emotional and gripping but bringing up a lot of questions to ponder over.
Reviewer: Sheila Connor