The Merry Widow
Franz Lehar, Original book and lyrics by Victor Leon and Leo Stein, English Translation by Jeremy Sams, performed by arrangement with Glocken Veerlag Limited
Opera della Luna
Yvonne Arnaud Theatre, Guildford (tour)
–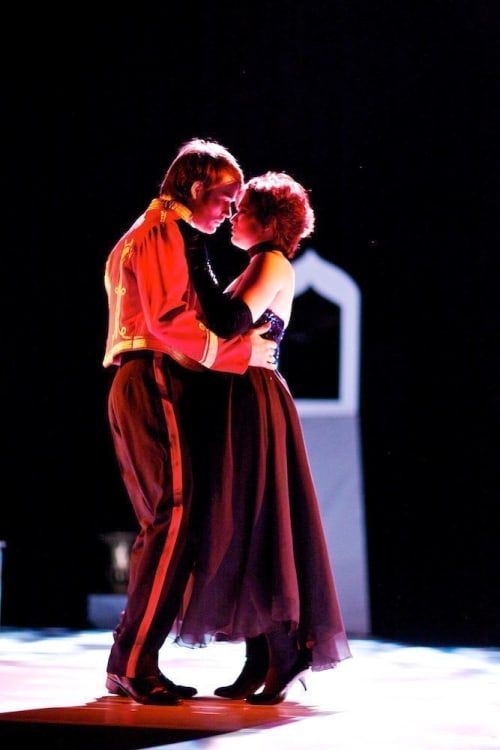 Relationships, politics and amorous affairs abound in chaotic confusion in Jeff Clarke's irreverent production and I'm afraid (sadly not being familiar with the plot) I spent most of the first act working out who was who and what was happening, not helped by the strange 'Pontevedrian' names. By the end of Act One however I was really into the swing of it and settled down to an evening of tremendous fun, enjoyed to the full by almost all the audience. It's great to see so many people leaving the theatre with broad smiles on their faces and with the music still in their hearts, although there were a couple of dissenting souls, presumably aficionados of the genre, who disapproved.
This rather matched the mixed reception received at its first performance in Vienna at the end of 1905 where a young and poor art student, Adolph Hitler, surprisingly loved it (particularly strange as both librettists, and Lehar's wife, were Jewish) while the theatre management itself regarded it as a 'stop-gap operetta' to be very rarely produced. As it was, Lehar's glorious melodies, together with a story of intrigue, deception and light-hearted glamorous decadence, culminating in true love and a happy ending for all, appealed to the whole world and the Merry Widow dances on and on.
Briefly—Hanna (Rhona McKail), an unsophisticated farm girl, is now a very wealthy widow, and Baron Zeta (Graham Hoadly) is determined she should marry his private secretary Count Danilo (Trevor Jary) in order to keep her billions in the impoverished country. Her wealth attracts two unsuitable suitors, Vicomte Cascada and Raoul de St. Brioche (Dickon Gough and Ian Belsey), while Danilo appears uninterested. Meanwhile the Baron's wife Valencienne (Angela Simkin) is flirting with Camille de Rosillon (Gareth Dafydd Morris) who is madly in love with her.
A few of the characters from the original have been omitted and musician Olga (Rachel Davies) is here married to the Baron's right hand man Njegus (Adam Price), with the orchestra conveniently (and amusingly) present on stage allowing her to be part of the action.
Always a light-hearted operetta, this versatile company plays it for comedy with expressions and attitudes saying as much (if not more) than the dialogue. This is perhaps what rather offended some, as it branches out occasionally into pantomime with some asides to the audience, and the 'grisettes' (can-can girls) in Act Three have to be seen to be believed and sent most into riotous laughter. The 'puppets in the pavilion' too caused some giggles.
Overall it is exquisitely performed with voices ringing out clear and true, a note of sadness and longing in McKail's rendition of the famous and beautiful "Vilja" changing the mood for a while. There are a couple of topical references—without Hannah's billions their country is in danger of being "chucked out of the euro" and Njegus complains of "a tiny little wage with no bonuses"—while Jenny Arnold's expert choreography keeps the cast in perfectly timed movement as well as dance.
This is a thoroughly enjoyable and fun evening with some glorious music and singing—what's not to like!
Touring to Ipswich, Isle of Wight, Margate, Bury St. Edmunds, Chelmsford, Peterborough, Leamington Spa, Hexham, Lichfield, Chesterfield and Windsor.
Reviewer: Sheila Connor