The Merry Widow
Music by Franz Lehár, book and lyrics by Victor Léon and Leo Stein
Opera North
Leeds Grand Theatre
–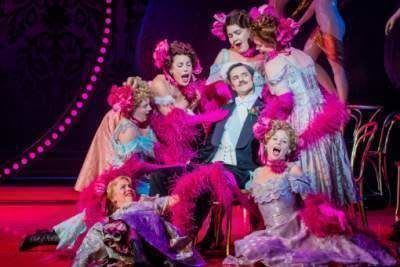 What better way of celebrating Opera North's 40th anniversary than by staging some of the most popular operas in the repertoire? First performed in 1905, Franz Lehár's The Merry Widow is a delightful example of the Viennese operetta, providing a light-hearted contrast to the company's recent production of Tosca.
Following the death of one of its wealthiest citizens, the nation of Pontevedro is thrown into a state of panic. The court banker has left a vast sum of money to his beautiful wife of seven days, Hanna (Máire Flavin), and if she marries a foreigner Pontevedro will be bankrupt.
In Paris, Baron Mirko Zeta (Geoffrey Dolton) is instructed to ward off foreign suitors and find her an appropriate husband. However, the most eligible candidate—the dashing Count Danilo Daniovitch (Quirijn de Lang)—has already been romantically entangled with the young countess. Their relationship came to an abrupt end when Danilo's family forbade him from marrying Hanna due to her lack of wealth.
Running parallel to Hanna and Danilo rocky romance is an extra-marital flirtation between Zeta's French wife Valencienne (Amy Freston), an ex-chorus girl, and a charming young Parisian, Camille de Rosillon (Nicholas Watts).
There is much to admire in this revival of Giles Havergal's 2010 production. Leslie Travers's opulent set design—with its flock wallpaper, chandeliers and art nouveau statues—conjures up a world of European sophistication that would soon vanish. Equally splendid are the costumes, particularly those worn by the title heroine.
Kit Hesketh-Harvey and Giles Havergal have done a solid job of updating the libretto, but there are times—particularly in the first half—where the laughs don't quite land as they should. After a slow start, however, the production really springs into life during the second half.
The Opera North orchestra—conducted by Martin André—captures the swooning romance of Léhar's score, particularly during the famous waltz scenes.
Máire Flavin excels as Hanna, capturing the character's disarming mixture of elegance and working-class wit. She has a luminous stage presence and her singing is delightful, particularly during her rendition of "Vilja-Lied". Quirjn de Lang makes a charmingly rakish Danilo, although his performance here is overshadowed by his outstanding work in Kiss Me, Kate earlier this year.
Geoffrey Dolton is highly amusing as Baron Zeta, the opera's most pantomimic character, and the scene in which he learns of his wife's dalliance with Rosillon is surprisingly moving. Nicholas Watts is in fine voice as Rosillon and Amy Freston dances up a storm as Valencienne Zeta.
Giles Harvergal's staging of The Merry Widow is fun, sparkling and romantic.
Reviewer: James Ballands