The Merry Widow
Lehár
English National Opera
The Coliseum, London
–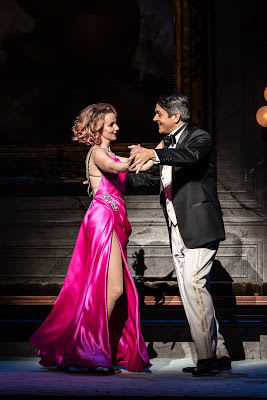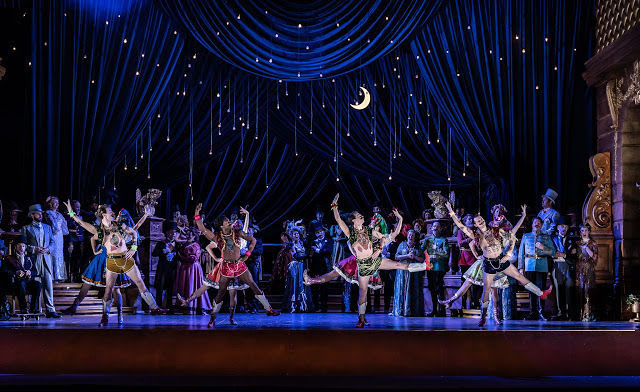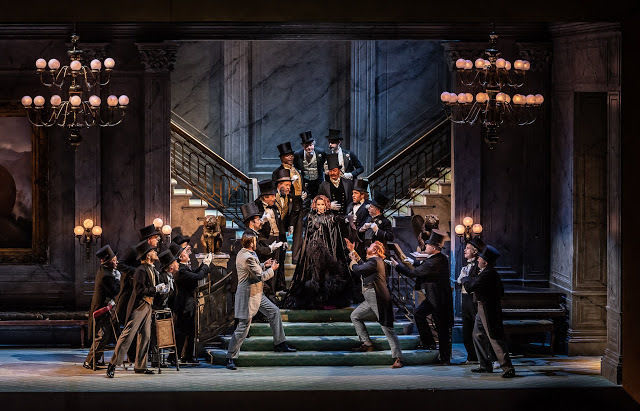 Fun and frivolity is to be had at the coliseum with debut director Max Webster's mischevious new production of The Merry Widow.
Although ENO should be perfectly placed to produce operetta in translation, there have been many flops in the past few years, with only Miller's Mikado hitting the right spot. Finally they have a bankable hit on their hands which will be deserving of surely many revivals to come.
From the moment the curtain is raised, the tone is set with Lizzi Gee's slick slapstick choreography. Richard Thomas (lyrics) and April de Angelis (book) provide a wittily updated translation. The pair manage the near impossible feat of making not only the sharpened operetta dialogue funny but prompting many laughs from the sung libretto.
Due to the vast size of the Coliseum, dialogue must be loudly projected and the acting wildly enlarged. Webster's farcical take enables the necessary hamming up without detracting from the staging.
Act one opens at a cut-price party, hosted by Baron Mirko Zeta, who is scheming to persuade the rich widow Hanna to marry somebody from their homeland to save them from the country's economic fortunes.
Alongside Ben Stones's attractive sets, Esther Bialas's costumes fill the stage with sparkle. Sequins abound. Hanna (Sarah Tynan) has been poured into a seductive silver number used to maximum effect as she slinks around stage, flirting with every male.
She leads a talented cast in fine voice. Baron Mirko Zeta (Andrew Shore) is laughably obtuse but loveable and bounces well off his droll adviser (Paul Sheehan). This show has two key couples: the first, Baron Zeta's wife Valencienne (Rhian Lois) and lover Camille (Robert Murray), whose passionate acting makes their ultimate separation quite touching. The second is Hanna and Count Danilo (Nathan Gunn). Though both sound divine, he and Tynan lack chemistry to really make us believe in their love story.
Act two sees the action moved to Hanna's garden party, a magical setting reminiscent of scenes from The Nutcracker. Tynan delivers an exquisitely controlled performance of "Vilja's Song" whilst swaying on a crescent moon, high above the stage.
The male urinal ensemble (you don't get to write that every day) builds in momentum. Without giving too much away, this is a moment of male solidarity griping about women tied in with an extended toilet gag. We are already giggling as the sextet thrust and waggle, but the arrival of spraying water has the audience in full guffaws.
Kristiina Poska makes her ENO debut and Lehar's waltzes sing out passionately under her direction. There is much doubling of melody between the ensemble snd the singers which is not always coordinated but this simply feels like first-night teething.
Hopefully, with some fine tuning, this production will not only be full of larger-than-life humour but also deliver the the romance required. Either way, congratulations are in order. This is what operetta should be all about: sharp, funny and filled with beautiful music performed to the highest standards.
Reviewer: Louise Lewis