The Merry Wives of Windsor
William Shakespeare
Royal Shakespeare Company
Royal Shakespeare Theatre, Stratford
–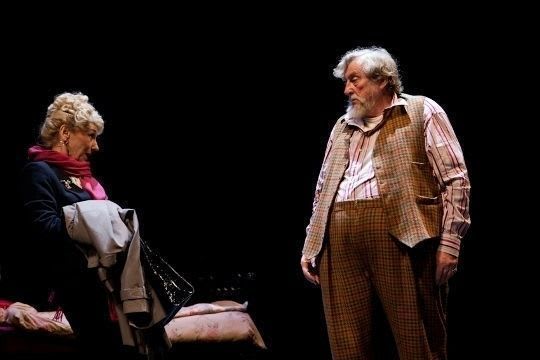 The Merry Wives of Windsor doesn't often come in the top ten of people's favourite Shakespeare plays, so handing it to a man making his full Royal Shakespeare Company directorial debut might be seen in some quarters as a poisoned chalice.
But Phillip Breen rises to the challenge of presenting the comedy on the main stage at Stratford and produces a lively, impressive production which should keep audiences laughing into 2013.
He could hardly have had a better cast and creative team at his disposal; that of course doesn't guarantee success but Breen directs astutely to ensure the piece is a success.
He's decided to do a modern-dress production which for the most part comes off, although towards the end the production almost loses its way among a few gimmicks which are inexplicably thrown in.
Any production of The Merry Wives of Windsor stands or falls on the actor playing Sir John Falstaff. Here Desmond Barrit, who's no stranger to the role, gives a wonderful interpretation.
The standout moment is his attempted seduction of Alice Ford, his giant frame lustily lumbering across the stage almost in time with the strains of Marvin Gaye's "Let's Get It On" and smugly presenting her with a box of Roses chocolates.
Barrit's portrayal shows Sir John to be a social dinosaur who is so full of himself that he earnestly believes he only has to snap his fingers and women will throw themselves at him. His self-delusion is laughable, not cringe-making.
Alexandra Gilbreath (Alice Ford) is a sensual, seductive temptress who wants revenge on Falstaff for thinking he is irresistible while Sylvestra le Touzel (Meg Page) is demure and proper yet possessing a sardonic wit.
John Ramm is increasingly comical as intensely jealous Frank Ford who will stop at nothing to unmask his wife's supposed infidelity. His donning of a wig as part of a disguise is a touch of genius and geniality.
Anita Dobson, acting with the RSC for the first time, is naturally comfortable as a 21st century Mistress Quickly. She flits about the stage, continually eager to keep everyone happy yet not averse to a bit of gossip and scandal.
Other members of the cast who catch the eye include Bart David Soroczynski as an effervescent Dr Caius; Stephen Harper as Bardolph, a convincing drunk; and Calum Finlay as idiotic Slender.
Max Jones's clever design incorporates the Virginia creeper-clad exterior of the Pages' house, a rugby ground and the Garter Inn where Falstaff on one occasion sleeps on a snooker table after a heavy night's drinking.
But after a spirited first three-quarters of the play, Breen's production appears to move off at a tangent. The inn strangely adopts a German look during the only time the play loses its pace and drive, then during the final scene in Windsor Great Park Page and Ford incomprehensively appear as Superman and the Incredible Hulk.
However, that is a minor aberration in what is an otherwise excellent production. Breen goes for as many laughs as possible; the merriment is as plentiful as Falstaff's girth.
Reviewer: Steve Orme