The Merry Wives of Windsor
William Shakespeare
Royal Shakespeare Company
Royal Shakespeare Theatre
–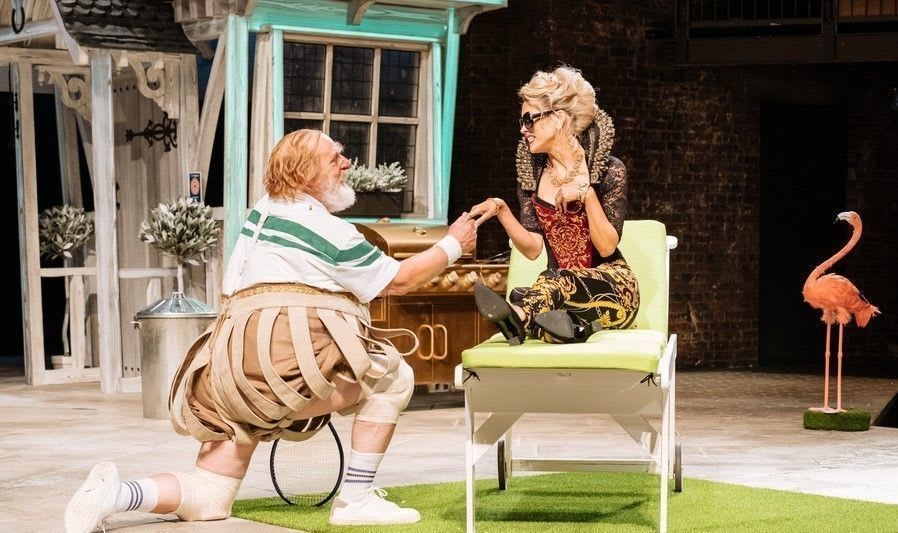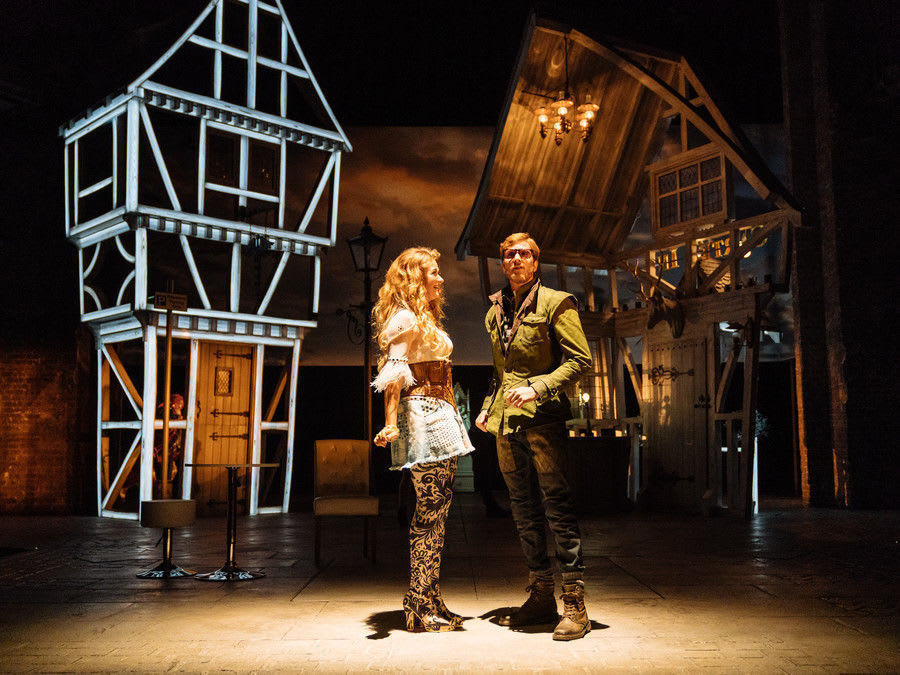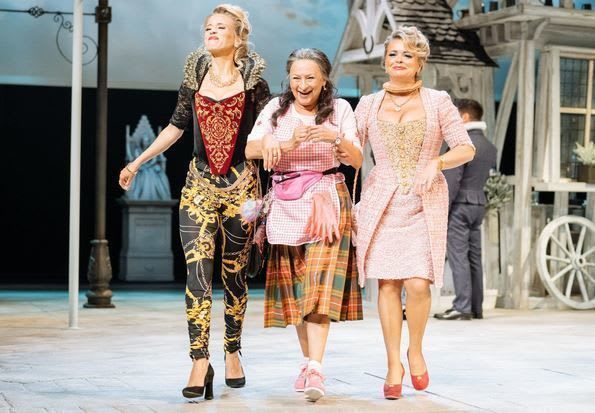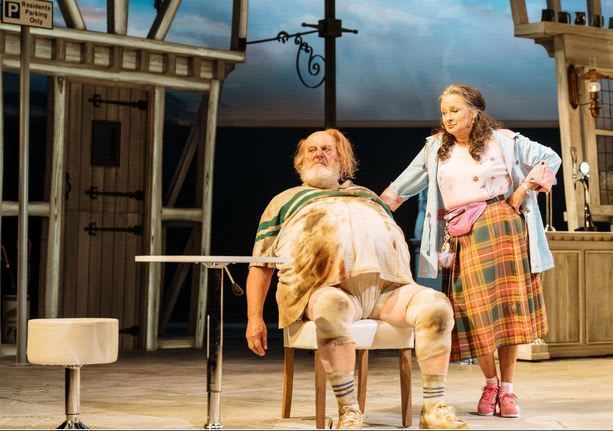 A Royal Command performance, you could call it.
For there's a tradition that Queen Elizabeth I ordered Shakespeare to come up with a new play featuring the popular Sir John Falstaff in double quick time for a feast celebrating a new Knight of the Garter.
Director Fiona Laird has fun with the idea by projecting a cartoon image of Her Highness issuing her instructions at the start of this knockabout romp, and that's not the end of her new gags or the liberties taken with the text.
The wives are not so much Windsor as East-Ender posh, with Karen Fishwick's dippy Anne Page clutching a mechanical poodle and dad (Paul Dodds) off to play golf with a comically errant electric golf cart. There's the inevitable Brexit joke from the splendid Jonathan Cullen's Dr Caius and a rather less successful attempt by the otherwise excellent David Acton as the Welsh parson to encourage the audience into a bit of Cardiff Arms Park singing.
Most memorably among all this Will-foolery, however, is the replacement of the laundry basket, in which the fat knight has to hide, by a large wheelie bin. It's not only the thing itself, filled with rotting rubbish, but the very words—sticking out of the blank verse as grossly as Sir John's codpiece—that made me laugh every time.
And what a knight this was. Panting, puffing, clutching his cauldron of a belly, struggling to get his leg over (onto Mistress Ford's recliner), David Troughton was every inch the fat knight, conniving, lascivious yet oddly likeable for his very faults. I cannot recall a better Falstaff—so convincing as he lumped across the stage that I imagined the actor flying home weightlessly having removed his fat suit after the show.
Beth Cordingly, Rebecca Lacey, Ishia Bennison and Katy Brittain make a formidable quartet (Mistresses Ford, Page and Quickly, and the hostess of the Garter Inn) in this town where—note if you please Ma'am—women rule without men.
And no wonder with this lot around—including Tim Samuels's gloriously excitable Shallow and Tom Padley's ninny Slender, and contrary to usual representations Luke Newberry's prat-falling Fenton to Vince Leigh's straight-man Ford.
Lez Brotherston's delightful set incorporates two revolving structures of Ford's house and the (English Tourist Board recommended) Garter Inn, with appropriate musical accompaniment composed by the versatile Ms Laird.
Past productions of the play have been staged in Stratford around Christmas. This one will have moved to London by then. What are you waiting for?
The Merry Wives of Windsor can be seen live in cinemas on Wednesday 12 September, and transfers to The Barbican, London, from Friday 7 December to Saturday 5 January 2019.
Reviewer: Colin Davison