The Merry Wives of Windsor
William Shakespeare
Guildford Shakespeare Company
Stoke Park Railway, London Road, Guildford
–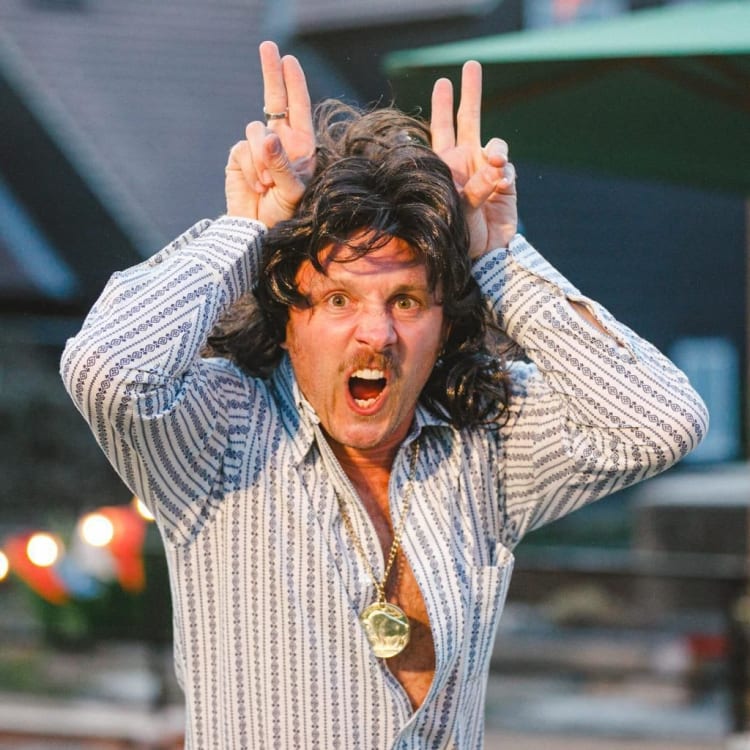 GSC is a site-specific company adept at finding unusual sites for its productions and, without changing Shakespeare's text, making the play suit the venue—or is it the other way around?
This time, the Merry Wives of Windsor are at Stoke Park Miniature Railway and the time is the late 1970s. Even before the play begins, we are treated to music from the sitcoms of the time and radio news announcements, some of which must have come as a surprise to all the younger members of the audience but I remember it well. It was a time when workers in almost every industry were obeying their union bosses and were constantly on strike for any reason, ridiculous or not, that could be found and it was a bonus if you actually had electricity for a whole day. Rubbish piled up in the streets and the rats had a field day.
Happily none of this bothers these Merry Wives. Shakespeare's sitcom begins with Sheena Easton's "Morning Train" with commuters arriving home by train and indulging in a very funny (and unexpected) happy dance while Master George Page (Matt Pinches) and Master Frank Ford (James Burton) greet their respective wives.
Considering that this is a play about jealousy, avarice, attempted seduction, conspiracy and deceit, it turns into a glorious romp as the two wives discuss how to punish Peter Gordon's impoverished Falstaff for sending them each totally identical love letters, especially as his intention is to gain money: "the wives have all the rule of their husbands' purse". Sarah Gobran and Emma Fenney have great fun and a lot of laughter as the wives discussing their plan to teach Falstaff a lesson.
GSC often slips in little comic touches and Frank's "I promised you a dinner" while giving his wife her apron is a husband in control but he is insanely jealous, and it is this jealousy which provides most of the comedy. He becomes apoplectic with rage when he can't find Falstaff who he thinks is hiding in his house which is hilarious enough, but brings even more gales of laughter when, in disguise he appears as an Elvin like character, very laid back and casual. What a contrast!
Meanwhile, there are three suitors for the hand of daughter Anne Page (Francesca Baker in rebellious teenage mode) with her father favouring one, her mother another. Slender (Tom Richardson), clutching a teddy, is a 'mother's boy' and a bit daft, and who would want the strange yogi Dr. Caius—although I loved and laughed a lot at the wonderful Alex Scott Fairley's interpretation of the role—but Anne is in love with the boyishly sincere Fenton (Isaac Stanmore). Will she get her way?
Also, how could I possibly forget Rosalind Blessed who is having a ball as Mistress Quickly being paid to plead the cause of all three suiters and hamming it up crazily exiting each time with little suggestive wriggles of her hips and more laughter.
Finally, we follow the cast into the forest to watch Falstaff's punishment and discover whom Anne finally marries—and reluctantly wave as they take the train and ride off into the distance.
The versatility, energy, talent and dedication of this company are a joy to watch—pure enjoyment from beginning to end.
Reviewer: Sheila Connor