The Merry Wives of Windsor
William Shakespeare
The Three Inch Fools
Whorlton Village Green, Co. Durham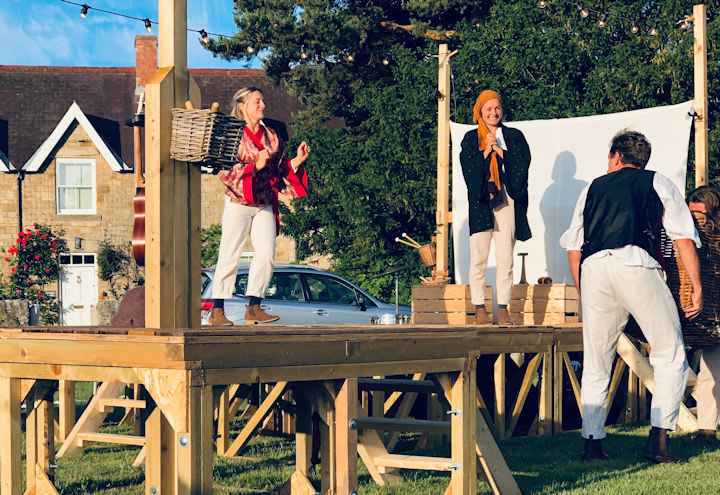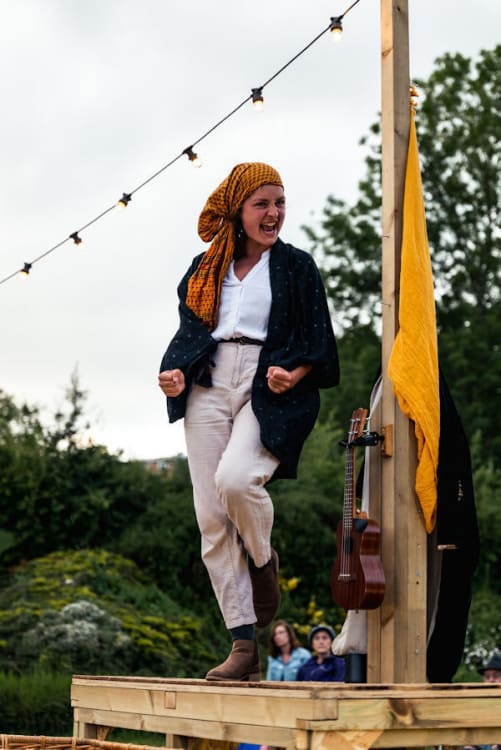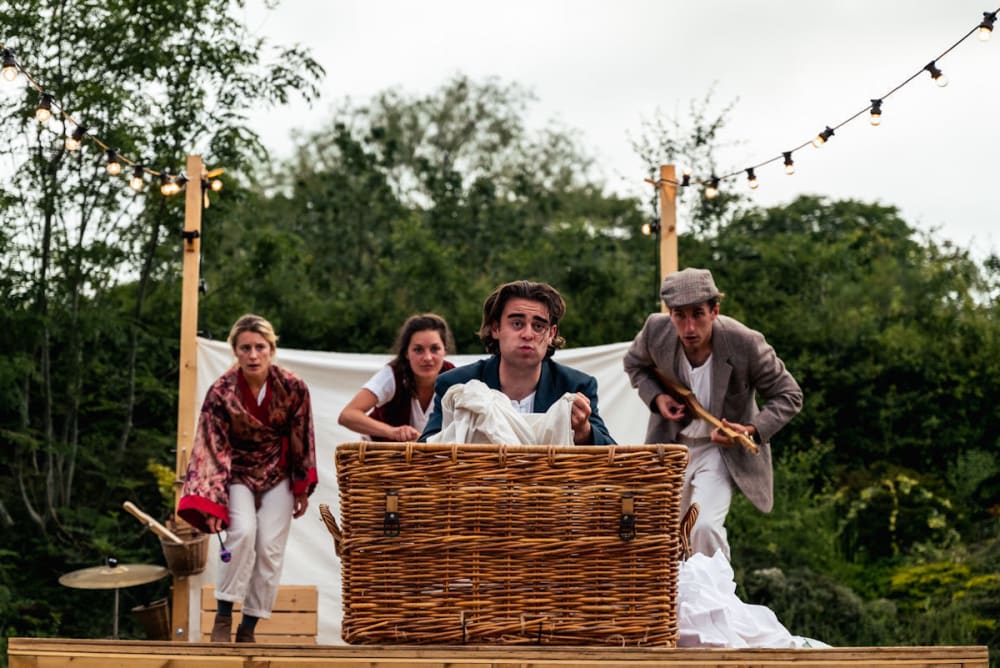 If you wind the clock back to the 1500s, theatres were forced to close because plague was ravaging the country. Large crowds of people packed into small theatres became a dangerous and deadly breeding ground that spread the infection.
But the plague didn't stop theatre then, as the actors took their plays outdoors, touring the country's village greens and open spaces. COVID isn't going to stop the Three Inch Fools either; they are halfway through their massive annual tour of Britain, and are rightly recognised and applauded for their innovative, fast-paced and hugely popular outdoor performances. With, I should add, all the government recommended safety measures firmly in place.
In the pretty, sleepy little village of Whorlton in County Durham, where roses decorate almost every doorway and cottage gardens are de rigueur, the Fools set up their simple wooden set, which actually reminded me of the minimalist design of an Ikea four-poster bed; quite apt for Shakespeare's mischievous play where lust, seduction, jealousy and disguise are teamed up with raucous comedy that leads to hilarious outcomes. To woo or not to woo is not the question here, for even fools fall in love.
Five actors, with a bewildering array of musical instruments, create an absolutely lovely, original musical soundtrack from composer Stephen Hyde that moves between folk, classical, rock, pop, opera and everything in between; there was even a little nod to football and a few moments of "Come on You Reds".
Of course, five actors just aren't enough for any one person to play a single part, so multi-roling becomes the rule. Dominic Blackwood slips seamlessly between a brilliantly pompous rendition of the aging, arrogant Sir John Falstaff who has fallen in love with two married woman, and lending petulance and innocence to Mistress Page's daughter Anne. Sounds perfectly feasible written down, but Dom Blackwood is a big lad with a rather bushy black beard! And those are not the only parts he played—outstanding!
When the two wives, Mistress Page and Mistress Ford, receive exactly the same love letters from Falstaff, they are repelled by his advances, so they join each other to make mischief of their own. Characters double and twice-double-up playing different characters using hats, waistcoats, cloaks, skirts, sometimes hilariously swapping hats and essentially talking to themselves. Watching Slender's red fez being bounced across the stage at the end of an outstretched arm, along with the many other comic antics of confusion, deception and disguise played out at breakneck speed made it a little difficult to actually keep up with the story at first, but I soon got used to which hat, costume or false moustache meant which character.
The rest of this truly authentic cast are all skilled musicians who are full of exhaustingly excellent comic energy. I loved Hazel Monaghan's French rendition of Dr Ciaus, and Edward Kay, who claims to have a passionate dislike for staying still. Hilarious! Mustn't forget William Schackleton or Isabella Hayward either—both fabulous, dynamic actors with great musical skill.
Reviewer: Helen Brown