The Merry Wives
William Shakespeare
Northern Broadsides in Partnership with The New Vic Theatre
Yvonne Arnaud Theatre, Guildford
–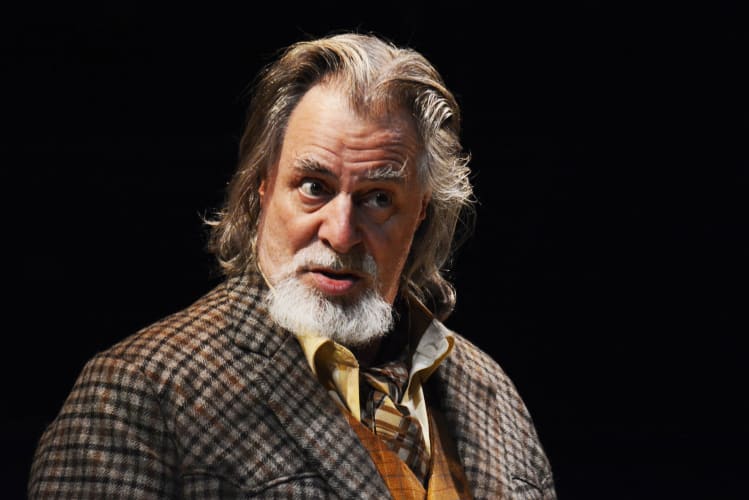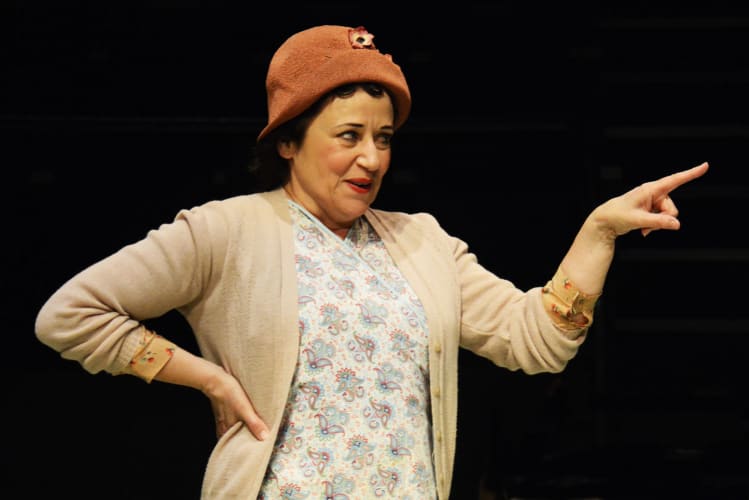 No Windsor for these Merry Wives. Northern Broadsides has moved them to Yorkshire among the flat caps and Northern vowels of the moors and it suits these plain-speaking, strong-minded women down to the ground.
The play revolves around Sir John Falstaff (played by a well-padded Barry Rutter), "I am in the waist two yards about, but I am now about no waste, I am about thrift", and his idea of thrift is getting his hands on someone else's money.
As the wife of Frank Ford "has all the rule of her husband's purse", he will begin by sending her a love letter and, just to hedge his bets, he'll send one to George Page's wife as well. Not a good move. When the identical letters are discovered, the scheming begins and the two women are convulsed with laughter at their plans to teach him a lesson.
Just as well Rutter is well-padded. He has to suffer being stuffed in a laundry basket, thrown into a river, beaten with a stick (or was it a golf club?) and being pinched and prodded by an odd assortment of fairies. The insanely jealous Frank Ford (Andrew Vincent), suspicious that his wife has hidden her lover in the basket, throws out all the soiled clothes in such a frenzy that several front rows find them landing on their heads. "And did you not find him?" asks the disguised Ford through gritted teeth as Falstaff tells him the tale.
This play is always a bawdy comedy with multiple double meanings. The company has taken an even more light-hearted approach, setting it vaguely in the madcap 1920s and overacting outrageously.
Nicola Sanderson's Mistress Page is the mistress of the ostentatious gestures and exuberant speech, and the more serious Becky Hindley as Mistress Ford is even funnier as she tries to emulate her friend. My favourite character though is Helen Sheals as Mistress Quickly, a real gossipy Yorkshire woman who trips lightly and speedily from one place to another, taking on board what is happening while happily chattering incessantly, seemingly without the need to draw breath.
The love story within the play takes second place to the comedy. Sarah Eve is demure and charming as young Ann Page but as strong-minded as her mother. She is determined to marry Fenton, the man of her choice, and neither the crazy French doctor (Andy Cryer) her mother prefers nor the splendidly portrayed foppish, foolish and poetic Abraham Slender (Jos Vantyler), the choice of her father.
Overall overdone maybe, but the characters are still believable with John Gully rather incomprehensible but still funny as the Welsh parson, and Roy North's John Page a facsimile of many a cricket club president.
In fact they all seem very sports-minded as multiple items of sports equipment keep appearing, sometimes making their presence felt when used as weapons. In one scene, an assortment of bicycles weave speedily in and out, all very expertly choreographed.
It's fast, it's fun, it's totally crazy and extremely well staged and performed with a fabulous, joyous final scene as the fairies take to the Charleston.
Reviewer: Sheila Connor