The Messiah
Patrick Barlow
Simon Friend, Mark Goucher, Howard Panter,Tulchin Bartner and Birmingham Repertory Theatre
Sheffield Lyceum Theatre
–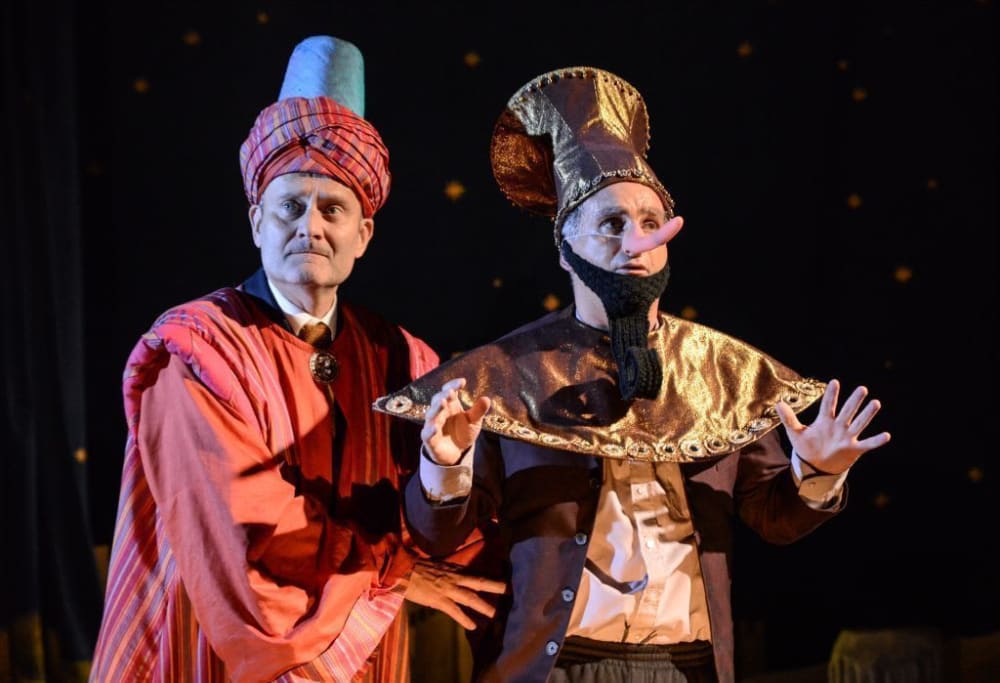 The Messiah, written and directed by Patrick Barlow, is a pre-Christmas entertainment loosely based on the story of the Nativity. We are initially presented with a set of fallen Roman columns around which two actors perform a play on a shoestring budget and an operatic soprano with attitude delivers unaccompanied solos from Handel's Messiah and other sources.
Although Barlow suggests that the play "is really about two guys looking for some spiritual truth", this is well concealed in the familiar trope of an amateur theatre company with actors who don't know their lines and can't act and where everything that can go wrong does go wrong. This is a scenario that has been around for a long time, notably in the mechanical scenes of A Midsummer Night's Dream.
The Nativity story is modernised and de-mystified. All the familiar characters are there: God, the Angel Gabriel, Mary, Joseph, the Kings, the Shepherds, Herod. And additionally, for the birthing of Christ, an additional character from Call the Midwife.
Mary is a querulous and quarrelsome young bride, resentful that she is stuck at home all day hemming the temple curtain. "I was going to mention that," she tells Joseph after Gabriel has let him in on the secret of the Immaculate Conception.
Much of the action centres on the inadeqacies of the two actors, played by Hugh Dennis and John Marquez, and this is leavened by episodes of mime, slapstick and audience participation. The journey across the desert on camel-back is particularly amusing, as are the constant scene and costume changes. Herod's nose has a life of its own.
Dennis and Marquez are both experienced TV performers who work together well in a stage setting. For most of the time, Dennis is the straight man to Marquez's mercurial clown, whose facial expressiveness and contorted body language is a world away from his more restrained performance as PC Penhale in Doc Martin.
As the prima donna-ish Mrs Leonara Fflyte, Lesley Garrett provides a necessary relief from the comic action with her beautiful unaccompanied singing of familiar passages from The Messiah and elsewhere. When the opportunity presents itself, she demonstrates comic skills that equal those of the men.
This is not biting satire and should not cause offence. The play and production has a quality of innocence about it and in the end a seasonal message does come through of care, concern and even love for other people.
Reviewer: Velda Harris