The Mikado or The Town of Titipu
W S Gilbert and Arthur Sullivan
Regan De Wynter Williams
Richmond Theatre
–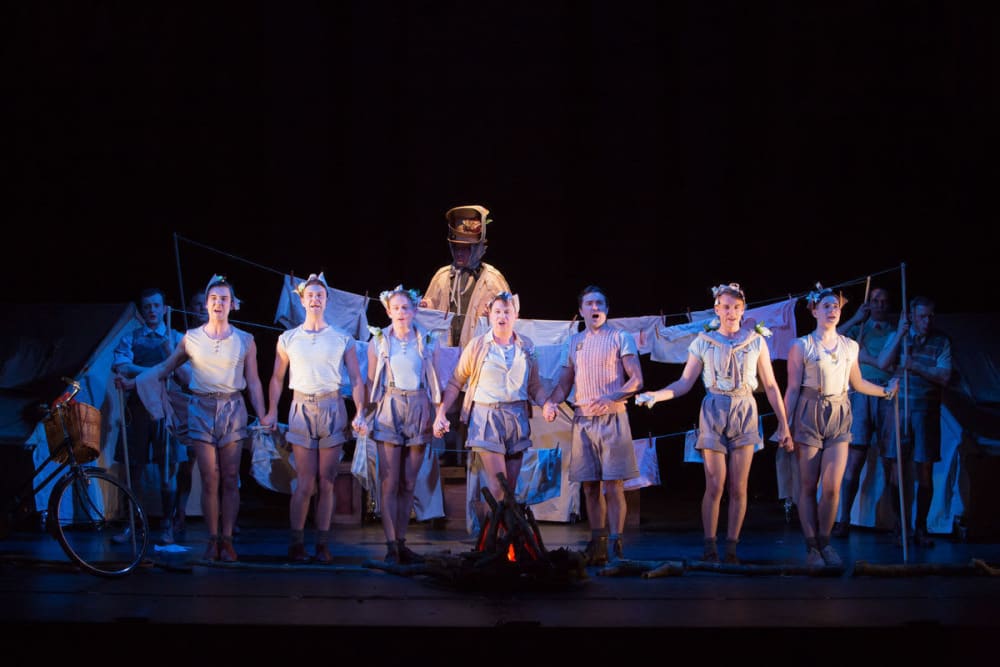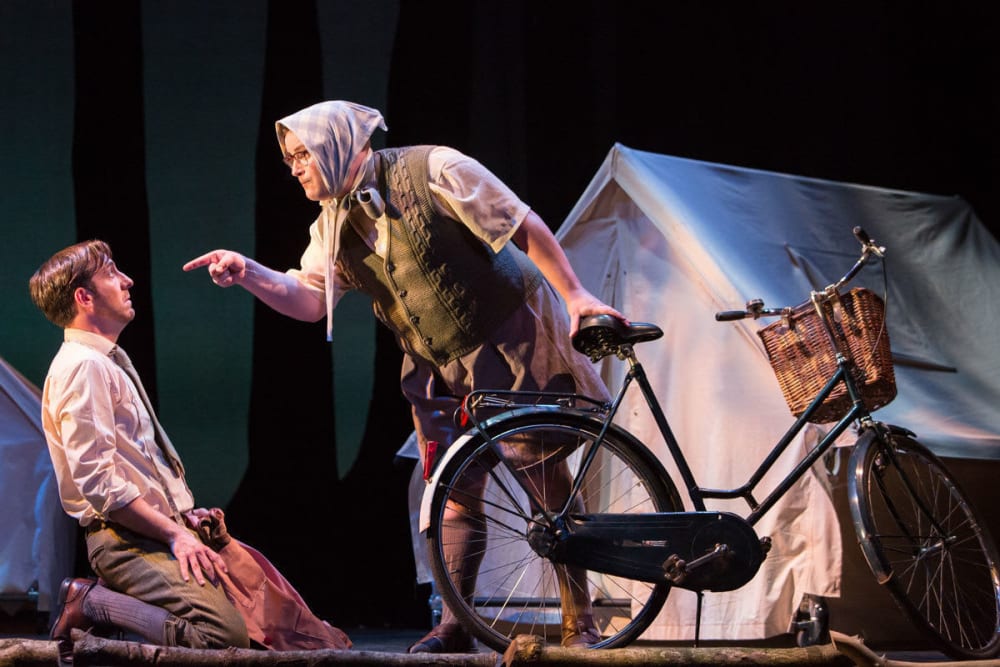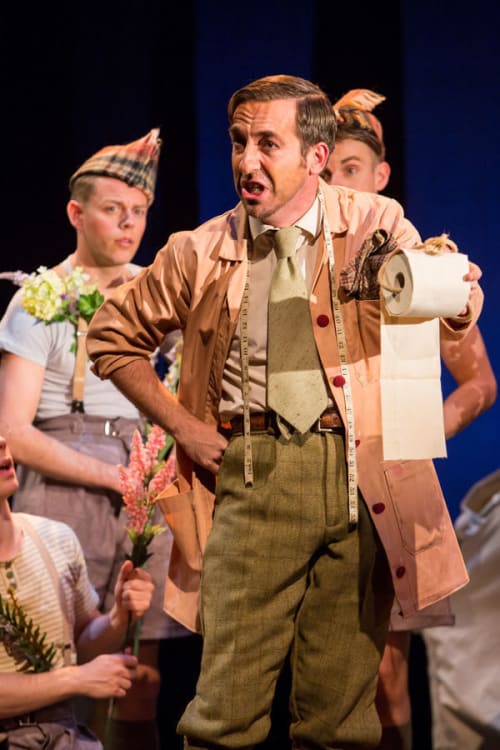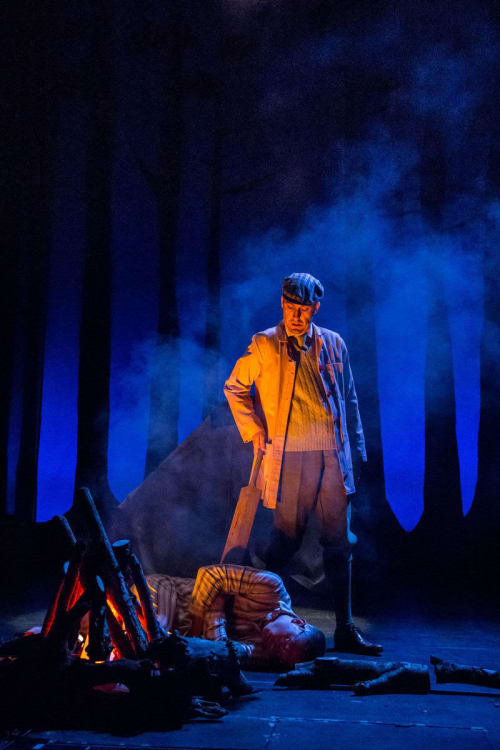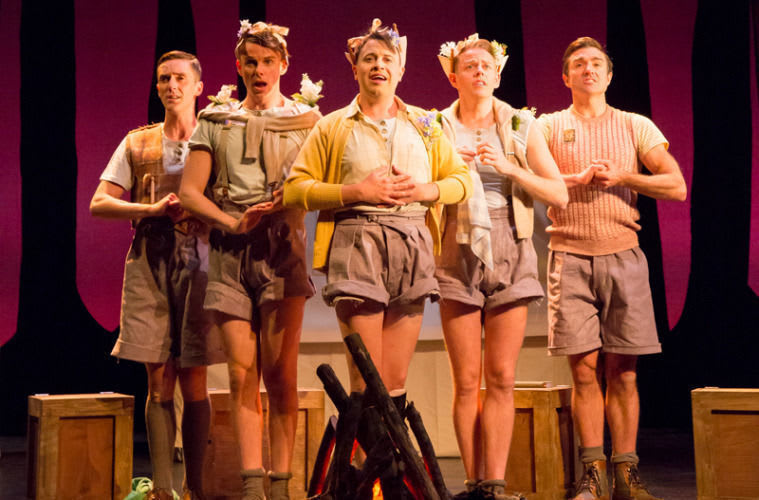 Sasha Regan stages her latest all-male G & S productions as a boys' school camping trip in the 1950s, all short trousers, short haircuts and lamplight under canvas.
Boys' schools putting on G & S used to be quite common but it is not really used here as a framing. The introductory overture sets the scene with lads larking about, denying a bog roll to one who needs it, as others come back to camp through the evening gloaming. They then just pop out of their tents and start performing.
It's obviously a school packed with talent, a trio of Billy Elliots get things going with sprightly pas de chat footwork and a whole classful of boys can all hit the high notes with ease.
Of course the story is absolute nonsense, a tale of an Emperor's son disguised as a trombonist as he tries to escape being married to the older, unattractive Katisha and track down the love of his life the once seen Yum-Yum. He becomes suicidal when he discovers she is going to marry royal executioner Ko-Ko, who's in trouble because he hasn't chopped any heads off. They do a dangerous deal—but does the plot really matter? It's the tunes and lively performances that have kept The Mikado a perennial favourite since it first upset Japanese sensitivities in 1885.
We are denied Japanese exoticism (though James Waud's Mikado does have a couple of flags sticking out of his shoulders like a Chinese Opera General). Everyone is in camping gear: and that wasn't meant as a pun. Designer Ryan Dawson Laight sets three tents in front of tall silhouetted trees and turns boys into girls by simply rolling their already short trousers up higher and sticking bits and pieces in their hair.
It's a simple coding that works in collaboration with performances that present Gilbert's simpering maidens as boys in a single-sex school's idea of what girls are like. It licences laughter at what might otherwise now seem too misogynist and this cast revel in hilarious camp caricature that is very funny, especially Richard Russell Edwards's Peep-Bo.
Richard Munday could be more of a heartthrob as wandering minstrel Nanki-Poo; he is just a bit too much "boy next door" for the hero, but that helps Alan Richardson's touching Yum-Yum. This is a delightful performance, more realistic than the other girls as though the boy playing her was copying a loved sister's behaviour.
Chief-executioner Ko-Ko, multi-post-holding Pooh-Bah and Katisha, Nanki-Poo's frumpish fiancée, seem to be played by the boy's teachers. David McKechnie's smooth Ko-Ko has a slightly sinister edge and an accent that suggest that in the next school production he wants to play Fagin but it's a strong and consistent performance and his "Tit-willow" quite touching.
Ross Finnie plays Pooh-Bah with energetic pomposity but too fast for clarity and Alex Weatherill, in a triple-layered hat, could be more forceful when first seen as Katisha, but headscarved later this made it easier to reveal her latent humanity, though the pathos she engenders is sabotaged by having her pump up a bike tyre.
The Mikado is full of lively tunes and patter and Sasha Regan is always inventive. Who else would have thought of a scene where these boy-girls are giving each other manicures and pedicures?
This production isn't quite such a high flyer as some of her other Gilbert and Sullivan but it makes a very enjoyable evening. It's well sung and Holly Hughes's lively choreography makes you wish there were more of it. The cast seem to be enjoying themselves and that's infectious.
Reviewer: Howard Loxton