The Mikado
Gilbert and Sullivan
Pulling Focus Ltd
Tabard Theatre
–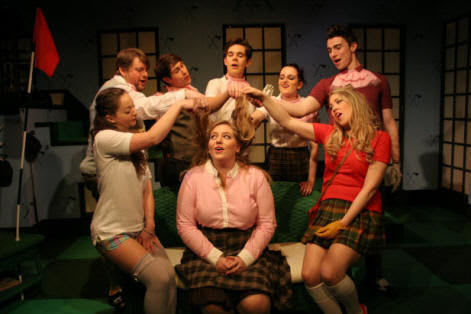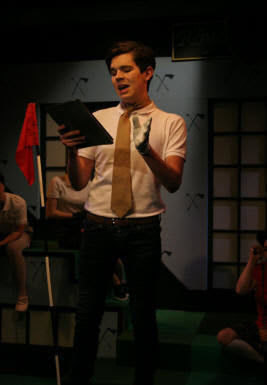 Mikado is a firm favourite in the Gilbert and Sullivan repertoire, but so often new productions fail to impress. Crammed into the tiny Tabard Theatre in Chiswick, eight wonderful performers re-ignite my love for G&S wacky shows, and even make me forget about the cramped seating.
Fun and frivolous, director Matthew Johnson is spot on with his concept. Set in the Royal Japan Golf Club, the characters are ra ra expats, who tend to stick their affected accented oar into every debate. The cast is more unusually comprised of music theatre, rather than opera singers, and Johnson makes the most of their movement abilities. Constant choreography (it's amazing how much can be achieved with a golf club) keeps the energy high, and the audience laughing.
Particular highlights include maypole-esque dancing with Yum Yum's hair and showboat style cane dancing with golf clubs. The ensemble is tight, comprising a cast of very versatile young actors whose facial expressions never falter and deliver every second with gusto. They each morph into their individual characters as the evening progresses, and manage to marry the individual personalities with the ensemble scenes.
Set designer Christopher Hone avoids the theatre above pub grunge, instead brightening up the place as an upper-class clubhouse. Green-carpeted floor, bright blue walls, golf clubs and balls are complemented by attractive cherry blossom silk screen doors. For a small theatre there are 10 entrance doors, even tucking in a miniature door underneath the stairs.
Accompanied by a tight, 4-piece band, Jerome Van Den Berghe's arrangement merrily oompahpahs its way along, with frills in the wind parts. The cast are faultless with diction, and deliver the witty updates with charm. With plentiful high-speed patter required, this is quite a feat. The rewrites in the songs have everyone laughing; Koko includes bankers, graffiti artists and horse meat-mincers on the list for execution, sure none would be missed.
The men are stronger vocally, and the choice of voices proves to be weaker whenever soprano high notes are called for. The character injected into every line more than overcomes these deficiencies though.
It is always exciting to see a show with no weak links. Emily Davies plays the sweetly naïve Yum Yum, offset by her cattier pals Peep Bo (Eleanor Knight) and Pitti Sing (Michelle Whitney). Andrew Pugsley, with a beautiful bass voice plays the multi-faceted Pooh Ba, off which flustered camped up Ko Ko (Ed Norwood) bounces ideas. Michael Risely as the wandering minstrel Nanki-Poo combines dulcet tenor tones with a gentle desperation to be with Yum Yum. The final addition of slutty sister-in-law Katisha (Suzanna Kempner) and the disconcertingly dry Mikado (Stiofan O'Doherty) complete this tight team.
Katisha is dolled up in hot-pants and leopard print bra, but looks ratty next to the fresh-faced golfing girls. Luckily her left shoulder blade and right elbow hold a certain fascination. Kempner delivers this Essex-twinged character with bags of energy and attitude. O'Doherty really steals the show with his Mikado, his fixed stares and determined distance from the furor around him is unnerving even as an audience member.
Johnson has done a fabulous job with this production. He injects the hammed-up hilarity required, teamed with a talented cast, and reminds us what Gilbert and Sullivan is all about. This pair were direct influencers on the world of music theatre that followed, and it's great to see the same attention to choreography and ensemble as one would find at any good musical.
Pulling Focus productions aims to create 'work with popular appeal', and 'prove size is no barrier when it comes to producing and programming shows which are critical and commercial hits'. It is safe to say this Mikado ticks all those boxes.
Reviewer: Louise Lewis