The Mindspace

Re:Conception Theatre
Lauriston Halls
–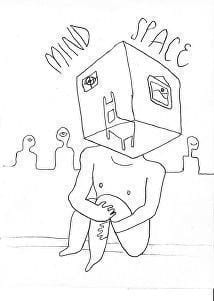 A broken mind in a broken man has unfortunately created a broken show.
Although an interesting and well-conceived concept, Re:Conception Theatres' production The Mindspace is awkward, intense and at times difficult to follow.
Fully improvised, this interactive piece asks the audience to work together to find harmony in the brain of a man to treat his mental trauma. Witnessing figments of this man's imagination interact, interviewing them and discussing the next step as a group is all part of this hands-on escapade that feels more like a disjointed theatrical jigsaw than an adventure into the unknown.
The actors must be commended for some good improvisation even if the acting at times is somewhat sloppy. The six characters often talk over each other, resulting in the audience having to pick and choose which storylines they wish to follow. This in theory creates a somewhat original construct but doesn't necessarily work in practice.
If you are scared of talking in public or dislike being thrown out of your comfort zone then this is certainly not the production for you. From the moment you step into the space, you are having to make forced introductions with other audience members entering this unknown world. You are also required to stand for a large proportion of the show and jealousy soon kicks in as all six characters sit in the room around you.
With a countdown timer projected onto the back wall revealing how long you have left in this poor man's brain, there are definite times where you wish time would go faster. It is certainly a brave and interesting idea but it may take a little more research and development before The Mindspace sticks in everyone's brains for all the right reasons.
Reviewer: Liam Blain