The Mirror Crack'd
Rachel Wagstaff
Salisbury Playhouse part of Wiltshire Creative
Salisbury Playhouse
–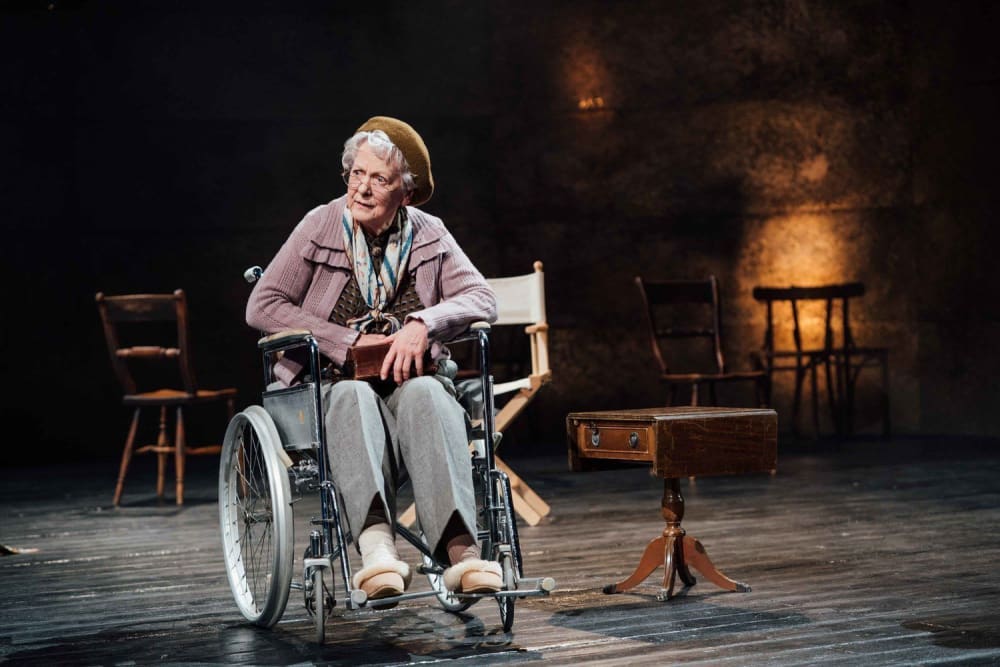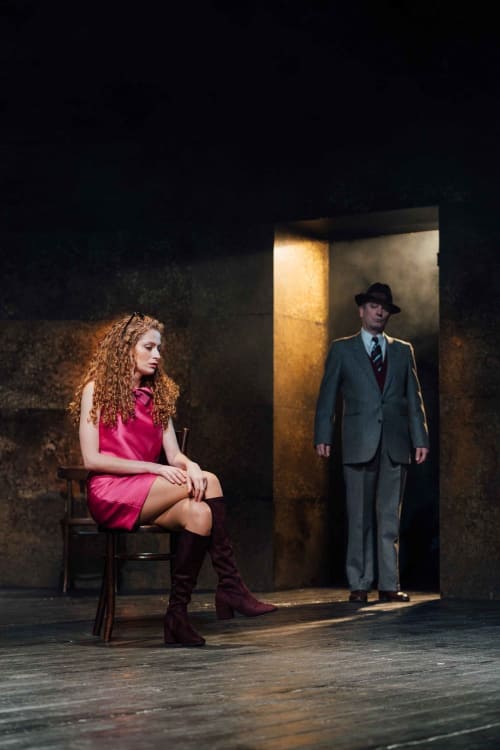 The title's ominous. I mean, she—the Lady of Shallot—didn't realise at the time that just a glimpse of Sir Lancelot would cause not only the mirror to crack but bring even worse disaster in its wake. We can expect a few calamities in this play then. That's for sure.
And it's based on a story by Agatha Christie, after all, that most prolific of all crime writers. Seventy-five novels, nine collections of short stories and sixteen plays, with bodies piling up all round. However did she do it? And how is she still doing it, with Hercule Poirot appearing regularly on TV and The Mousetrap showing in London since 1952 with no signs of giving up any time soon?
We can expect plenty of crime-fuelled action then. But what's this? A nice, peaceful, empty stage, apart from a few chairs round the perimeter, and unlit except for the easy chair in which sleeps an elderly lady, her bandaged foot resting on a cushion.
So what will happen when the action starts? She does look very peaceful. She's not already a victim, is she? Actually no. She is, in fact, Miss Marple herself (Susie Blake). And we get a brief look inside her dream when the stage is suddenly filled with a crowd of widely disparate characters, leaping about and threatening to start fights, even kicking a baby, before she wakes up alone. Some of them will appear later in reality, won't they?
Of course, in the traditional way of crime stories, there needs to be a fairly substantial cast to provide a proper range of suspects. And they soon begin to appear. Will the ultimate baddy be young Lola (Gillian Slaker), the uninvited guest at the gathering, or will it be Cherry Baker (Katie Matsell), the housemaid from Croydon? Then there's Ella the secretary (Davina Moon), the charismatic butler, Giuseppe (Huw Parmenter), Jason, the producer of the film they're making about Ann Boleyn (Joe Dixon), together with Marina (Suzanna Hamilton) who is reputed to be the most beautiful woman, not just in the film business, but in the entire world.
And what about Heather (Katherine Manners) and Dolly (Julia Hills)? She and Miss Marple have been friends for such a long time, haven't they? Alright. We can probably leave out DCI (as he keeps reminding us) Dermot Craddock (Simon Shepherd). After all, Miss M's influence over him as a child must count for something, mustn't it?
So who will it be? We're trying to guess and it isn't easy. But isn't that always the way with really good crime fiction?
This is a wonderfully thought-through production. Characters may be offstage, but we can watch their progress through the semi-transparent backdrop, flashbacks and other clever theatrical devices.
But isn't the success of this play largely down to the creative minds of its playwright, Rachel Wagstaff, and director, Melly Still? Both avid detective fiction fans, they have worked enthusiastically together, resulting in a performance in which, unusually for a whodunit, every character has an emotional impact and been treated seriously. Their back-stories aren't just interesting for their suspicion content. They make us want to know more, to be more intimately involved with these characters' lives. We're going to be concerned about them all, not just on our way home from the theatre but for a long time to come.
A wonderfully successful production then. One which will collect accolades throughout its coming tour of Dublin. Cambridge, Cardiff and beyond.
And we've got to be especially glad for young Katie Mansell. It's her first professional role after leaving drama school, her first step on the acting career ladder.
Darling girl, you are so lucky to have been part of this production. The lessons you've learned here in Salisbury will be with you for the rest of your acting life.
And you've made a brilliant start.
Reviewer: Anne Hill