The Miser
Molière, adapted by Justin Fleming
Bell Shakespeare
Fairfax Studio, Melbourne Arts Centre, Australia
–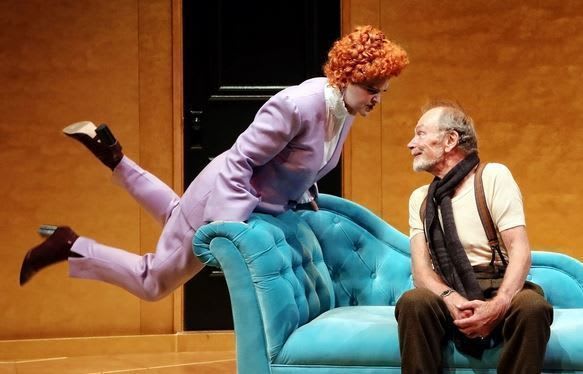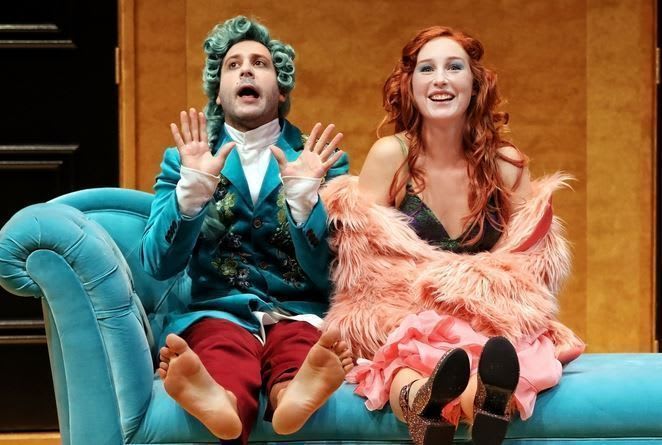 It's more than 50 years since John Bell forged his reputation as an associate artist at the Royal Shakespeare Company, and nearly 30 since he formed what was to become Australia's only national touring theatre company, Bell Shakespeare.
So his return to the latter for the first time, after running it for a quarter of a century, in a show directed by his successor Peter Evans, was bound to raise expectations.
Bell is a little short of 80, although the years fall from him as lightly as Melbourne's autumn leaves, and this is a performance to treasure.
He plays the eponymous skinflint Harpagon with a throwaway disdain, fast-talking, a man with no grain of self-doubt to halt the flow, or to dim the ardour of his pash for cash. Even when this scruffy, bum-scratching grouch dons gold-lamé jacket and tight trousers to win a pretty, young bride, it's the price not the prize that is to be the deal clincher.
Unfortunately, it often seems as if Bell is in a different show to everyone else. For while he plays it straight, and lets the humour and underlying pathos of the situation speak for itself, the rest of the cast have been set up as white-faced pantomime grotesques.
Damien Strouthos as son Cleante, Harriet Gordon-Anderson as daughter Elise and Jamie Oxenbould as the stroppy, scene-stealing cook Jacques succeed against such adversity, while the demands of the production reduce Michelle Doake's matchmaker Frosine to an overwound mechanical doll.
This new version of the play opens with a twist—that Elise's secret love, her father's servant, is another woman, Valère, played delightfully by Jessica Tovey, making the former's line about "keeping revealed your true position in life" doubly true.
After a slow first half, the piece gains traction in a great, stagey climax of discovered identities, and after Harpagon's riches have been stolen, he cries, "money, my legal tender," lamenting his lost love. It's one of the few good, original jokes in this reworking; those moments apart, Justin Fleming's adaptation is disappointingly flat.
Designer Anna Tregloan sets the piece within the golden walls of the miser's home, with four doors for farcical entries and exits, and moving terrariums representing the garden in which Harpagon has hidden his wealth. Sadly the treasures of Molière's great comic play remain similarly half-buried.
Reviewer: Colin Davison