The Miser
Molière, new version by Martin Sherman
The Watermill
The Watermill Theatre, Newbury
–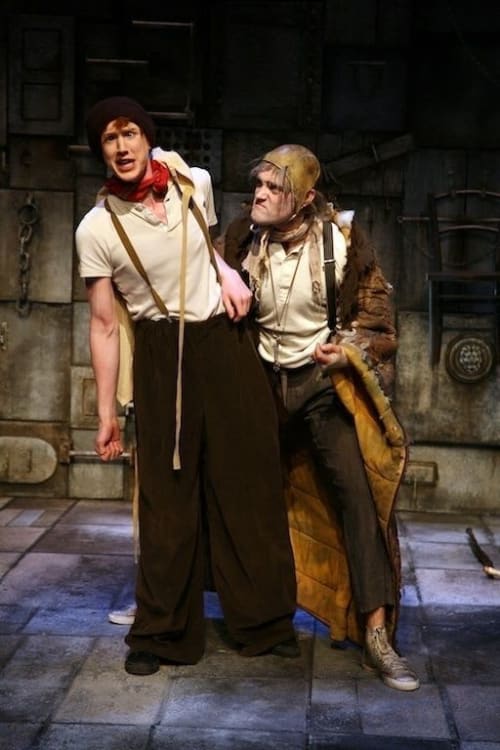 Director Nancy Meckler brings a fresh and vibrant interpretation to Martin Sherman's new adaption of Molière's The Miser. It's a fast-paced and very funny production that had the audience laughing out loud from start to finish.
The Watermill is dedicated to supporting emerging artists through it's Freewheel project which gives the cast and creative team of young professionals the opportunity to learn more about their craft through a longer rehearsal process and allows for additional teaching and training. They have grasped this challenge with relish in what is an impressive, gleeful production.
Ellan Parry's atmospheric set of grey locked and chained cupboards with many secret compartments is intriguing and creates the ideal background with an aura of bleakness.
Alex Mann, dressed in a threadbare quilted coat, is superb as the miserly skinflint Harpagon who refuses to spend any money on himself or his children and has stashed away his vast fortune, burying some of it in the garden. He is totally obsessed and will do anything to avoid spending money much to the angst of his family.
His wily daughter Elise, alluringly played by Helen Sorren, is in love with Harpagon's steward Valere, a splendid performance from Daniel Wilde who is painfully and hilariously ingratiating to his master.
Ben Ashton is marvellous as the ostentatious strutting peacock of a son Cleante who is in love with the innocent Marianne, the charming Charlie Russell, who comes from a very poor family and cannot provide a dowry in order that she can marry Cleante.
The tension mounts when Harpagon announces that he is about to marry Marianne that very evening, plunging Cleante into a panic as he desperately tries to borrow money to pay for the dowry with farcical results.
The lovers are reassured by the matchmaker Frosine, a delightful, robust and energetic portrayal by Eliza Collings, whose wit and quick thinking manages to keep all sides placated, convincing Harpagon that, "How could anyone love a puppy when they could have a dog" and to Marianne, "What's the point in marrying an old man if widowhood was not in the marriage contract."
Edmund Digby-Jones brings some lovely touches of humour as the cook and coachman Maitre Jacques, who is forced to produce food without any money and is worried that his horses are starving.
There are some magical moments of sheer clowning that echoes the Commedia dell'Arte genre and are filled with comic invention and audience participation.
This is a perfect evening's entertainment full of fun and mischief that leaves you feeling good, the perfect escape from the wet miserable weather. 
Reviewer: Robin Strapp