The Misfortune Of The English
Pamela Carter
Orange Tree Theatre
Orange Tree Theatre
–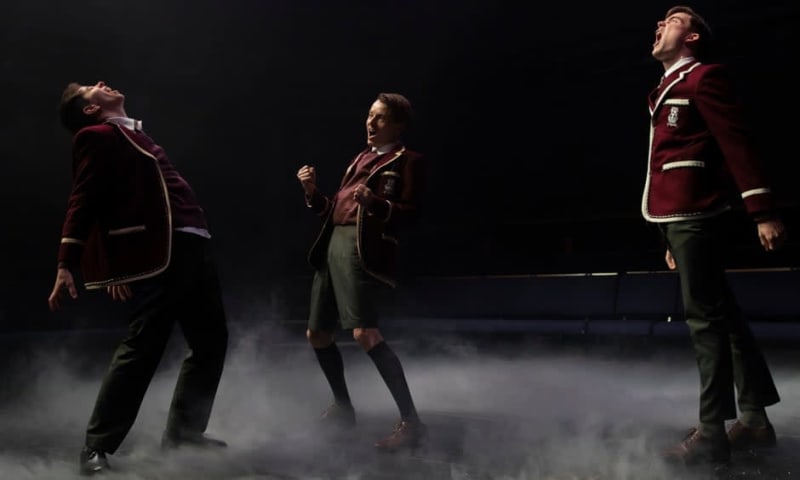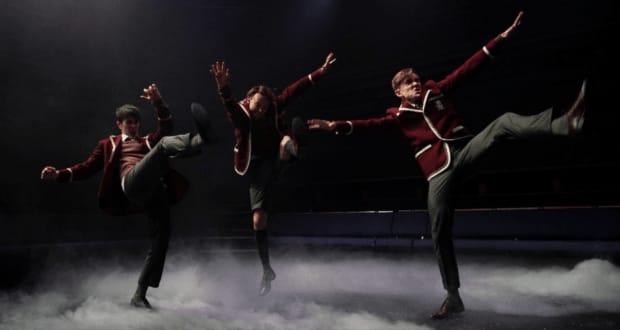 What is a bit of rain when you are off on an adventure? Nothing to worry about when you are led by teacher Mr Keast, who tells them they aren't in school now they can call him Keastie. It is 17 April 1936, a few days before Hitler's birthday (when the town will have a big parade), when 27 boys from the Strand School, a grammar school in South London, set off from the Hitler Youth Hostel at Freiburg on the start of a ten-day walking tour of the Black Forest.
So begins a true tale of arrogant incompetence that will lead to the death of five of them. The Hostel's warden has marked a route on the teacher's inadequate map, but Keastie decides on a diversion that, instead of crossing its flank, will take them to the top of the 4,200 feet high Schauinsland. Pamela Carter's play tells the story through three of the boys, two of whom won't be survivors.
Vinnie Heaven plays eager, excitable 14-year-old Eaton who seems to idolise Katie, Hubert Burton the slightly older, more disciplined Harrison and Matthew Tennyson is Lyons, a Jewish lad. Lyons's father, aware of the situation in Germany, has reassured him that as a schoolboy he won't meet any difficulties, but there's a hint of anti-semitism even among some of his schoolmates.
There is a raw freshness about all three performances that, along with their uniforms, makes it easy to accept them as schoolboys, boys putting on a front that makes them fit in with their fellows, doing their best to behave as they've been taught is expected. Some of the older boys made the trip out last year; they tell those abroad for the first time that the things they find different are "typically German". These are boys brought up to believe in an empire on which the sun never sets. If some of the Hitler Youth choose to find them funny, their response tends to be, "who won the war anyway".
As the rain turns to sleet, the boys hang around, halted outside as Keatie goes into an inn to check on directions. "Is this a break for Lunch sir?" They are told it is up to them to make such decisions and they are left in the dark about what is going on. A strange man alone among the trees makes them think of the stories of danger that lurks in the forest. It turns out he is a postman who confirms they are on the route up the mountain. Now they are trudging through snow and into a blizzard. Should they turn back and risking being ridiculed by jeering Germans?
All this is played on a bare stage dramatically lit with harsh white light. Swirling mist grows thicker, a flurry of snow promises more to come. This will be nothing to what they will meet when they pass to the other side of the mountain and meet its full force. Director Oscar Toeman not only draws compelling performances from the three boys but creates a sense of dramatic action in they way he keeps them in movement but saves using sound until when it comes its effect is climactic.
In the intervals between each episode of their trek, there is the voice of a tour guide of the present day (Eva Mágyar) and the boys themselves do their PT. Later, with the help of a model, she will appear to tell us of the aftermath: how credit for rescuing most of the boys was given to Hitler Youth, not the locals who really saved them, the memorials erected, the blame avoided. It is a sequence that is too long and seems too like a lecture (especially when it had been nearly an hour and a half without interval), but the return of the boys salvages the ending.
In retelling this tragedy, Pamela Carter seems to be offering history as a metaphor for the mistakes we go on making. Failure to find out about things, stubborn arrogance, making wrong decisions, too easily putting our trust in our leaders, responsibilities avoided and outcomes disastrous. With British schoolboys in Europe, there are clear Brexit parallels, but you could apply them more widely.
This isn't a perfect play, but its performance holds the attention. Some cuts would help, but you can't help being moved as rapidly freezing Eaton curls up like a baby and you know what is coming.
Reviewer: Howard Loxton