The Moderate Soprano
David Hare
Hampstead Theatre
Duke of York's Theatre
–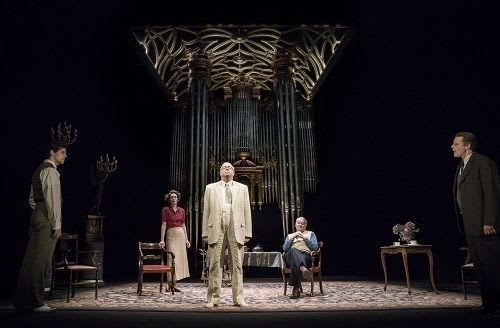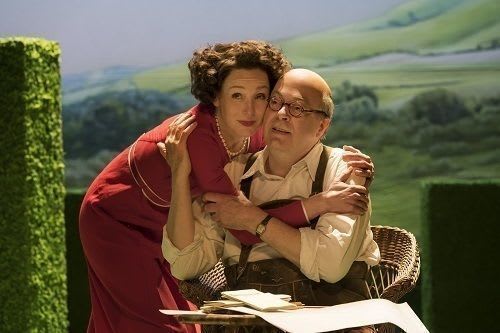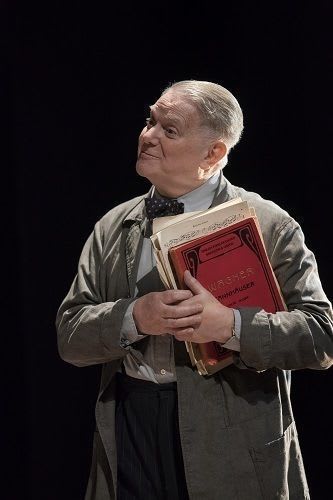 "For me it's the garden and the way the garden is tended. I've always treated the staff… the conductor, the producer, the lovely people who sing… very much as I treat the gardeners. No different. The gardeners do the garden, and the musicians do the music."
For many, the name 'Glyndebourne' conjures images of the leisured, moneyed and privileged, lounging in evening dress on perfectly manicured grass, picnicking on smoked salmon and quaffing bubbly beside the lake, amid the topiary. 'Snobs on the 'Lawn', as reads a fictional headline in David Hare's A Moderate Soprano, which has opened at the Duke of York's theatre following a first run in Hampstead in 2015.
And, to some extent, this image is not an inaccurate one. "The graciousness of civilisation here surely touches a peak where the arts of music, architecture and gardening combine for the delight of man," was Vita Sackville-West's judgement of Glyndebourne, in 1953. Luke Halls's black-and-white video projections of the Christie family pile—with its handsome façades, charmingly cultivated flower beds and clipped hedges—nestled in a valley amid the rolling Sussex Downs, add to the realism of Bob Crowley's simple set, which reproduces the magnificent Organ Room built by John Christie to house concerts and opera evenings presented for and by family friends, tenants and employees.
But, that's just one aspect of the Glyndebourne Festival which the Wagner-loving, former Eton schoolmaster John Christie founded in May 1934, with the aim of providing a space and opportunity for unlimited rehearsal in order to present performances of opera which were "not the best that we can do, but the best that can be done anywhere"—a vision which survives in Glyndebourne Festival Opera's present-day Mission Statement.
There's also the matter of the music itself. As a student, I queued overnight for £10 tickets in the gods of Sir George Christie's newly built house, which opened in May 1994; now, as an opera critic, I'm lucky to return each year and to enjoy the Festival Tour's performances in the provinces. The snide may scoff that the clientele are more interested in the Veuve Clicquot than the Verdi on show, but you'll have to take it from me that the majority are there to feast on opera.
Hare, though, in telling the story of how John Christie's passion for both music and his own 'moderate soprano', his wife Audrey, led to the founding of an opera house and festival which remains one of the world's finest and most revered to this day, focuses more on the quintessential quaint eccentricity of the English-with-private-means. A composer, Paul Englishby, is credited, but aside from a few scene-change interludes, music itself is not a strong presence in the drama.
In contrast, Roger Allam's Captain John Christie does make his presence felt. A bundle of contradictions—innocent idealism alternates with calculating childishness, pragmatism with wilful pomposity, sincerity with selfish stubbornness—this larger-than-life, lederhosen-clad culture-evangelist might have stepped straight from the pages of a P G Wodehouse novel.
Allam brilliantly portrays Christie's innate sense of entitlement and self-belief, dashing off his quirky pronouncements with such blithe illogic that they almost seem credible. He drives fast as it's safer: "the quicker you go, after all, the less time you're on the road. Stands to reason." As Audrey tells the producer Carl Ebert—who is appointed by Christie alongside conductor Fritz Busch—John is a believer in genuine democracy, "but only when it's him that grants it." Allam's passion and energy are palpable, but so is Christie's real tenderness for Audrey and, surprisingly for such an egoist, his readiness to recognise and defer to his wife's common-sense and better judgement.
Christie's love for Audrey is in some ways inseparable from his love for music, but his remarks about the latter seem to lack sincerity. He won't employ an "English conductor" because the notion is a "contradiction in terms"; his initial, nonsensical, plan is to present Parsifal with a chorus of 200 singers accompanied by a string quartet. When the German trio of Busch, Ebert and General Manager Rudolf Bing try to convince Christie to open the House with Mozart, he quips: "Mozart. Is he any good?" Christie articulates his artistic integrity—"opera's the thing. It matters, dammit. We're talking about the sublime"—in the face of Audrey's concerns about his intention to price tickets high, but it's hard to know if his words are genuine or spoken with true self-knowledge.
Audrey tells us that John is a "good man", and that when he was commended for exceptional bravery for his leadership of a battalion during WWI he insisted that his name should be struck off the list, "leaders should never be honoured. But the men should." Yet, we learn that while Audrey was in Canada during the Second World War, trying to earn much-needed money—without much success and with considerable strain on her health—John was firing off letters to Churchill about the abominable standards of music-making on the BBC.
Christie professes to "treat people decently", but this essentially means that he believes his wealth confers superiority: "it's my garden, but it's your talent… You make it, but I own it." The elderly Ebert's recount of his sacking by Christie, after 25 years and 41 productions, confirms a ruthless, even callous, streak: "just a handwritten letter. 'You're sacked.' … English values are always on the Englishman's terms."
There are questions left unanswered. Just how unaware and ignorant is Christie about the situation in Nazi Germany? When Busch and Ebert try to explain about the menace of the regime, despite Hitler's fondness for opera, particularly Wagner, he responds with a flippancy which is both foolish and dangerous: "Oh. Well, in that case my first reaction is that he can't be all bad."
Bing briefly speculates about this 'innocence', but the 2015 text (published by Faber) includes a comment by Bing, now excised, which infers a more damning judgement: "Christie is a truthful man… What he tells you is always true. It's what he doesn't tell you, you need to watch out for." It's a reminder that the gaffes of a benign buffoon do not always reflect harmless gullibility and lack of guile. Think Boris Johnson.
Like Allam, Nancy Carroll is reprising her 2015 performance as Audrey Mildmay, the young opera singer, 18 years Christie's junior, with whom he fell in love when she performed with the Carl Rosa Company at one of John's amateur productions. Carroll captures the vivacity which, alongside Audrey's 'moderate'—"here meaning gentle, not second-rate"—soprano voice, so charmed Christie.
But, she's also an expert 'moderator', her pragmatism, diplomacy and patience serving to mediate between the strong personalities of the professionals and the petulance of her husband, and so enable the latter to achieve his ambitions. Paule Constable's lighting is helpful in making the shifts between 1934 and 1952 credible, and Carroll's depiction of the fear and frustration of the weak and sick Audrey of the latter years is moving. The intimacy and honesty of the couple's last moments together is deeply affecting. But, one misses a fuller account of Audrey's own career, desires, hardships. After all, she is the titular protagonist.
The 'three Germans' are less fully realised, and their role largely seems to be one of filling in the historical context through extended accounts of their experiences during the early days of the Third Reich. Jacob Fortune-Lloyd suavely captures Rudolf Bing's confident Viennese charm, Anthony Calf's Professor Carl Ebert is optimistic, engaging and determined, while Paul Jesson relates eloquently the intimidation, bullying and blackmail experienced by Dr Fritz Busch which led him to flee to England.
But, such episodes are rather static. When Carl accuses Christie's plans of reeking of amateurism, the anxious Fritz sharply steps forward, grabs Carl's arm and turns his head aside, fearing an outburst of wrath. The fact that this movement lingers so firmly in my memory suggests a lack of gesture and incident elsewhere. For this revival of the play, Hare has added a servant, Jane Smith, played by Jade Williams, whose only functions are to give us a brief insight into Bing's philandering and to push the elderly Christie's wheelchair.
It's impossible not to chuckle at Hare's neat one-liners which are delivered with slick effortlessness by the superb cast, but I found myself wondering to whom the playwright intended this drama to appeal. The guffaws on press night were largely triggered by mild jibes at the upper-middle-classes—not so dissimilar from those persons seated in the stalls, one presumes—such as Audrey's dislike for the new Glyndebourne Trust and Festival Society in 1952—"organised by John Lewis. You know—the drapers."
And, there are 'in-jokes' to please the opera-going crowd, such as John's plan to make his theatre so dark that no-one can leave until the curtain calls are over: "I'm not having any of that crafty sneaking away." One imagines that the members of the Christie entourage in the theatre for this performance, including the current opera-singing Mrs Christie, were gently amused, but those not 'in the know' or 'in the club' might be less tickled.
Hare's play seems more concerned with Englishness than with opera. As Audrey wryly reflects, Glyndebourne was [and is?] above all twentieth-century English—adding a line not in the original text, "after all, Rudi, Carl and Fritz ensured that it was."
In the closing moments, Christie sits in darkness in a wheelchair, centre-stage, as Busch steps from the wings and raises his baton before an imaginary orchestra: the bustling overture to The Marriage of Figaro resounds through the auditorium and Audrey, dressed in the costume that she wore as Susanna in the inaugural production of Mozart's opera, joins them. The dream was fulfilled and lives on.
Reviewer: Claire Seymour