The Mole and The Worm: An Underground Tale
Lowri Jenkins
Teatro Entre Escombros
Theatre 503
–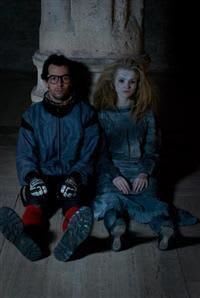 In the depth of an underground cave, through the damp darkness and echoing ripples, a Spanish spelunker finds an eighteenth century English girl; she hasn't left the cave for hundreds of years, and wants to know how to be a modern woman. He's an explorer keen to remain isolated. One is digging his way down, the other trying to find her way back up.
In this odd and playful tale, desires enter a conflict, and a relationship—speculative and fictional—is resisting to form. The Mole and The Worm is a candid, playful parable; in its specificity, it brings two intriguing characters in an atmospheric environment with no rules, full of surrpises, from revelations about the characters to interventions in the odd environment. It's less of a production and more of an exploration of a concept that resides beautifully in the confines of the intimate 503 Theatre.
If at times, the story stretches its logic and tone slightly too far—the moment that provides tension, which keeps them both trapped in the cave, is also the only part of the play when naturalism makes a bizarre and unwelcomed visit in the anxieties of the spelunker—the strength of The Mole and The Worm is its confidence and skill to play with ideas, to capitalize on the otherness of the world the characters inhabit, its impossibility and tangents to topics that drama tends to overwhelm: compromised relationships, characters trapped in metaphors.
What the duo, Javier Ariza and Amy Gwilliam, engage so strongly with is the space itself, but also the nuances of their characters. Trained at the Philippe Gaulier School in Paris—a system of training that capitalizes on the actor's own stage presence, introducing elements of mime and clown in training—the two play with the rules of clowning, considering the potential offered by the body to embody and construct a character. They also manage to suggest instead of represent, and expand and contract the space they inhabit with impressive skill.
The Mole and The Worm is an uneven play, but one whose strength lie in a refusal to conform to the natural demands of such a project; it's a highly imaginative,surprising, ambitious, charming and rewarding tale whose engagement with ideas, spaces and bodies is highly potent.
Reviewer: Diana Damian