The Motive and the Cue
Jack Thorne
National Theatre with Neal Street Productions
National Theatre (Lyttelton Theatre)
–

Listing details and ticket info...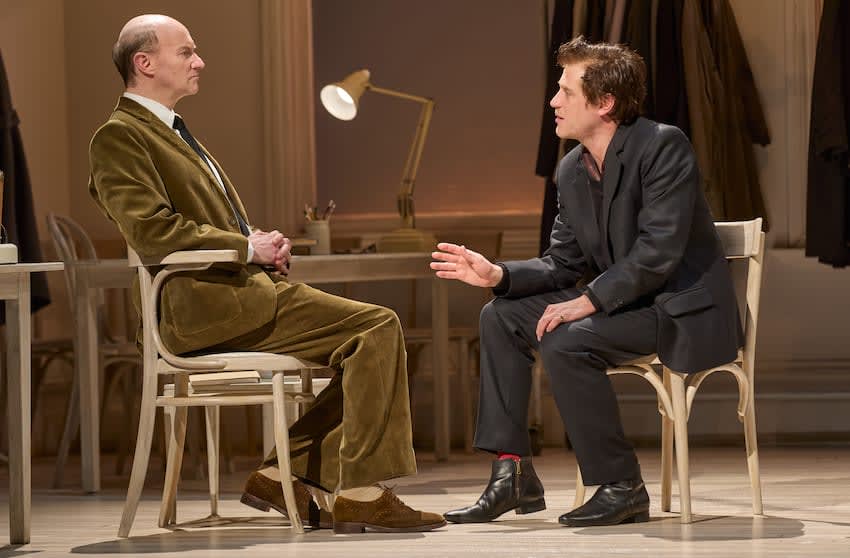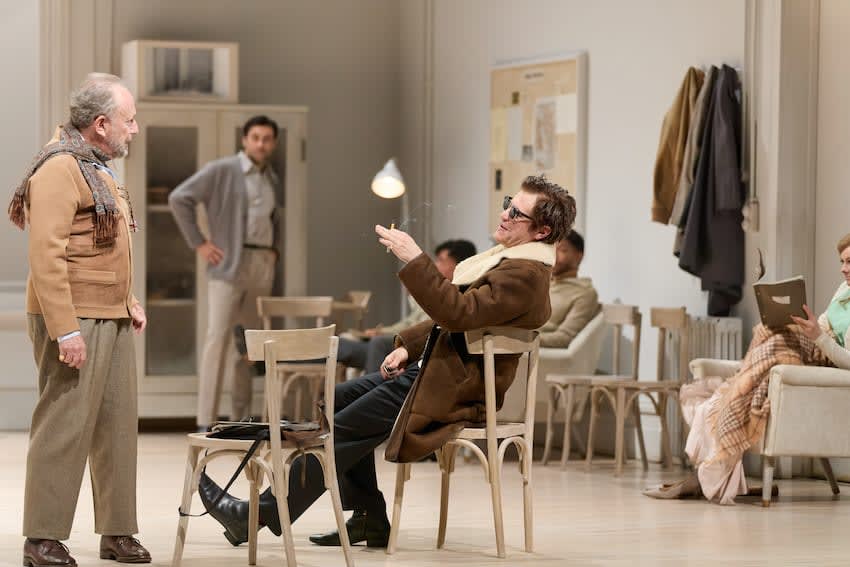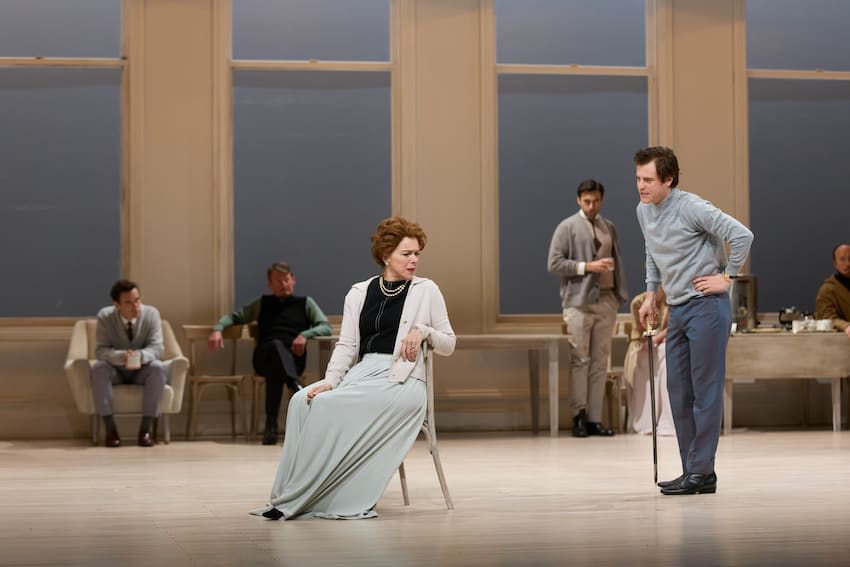 In 1964, Richard Burton played Hamlet on Broadway in a production directed, at his request, by John Gielgud. It was staged in "rehearsal clothes" as though a final run-through. It became the longest running Hamlet on Broadway, but creating it was a rough ride with star and director in conflict, and that is what Jack Thorne's new play presents us with. It explores the rehearsal process and the collaboration and clash of two very different personalities.
Two of the supporting actors wrote books about it: William Redfield (who played Guildenstern and who is here played by Luke Norris) and Richard L Sterne, who had kept copious notes and secretly taped rehearsals. Inspired by their record, Thorne has fashioned a portrait of two theatrical icons and a paean to the power of theatre.
Cinema star Burton was newly married to Elizabeth Taylor and the pair of them never out of the media, while an ageing Sir John was at a critical point in his career (this job is "the best offer I've had in quite some time" he says), but both show their insecurities.
Johnny Flynn as Burton and Mark Gatiss as Gielgud don't offer impersonations but interpretations of character. Flynn can't match Burton's vocal richness, but he does capture the rasping energy of his forceful delivery, his frustration and the animal vitality of his passion for Taylor, while Gatiss, who echoes Sir John's mellifluous cadences and often shares his physical language, gives a portrait of baffled delicacy.
Burton expresses huge respect for Gielgud as both actor and director, but it was probably inevitable that two such different personalities would clash. When Burton bolsters himself from the bottle, he disrupts rehearsal with an outburst that goes far too far, shocking fellow thespians like Hume Cronyn (Allan Corduner), who won a Tony Award for his Polonius in this production, and Eileen Herlie (Janie Dee). Sir John may be deeply hurt, but his restraint doesn't silence his waspish wit. "You shout wonderfully," he tells Burton.
Elizabeth Taylor plays peacemaker. In a breakfast meeting with Sir John when they both look back to their professional beginnings, she is calm and understanding. Tuppence Middleton makes you see a very different woman from the film star, and there is respect on both sides of their conversation.
Jack Thorne has structured his play to move between the rehearsal room and private scenes in the Burton's apartment or Sir John's hotel room. Richard Burton's rampant randiness contrasted with Sir John's chaste assignation with a young male sex worker, a scene played with touching sensitivity by Gatiss and Laurence Ubong Williams.
Es Devlin's setting closes in the Lyttleton's wide proscenium to create smaller spaces and downstage scenes in front of a black cloth, which cover magically brief scene changes to both make comment through action and create a flow between rehearsal and more atmospheric, performance level staging in the same scene.
Director Sam Mendes's fluid production keeps a delicate balance between presenting the personality confrontation and a revelation of rehearsal process. This isn't about moving actors around to make stage pictures but disclosing what the play is about, how to bring it to life and connect its ideas with the audience. It hinges on an exploration of Prince Hamlet's advice to the players. As well as directing, Gielgud voiced Hamlet's father's ghost and a discussion of the actors' relationships with their own fathers not only sees sharing but feeds into their production concept.
Those who know the play well and have a particular interest in the making of theatre will find The Motive and the Cue fascinating, but you don't have to be theatre mad to enjoy it and appreciate its quality. It is about people. However, those who are theatre buffs might like to know that they can see a film of the actual 1964 production shot over three performances at the Lunt-Fontanne Theatre on YouTube. It isn't a high-quality image but you may find it intriguing.
Reviewer: Howard Loxton