The Mousetrap
Agatha Christie
Sir Stephen Waley-Cohen and Adam Spiegel
Exeter Northcott Theatre
–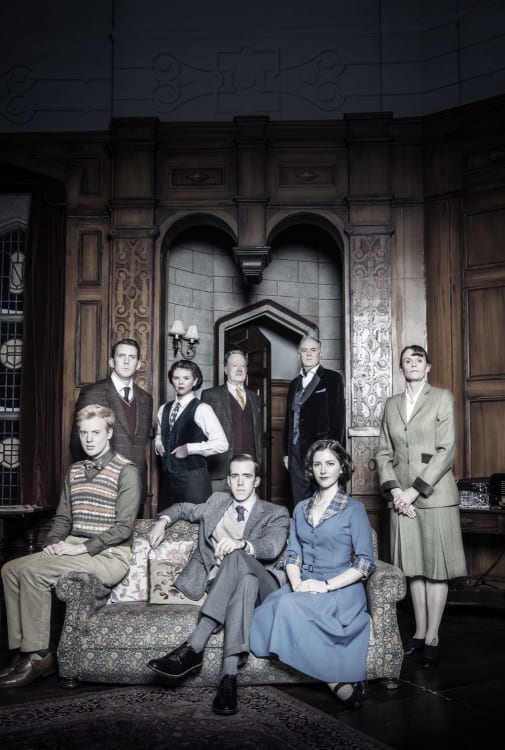 Agatha Christie's cosy murder mystery creaks its way around the country surprising audiences from Devon to Darlington and all points between. But the biggest surprise is perhaps how it has got to its 68th year in London and has become a quintessential English landmark.
Even its author was somewhat baffled when it outdid her predicted eight-month run, suggesting that its enduring appeal was perhaps down to being a play anyone can go to—being not really frightening or horrible nor is it a farce but instead has a sprinkling of all the above so satisfying lots of different people. The packed house in Exeter was clearly a Bank Holiday treat for whole families with a tremendous mix of ages (though the computerised blood and guts, guns and superpowers generation was possibly suppressed with promises of ice cream) and providing plenty of fodder for grandma's reminiscences of the days of ration books.
More than 400 actors have been involved over the years with Richard Attenborough the first Sgt Trotter alongside his wife Sheila Sim as Mollie Ralston, and each casting and new directorship brings its own dynamic, however, regardless of new blood, in essence Mousetrap is a fusty, gentle whodunnitandwhocares encapsulating the spirit of the '50s with comedic moments to break the barely palpable tension (or ennui) as characterisation is 12-denier nylons thin and the plot bakelite brittle.
Typically Christie, this is drawing room drama (with a couple of doors, stain glass window, staircase and glimpse of hallway). The young couple—married within a matter of months of meeting and neither having been where they said they had the previous day—have opened their inherited country pile as a hotel. Enter a handful of paying guests, each with a hidden past and some not quite who they say they are. And all have that felt hat, light scarf and dark coat the wanted suspect in a nasty London murder was seen wearing…
As the snow falls and all become marooned at Monkswell Manor, a suspiciously luggage-less Mr Paravicini (Vita Life Theatre Award-winner David Alcock) begs a room as his Rolls Royce is purportedly engulfed in a drift and Sgt Trotter (Geoff Arnold) skies in to sleuth as the Paddington killer is apparently in their midst and poised to strike again—twice.
Gwyneth Strong (best known as Cassandra in Only Fools and Horses) is bang on point as the redoubtable Mrs Boyle, rarely pleased and full of sociological comment and questionable judgment as she despairs of heiress Mollie (Harriet Hare who nicely exudes clipped '50s elocution and schoolmarm properness with a hint of fun) running an establishment sans staff while Major Metcalf (the ubiquitous John Griffiths) explores back staircases and hidden passageways with military precision… but for what purpose? Is the wayward central heating really Giles's (Still Alice's Nick Biadon) only nemesis and just where is the devious Miss Casewell (an aloof Saskia Vaigncourt-Strallen) really from if not Italy or France? And just what is she doing in the bleak Home Counties?
Meanwhile, UK tour debutant Lewis Chandler hams it up beautifully as the bouncy bachelor Christopher Wren, chef extraordinaire and concrete box architect, providing much camp comic relief… but what is his back-story and is he really who he says he is?
Will the police prevail and all be saved? Who has the darkest secrets? Who is the nursery rhyme killer? Will they strike again? Do we care?
Pledged to not reveal the identity of the killer, little more can be said. Box ticked but, tbh, I fail to see the ingredients of longevity.
(Susan Penhaligon (Bouquet of Barbed Wire) is due to take over as Mrs Boyle from mid-July.)
Reviewer: Karen Bussell