The Mousetrap
Agatha Christie
Sir Stephen Waley-Cohen and Adam Spiegel
Yvonne Arnaud Theatre, Guildford
–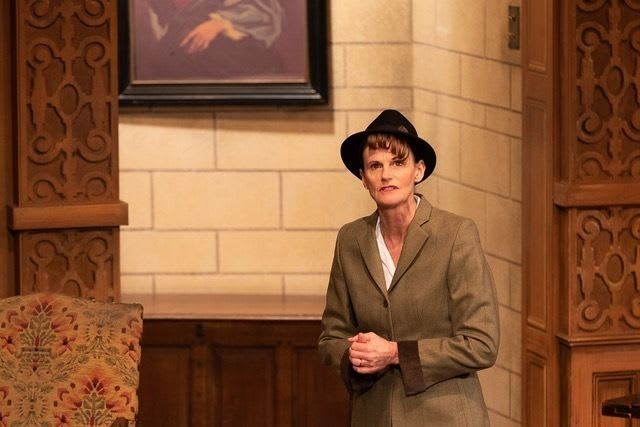 One of my aunts, having seen this play in the 1950s, dismissed it with the caustic comment, "well my local amateur group could do better than that!" Yet, defying all odds, The Mousetrap has gone on, and on, to become the longest running play in the world.
My opinion was that it was only famous for being famous and I approached it expecting a very dated murder mystery with no real surprises. I even knew the identity of the murderer, something which is no longer a secret, but the surprise was how very much I enjoyed it.
A young couple, Giles (Nick Biadon) and Molly (Harriett Hare) Ralston, have decided to to turn old Monkston Manor into a guest house and a year after their wedding they have it ready and are awaiting four guests. On the radio, we hear an announcement to look out for a murderer who is wearing a dark overcoat, a light scarf and a dark felt hat. As each guest arrives, their clothes perfectly match the description, including the late arriving stranger who had broken down in the snow—and even Giles. There are now seven possible suspects and each one seems to have something hide.
The play is very much character driven and it is the relationships and reactions of the seven which is the most fascinating. They are now completely isolated as deep snow surrounds the Manor. No one can get out—or in!
Gwyneth Strong is the miserable, autocratic woman who complains about everything, Lewis Chandler, as Christopher Wren, is crazily and childishly enthusiastic. Major Metcalf (John Griffiths) tries to be helpful while investigating every aspect of the building's layout. Miss Casewell (Saskia Vaigncourt-Strallen) hints at a terrible childhood, while David Alcock's Mr Paravicini (the stranger) seems to be thoroughly enjoying the situation in a suggestively sinister fashion. A knock at the window sees the arrival of a policeman—on skis!
The play began life as Three Blind Mice, a 30-minute radio drama written as an 80th birthday present from the BBC to Queen Mary (King George VI's mother). It formed the basis for The Mousetrap five years later and kept the theme of the nursery rhyme with the murderer leaving a message that there would be three victims and mentioning Monkston Manor. This news makes the occupants rather uneasy, but Sergeant Trotter is now in charge so all will be well. Geoff Arnold gives an excellent performance as a policeman, seriously investigating each and every one and bringing out their secrets while carefully writing their responses in his notebook, but after the second murder fears and tensions are heightened and arguments and accusations flood forth, all regarding each other with suspicion.
Gareth Armstrong directs this excellent cast and, apart from the lack of mobile phones, they have produced very credible characters who would not be out of place in today's world. My only adverse comment would be the ending which seemed very rushed and lacking in the drama I would have expected.
Even so, it was an extremely entertaining evening, thoroughly enjoyable, but leaving us with the rather disturbing thought that we can never really know the truth about others, however well we think we know them.
Reviewer: Sheila Connor