The Mozart Question
Michael Morpurgo
Barn Theatre, Cirencester
Barn Theatre, Cirencester
–

Listing details and ticket info...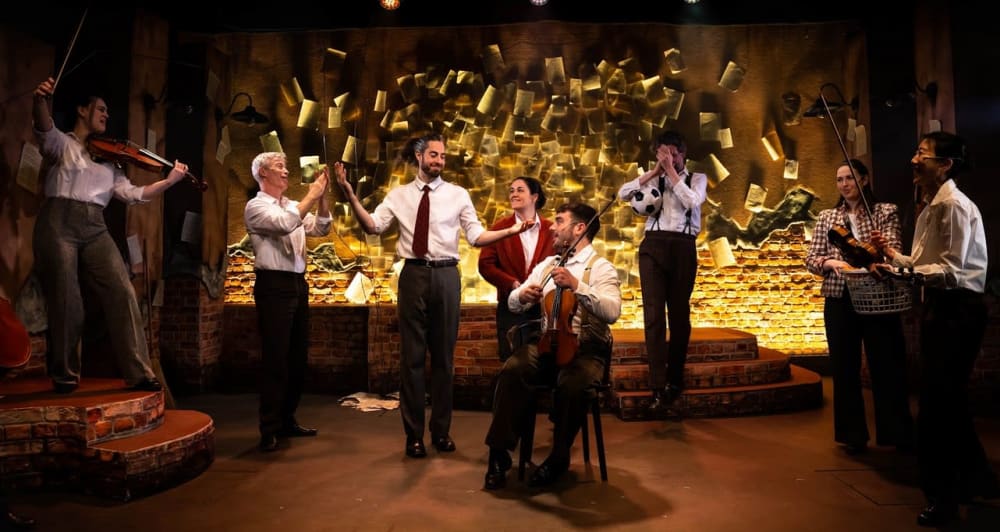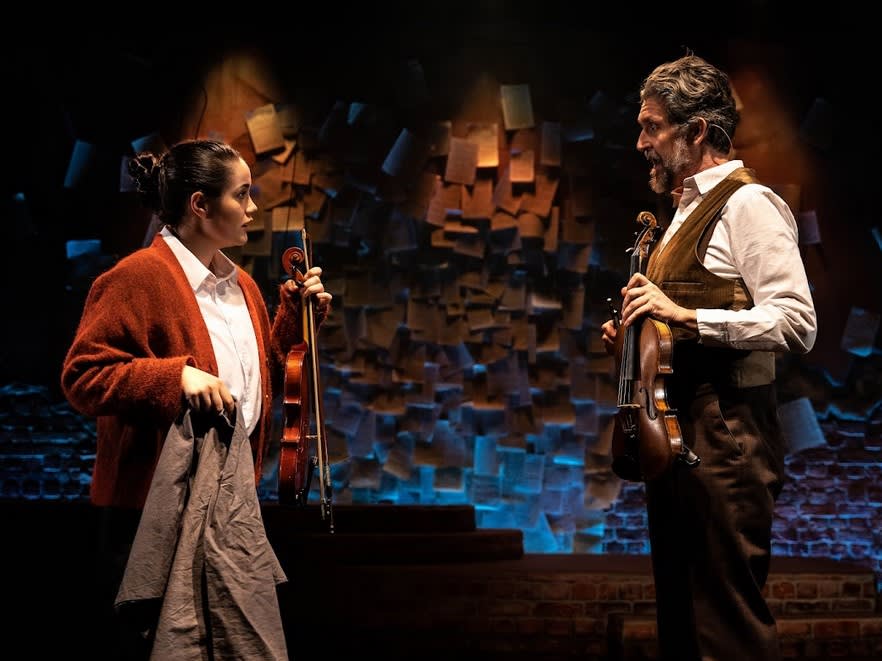 When former Children's Laureate Michael Morpurgo was walking around Venice, two chance encounters resonated in his mind: a street violinist playing late at night to a single enraptured child, then finding himself shortly thereafter in an unknown square that he realised was part of the ghetto from which Jews had been sent to the gas chambers.
He put the two ideas together, recalling the camp orchestras that the Germans had formed among their captives, to amuse themselves and deceive new arrivals, Mozart being the Offizier composer of choice. What, he wondered, would have been the reaction of those musicians, had they somehow survived, to taking up their instruments in the future? Toward playing Mozart in particular?
That's the catalytic premise of his conception, adapted by Vicki Berwick, and it produces a powerful reaction. At its heart is a moment when the desperate officer Heinrich (Matt Ray Brown), realising the war is lost, tells his little band: "I gave you music." "No," replies Matthew Romain's violinist Gino, "you took it from us."
The play is performed by nine actors, eight of them also professional musicians, and searing though the story might be, it's composer Rudy Percival's musical rearrangements that speak most eloquently in Jessica Daniels's production.
Relevant extracts from The Barber of Seville by Rossini and Mozart's Eine Kleine Nachtmusik, cleverly subverted and played against a nightmarish recorded tape, as well as the ironically optimistic "Spring" from Vivaldi's Four Seasons, are acted as much as played by the multi-talented cast.
Lara Lewis exudes effervescent naïvety both as the young reporter sent to interview Gino's son Paolo, who carries forward his father's Mozart secret, and the young Paolo himself.
The production delivers a feeling of the desperate, heart-rending choices faced by those forced to serenade their families and kin to death.
Accurately billed as suitable for eight-year-olds and above, it is told in primary colours. If sometimes the dialogue in the first half is clunky, and if sentiment can turn sententious—"Don't you stop believing in the good"—this is a worthy, disturbing yet entertaining piece of theatre for a family audience.
Reviewer: Colin Davison