The Mysterious Gentleman
Jarek Adams
Partners in Mischief Productions and Off The Cliff Theatre
Courtyard Theatre
–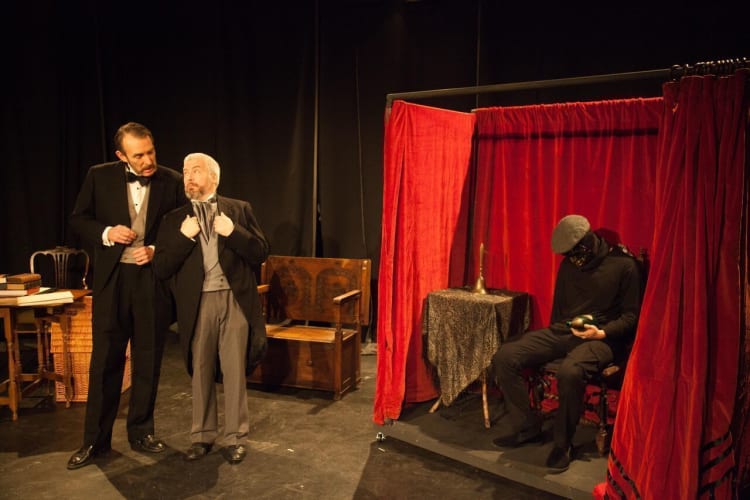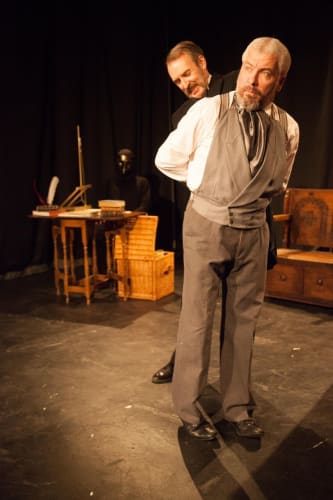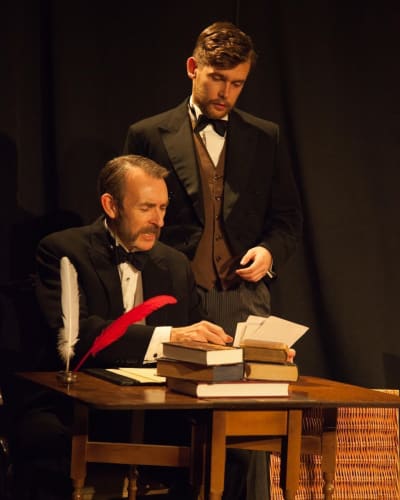 "Is there anybody there?" Jarek Adams's new play begins with the classic spiritualist's question for it was the debunking of fake mediums that started the career of the famous magician John Nevil Maskelyne who turned the presentation of conjuring into dramatic performance.
It takes up his story from when, with cabinetmaker partner George Cooke, he set out to expose the Davenport Brothers' illusion act. They claimed it to be a genuine spiritualist manifestation, but Maskelyne reproduced it, complete with ectoplasm.
There were some, including a the critic on a Birmingham paper, who thought the magician's own performances included spirit aid and a family legend claimed an ancestor had done a deal with the Devil to grant them magical powers through ten generations (which included an 18th century Astronomer Royal). The deal was done with that "mysterious gentleman" dressed all in black and he becomes a figure intermittently present in this telling both as phantom and as stage assistant.
It outlines the magician's success, which took him from touring to a long residency at the Egyptian Hall in Piccadilly, which became known as "England's Home of Mystery," then when it was demolished to St George's Hall. It's a career not without disasters: a futuristic extravaganza his son designed was dwarfed by the opening of Peter Pan. He failed an Archdeacon's challenge (with a £1,000 price tag) to reproduce one spiritualist effect by illusion. Maskelyne saw it all as publicity that would eventually pay off.
Agent and manager William Morton played an important role in Maskelyne's career and, after Cooke died, former assistant David Devant, by then eclipsing his former employer's success, became Maskelyne's partner but this play concentrates on the conjurer's relationship with George Cooke and then that with his own son, also called Nevil.
Andrew Thorn's rather histrionic Maskelyne and Dave Short's cheery George Cooke make an excellent duo. One tempers the other's extravagance as they did in real life. After Cooke's death, when attention shifts to young Nevil, neither writing nor playing has quite the same quality. Emphasis is less on show business history and more on the gap that Cooke has left. Maskelyne, who always hoped to discover spiritualists who were genuine, now finds the legend of the Mysterious Gentleman catching up with him.
Josh Harper does what he can with underwritten young Nevil and delivers some great sleight of hand bridging the scene breaks as the Mysterious Gentleman. Introducing some of Maskelyne's illusions adds a fascinating extra dimension to Kasia Różycki's production and they are performed with skill. What start off as tricks that you think you can work out are followed by effects that are sudden and simple but truly amazing.
These aren't exact reproduction of Maskelyne's magic and we don't get his famous levitation: he and Cooke made elaborate apparatus, created automatons, Maskelyne patented machines that include the penny-in-the-slot lavatory lock which gets a mention. What these guys do with cardboard boxes and dexterity is worth watching.
These are actors not David Copperfield but they give you a play and a magic show: talk about actors' timing—they've got it down to the microsecond.
Reviewer: Howard Loxton