The Nap
Richard Bean
Sheffield Theatres
The Crucible
–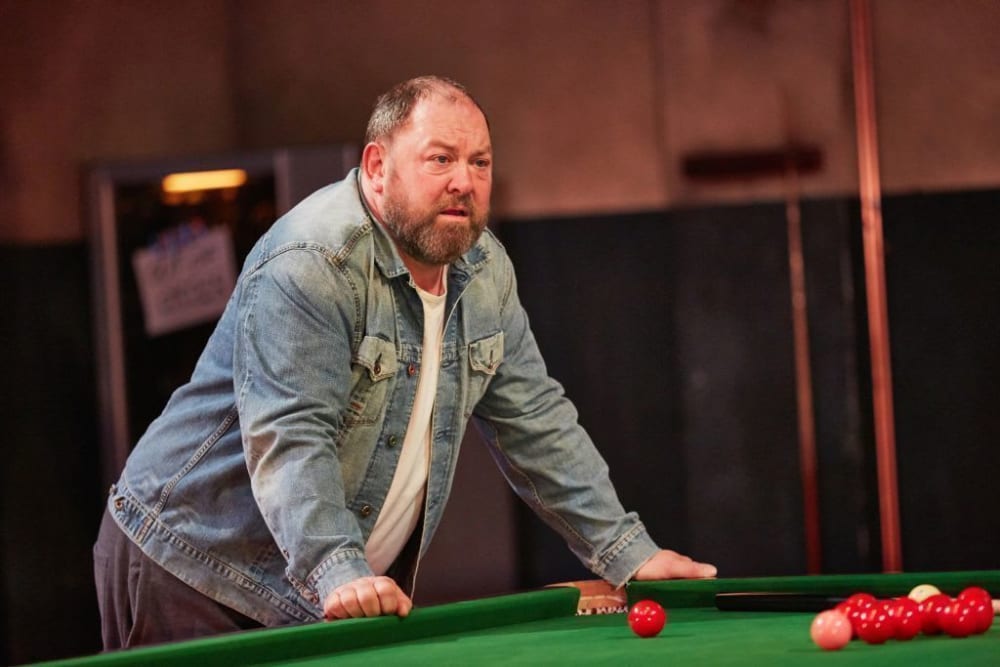 If you love theatre, love snooker, love Sheffield, love outrageous characterisation and sparkling wit, then get your tickets now for the world première of Richard Bean's brilliant 'comedy thriller' The Nap before they run out.
The play is superbly directed by Richard Wilson, who has been an Associate Director at the Crucible for some time and will be familiar to audiences for his role as Victor Meldrew in One Foot in the Grave and much more, including recent directing successes at the Crucible Studio.
Wilson and Bean have for some time been contemplating a play about snooker set in the Crucible main house, where the World Snooker Championships have been held since 1977. One of the delightful frissons of this production is the awareness that we are simultaneously living in the fantasy world of a dramatic fiction, whilst on occasions becoming a snooker audience watching a match play out in real time.
The central character, Dylan Spokes, a young snooker player from a dysfunctional family, has found a reason for living in his worship of the 'God of Snooker'. In an extended silent action sequence at the start of the play, he carries out a series of rituals which include stroking the green baize of the table from spot end to baulk end and respectfully ironing it to increase its smoothness.
Dylan tells us that, "it is only through snooker that I understand the world and my place in it." The nap of the baize, which is smooth in one direction and bristly in the other provides a metaphor for his conduct in life. "Playing with the nap, the ball will run straight with the natural line. Playing against the nap, the ball can deviate and drift off line. I play straight."
But unfortunately, Dylan is surrounded by people who want him to help them make money out of the game, to "tank a frame" or become compliant in match fixing, so they can clean up on the bets.
In this context, Bean creates a cast of surrounding characters who are larger-than-life, eccentric, full of human failings, splendidly differentiated and the stuff of comedy.
Mark Addy brings his usual warmth and excellent comic timing to Dylan's flawed father Bobby, a reformed character who has done time for dealing but is forgiven because it was his encouragement and provision of an old shed and a snooker table that set Dylan on the path to glory. There are particularly amusing sequences when Bobby is groping for the name of an actor or a film that will help him make a point. Rib-ticklingly funny! And all too familiar!
There is a charming, delightfully dizzy performance from Esther Coles as Dylan's alcoholic, over-sexed mum who was desperate to make some quick money because the rent was due and the council had "cut off her social because of the bedroom tax", so she landed Dylan in it.
Bean has enormous fun with a character who "was a he but is now a she" and goes by the name of Waxy Chuff. Waxy, who in her male personification was a gangster, is owed a lot of money by Dylan and and determined to re-claim it by fair means or crime. Louise Gold's interpretation of Waxy is strong, husky voiced, highly individualised and she makes the most of the malapropisms that splatter her speech. "Aren't we lucky to have this child effigy in our midst", and ''Gangster? Someone's been making allegations? Bobby, are you one of the allegators?"
Jack O'Connell is a modest and believable Dylan, completely convincing in the snooker sequences, and Rochenda Sandall makes an interesting transition in appearance and manner from abrasive official to love-lorn heroine. There are strong, amusing, well characterised performances from the whole cast, where Richard Wilson's effectiveness as a director is evident, and the set effortlessly complements the action and makes excellent use of the Crucible's under-stage ramp system as well flying whole sets in.
This is a St Crispian's Day experience. Anbody now abed who misses the chance to see this sparkling new play, wonderfully acted and directed, will regret it.
Reviewer: Velda Harris