The Nativity Play Goes Wrong
Henry Lewis, Jonathan Sayer and Henry Shields
Reading Rep and Mischief Theatre
Reading College's Performing Arts Centre
–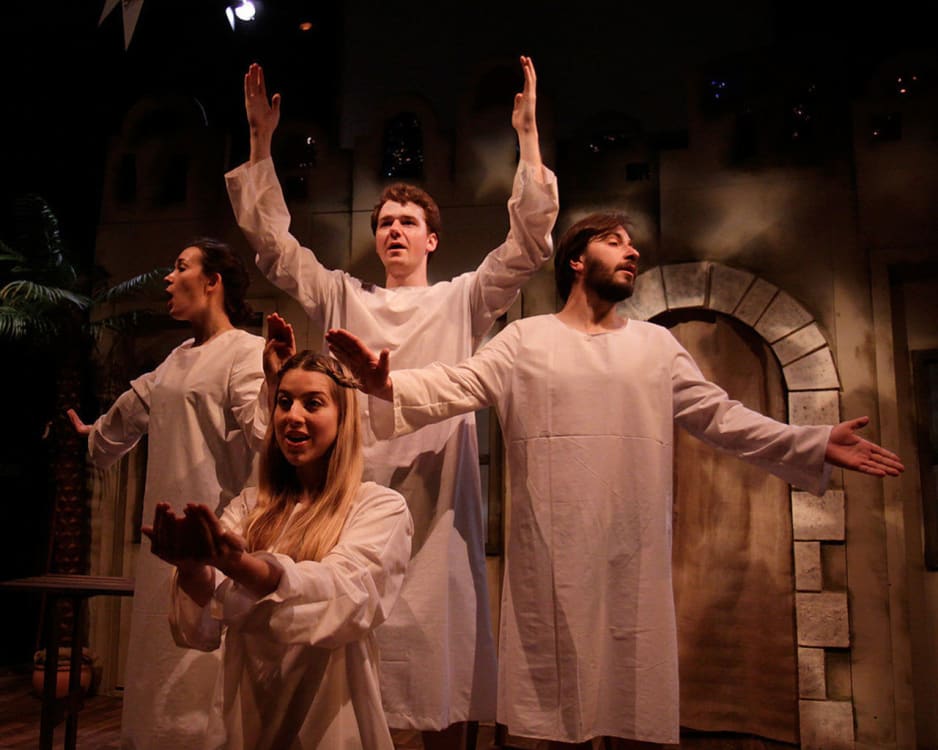 Nativity plays are a traditional element of Christmas celebrations and are enthusiastically performed by eager children in our schools. But never has there been a nativity play quite like The Nativity Play Goes Wrong.
It is a hilarious irreverent romp, specially commissioned for Reading Rep and Mischief Theatre, and is superbly directed by Nicholas Thompson who inventively manages to create every performer's nightmare.
Everything than can go wrong in a production does exactly that, much to the delight of the audience who were enjoying every minute of the chaos.
You just knew this was going to be fun from the moment a car outside the theatre was being revved up to allegedly supply the power for the lights. Or the precarious-looking set with instructions to the frustrated stage manager Sean (Niall Ransome) to finish painting the scenery.
The Christian Humanitarian Reading Initiative for Spiritual Theatre or (CHRIST) is performing this "amateur production" and they do so with such seriousness and total commitment despite what goes wrong that it makes every disaster even more funny.
All the elements of the Nativity are there but each scene has a farcical twist. Angel Gabriel (Rick Romero) struggles with the flying sequence as it all goes horribly wrong and he has a penchant for loosing his clothes when playing Herod, but he still manages to contain his composure despite the audience hooting with laughter at his antics.
The manger scene has a model cow disguised as a donkey, then there is a poisonous viper snake on the loose, an unexpected fire drill, a message from the college principle that is out of sequence and the absurdity of it all becomes more ingenious as the fiasco continued.
Christopher Currie is impressive as the "director" who is trying to keep the whole show together despite the problems and Mike Bodie is the American exchange actor who shines as Joseph despite the collapsing furniture he has built.
Playing the innocent Mary is Leanna Wigginton whose wide-eyed naivety is a joy to watch. Bryony Corrigan is the foreign-speaking Llonka Borbala who is so funny as the donkey and sheep.
There are so many laugh-out-loud moments in this crazy madcap play that you can't help but join in with the fun. We all ended up singing "Silent Night" together in what was a riotous evening's entertainment.
Reviewer: Robin Strapp