The Nether
Jennifer Haley
Headlong and Royal Court Theatre
Duke of York's Theatre
–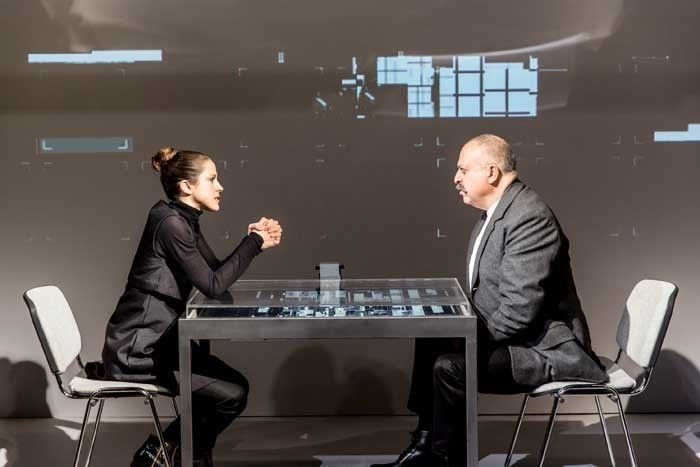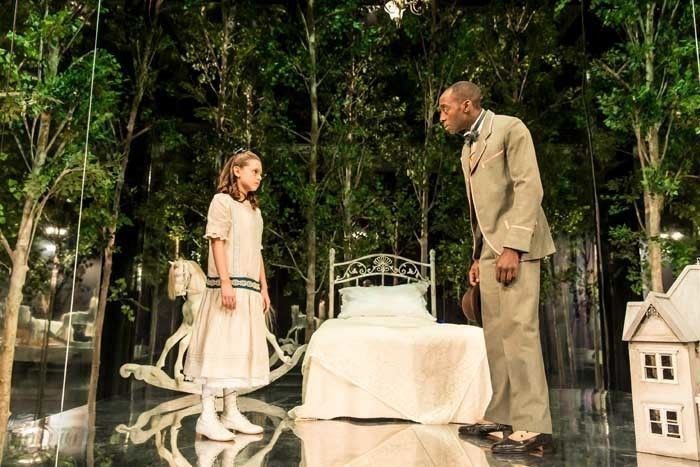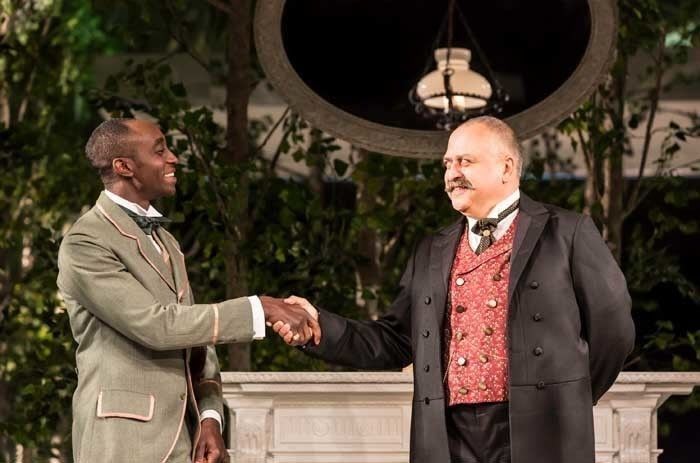 It is 2050 and entrepreneur Sims has created a multi-sensory virtual world on the Internet, now known as The Nether.
It's a faux Victorian sanctuary called The Hideaway that still has trees, now rare on earth, and period "hardware" such as horn gramophones and rocking horses. It is vividly created in Es Devlin's design, its looking-glass world morphing from Luke Hall's stunning digital video. But what actually goes on there?
Mr Sims (Stanley Townsend) is in an interrogation room being questioned by Morris (Amanda Hale), one of The Nether's law enforcement investigators. She also calls in Hideaway client and retired teacher Doyle (David Calder) for questioning and there is evidence gathered by the Nether's own representative.
Sims not only controls his creation and makes its rules but also uses it to play out his own fantasies as his avatar Poppa. Poppa behaves like a devoted granddad to a little girl called Iris but he won't allow her a birthday because she mustn't get any older (if her real-world client tries to change her status she'll be sent to boarding school).
It is not just such control that is disturbing. Iris is also "available" as part of other clients' Hideaway subscriptions, such as the intrigued but nervous avatar Woodnut (Ivanno Jeremiah), and there is an axe disturbingly associated with the fantasy of which she is part. The Hideaway is where you can do things not permitted in the real world, provided you don't break Sim's own rules. It is a place where gaming and virtual sex and violence come together.
At the Hideaway, you can become whom you chose, do what you dream of without consequence in the real world. Or can you? It is a question this play raises. If we do things in our imagination, does that have repercussions, good or bad?
It has been around for decades, at the forefront of the debate about obscenity and the effect of violence in the media fifty years ago. With some people now spending many hours online gaming, Jennifer Halley here suggests a possibility of total transfer to virtual existence. Sims claims his creation of the Hideaway protects the world from his own sick perversities and those of others like him, but what happens when someone like Woodnut (try saying it) tries it out?
The play raises these ideas without exploring them very deeply but Jeremy Herrin's direction and the superb design (which won Devlin a Critics Circle Award for design this year) make it constantly watchable. As layers of information are revealed, including who the avatar characters we see are in the real world, it makes a fascinating 85 minutes run without an interval.
It is beautifully played, the actors giving body to characters that could easily become stereotypes, including a confident performance from eleven-year-old Jaime Adler who alternates the role of Iris with three other young actresses.
Reviewer: Howard Loxton