The Night Before Christmas: A New Musical
Anthony Nielsen, Steve Marmion and Tom Mills
Soho Theatre
–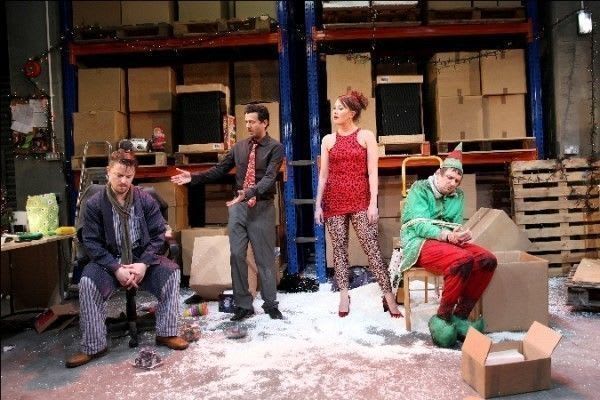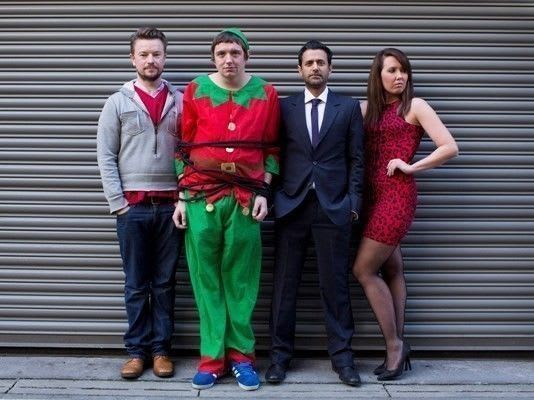 'Twas the night before Christmas, and all through Gary's warehouse, there's a huge commotion afoot, turns out it's an Elf (or is it?).
As a self-confessed card-carrying Grinch, the festive season is certainly not on my 'nice' list—as you can probably tell by my poor adaptation of Clement Clarke Moore's poem.
Much to my relief, however, The Night Before Christmas is a hilarious insight into what Christmas is like for adults.
The action opens on Gary (Navin Chowdhry)—an entrepreneur specialising in knock-off children's toys—musing about being alone on Christmas Eve. Gary's night is thrown into turmoil when a Christmas Elf (Craig Gazey) crashes into his warehouse.
Chaos ensues when drug-obsessed best mate Simon (Craig Kelly) is called to solve the situation, whilst single-mother prostitute Cherry (Rebecca Atkinson) drops round to collect her son's present.
Tied-up to a chair and on the brink of death, the Elf promises to grant them each a wish if they let him go. Is he a real 'Elf' or just a junkie thief in a costume? Are they about to ruin Christmas for everyone?
The Night Before Christmas is perhaps the first musical I've seen where none of the cast can sing. This, however, is by no means an issue as it suits the nature of the piece perfectly. Marmion and Neilson's lyrics are simple and witty whilst Mills's score is pleasant with little Christmassy hints as well as ska influences. One song actually reminded me of "I Can Go The Distance" from Disney's Hercules.
The language is rude, brash, and extremely adult with gags about Nelson Mandela and Nigella Lawson. Neilson's script touches on interesting points about the commercialisation of Christmas and what the holidays mean once the magic of childhood has disappeared. However, it's far from perfect and suffers from a lack of fluidity resulting in the action being dragged out for too long.
Gazey's obscure Elf provides much of the comedy with his lazy, wandering tone and keeps us guessing as to whether he is genuinely Santa's little helper. Chowdry, Kelly and Atkinson perform with great competence in spite of their terrible singing voices.
There is a moment of unexpected brilliance when Cherry is asked to tell us her story. I braced myself for a melodramatic monologue of woe and misery, however, instead Cherry opts to express her story through a touching ballet routine.
The Night Before Christmas is funny and touching without being too sentimental—a real treat for adults.
Reviewer: Sean Brooks