The Night Watch
Sarah Waters, adapted by Hattie Naylor
Royal Exchange Theatre
Royal Exchange Theatre, Manchester
–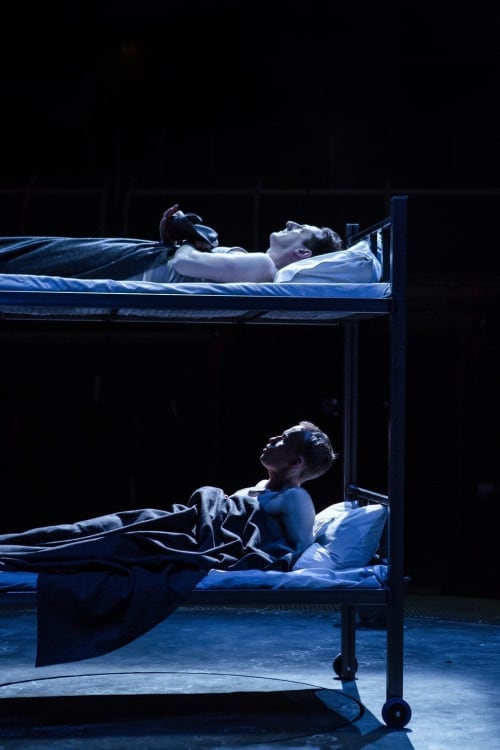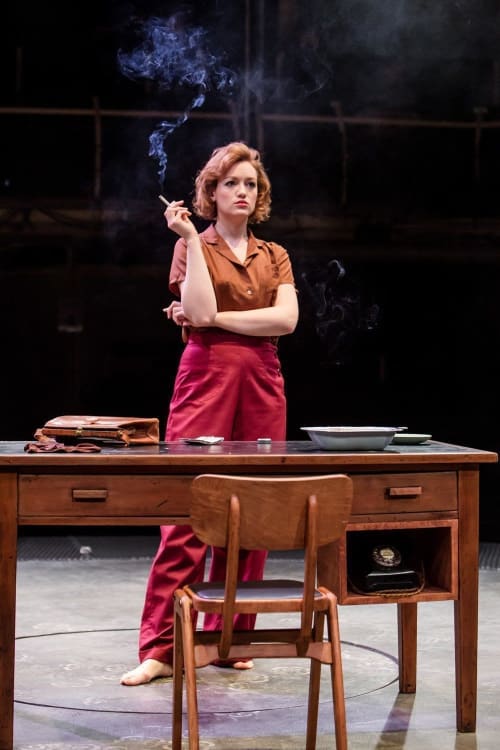 Like a good TV mystery, this adaptation of Sarah Waters's novel jumps around between groups of seemingly-unrelated characters until gradually the links between them all become clear.
The programme gives the setting as London in 1940, but there are actually three time periods shown in reverse chronological order: 1947, 1944 and 1941. As in other plays that are told backwards in this way, the earlier scenes, shown later, reveal motivations and explanations for the later events that we have already seen.
Post-war, former air-raid warden Kay Langrish (Jodie McNee) spends her days wandering and going to the cinema by herself, occasionally speaking to her mechanic friend Mickey (Gbemisola Ikumelo). It seems that Kay used to be in a relationship with Helen (Kelly Hotten), who becomes very jealous when her current lover Julia (Lucy Briggs-Owen) comes home late or is with another woman.
Helen runs a dating agency with Viv (Thalissa Teixeira), whose gay brother Duncan (Joe Jameson) lives with a much-older man, Mr Mundy (Christopher Ettridge), who is being treated by a Christian Scientist (Lucy Briggs-Owen) for his arthritis pain near to where Kay lives. Journalist Robert Fraser (Ben Addis) is writing an article on a candle factory and is put in touch with factory worker Duncan with whom, by coincidence, he shared a cell during the war.
These scattered tales start to come together in the last moment before the interval in a lovely moment of staging from director Rebecca Gatward when Kay, who becomes crucial to all of these stories, is taken back in time to 1944 in the thick of the air raids on London.
After the interval, we are shown the events that led up to the scenes we have already seen, before being taken back even further to when some of the main characters first met. It sounds very complicated when explained like this, but in production it works very smoothly, the gradual revelations keeping up the suspense for what happened in the past just as a conventionally-told story would about what is to happen in the future.
While there are articles in the programme about the treatment during the war of homosexuals, conscientious objectors and women, there are no great revelations about any of these issues that aren't already well-known, but they are integral to this story of love and loss during wartime.
It's an intriguing story well told and very well performed and certainly worth seeing.
Reviewer: David Chadderton