The No Rules Handbook for Writers
Lisa Goldman
Oberon Books
Released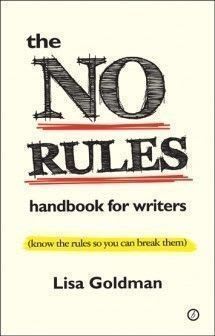 Former artistic director of Soho Theatre and Red Room Lisa Goldman has drawn from her experience of working with new writing to put together this book for writers, not exclusively those who write for the theatre or even for performance.
The title implies (and the introduction seems to confirm) that this is a book about trashing the rules, about being a maverick writer, but that is a little deceptive. Each section begins with a "rule"—the opening one is the classic "write what you know"—which is explored in depth before it is turned around to look at cases where the opposite could be more useful. So rather than being a book that advocates throwing out the rulebook, it argues intelligently in favour of the rule then broadens out to look at cases where it may not be useful.
This all works very well for the most part, but some of the "rules" are a little dubious. It feels a bit like barrel scraping when a quote from David Mamet is taken as a rule—or even as something that relates to the real world—and some seem a little vague or appear to have been made up for the book. Is "have your family or friends read before submitting professionally" really advice that is given to writers? I've only ever heard that said with the word "never" before it.
Goldman's points are backed up by quotes from various writers, inevitably with a bias towards theatre, including Roy Williams, Dennis Kelly, Bryony Lavery, Anthony Neilson, Philip Ridley, Lucy Prebble and plenty more. Writers are always very enthusiastic about explaining how they break particular rules or how they ignore all rules, and so Goldman gets some good material from them.
There are thousands of books for writers and the question always has to be asked, what value does it have to a writer when trying to create work? As a critical analysis of some of the perceived "rules" of writing, it is intelligently written while never straying too far from good old-fashioned storytelling—this isn't an argument for entering the avant-garde. But will reading it make anyone a better writer?
If a writer has become blocked from writing by a particular rule or set of rules that he or she believes should be followed, there are some good debates on how common rules should be followed or could be broken that could help. Along the way, there are some interesting insights into the creative process and on working as a professional writer from Goldman and her quoted writers.
It certainly isn't an essential volume for writers, but for anyone who is interested in exploring the rules that are bandied about on writing or who is looking for intelligently-written material to use in arguments with their creative writing tutors, it is a very good source of information.
Reviewer: David Chadderton