The Nutcracker
Choreography by David Nixon; music by Pyotr Ilyich Tchaikovsky
Northern Ballet
Leeds Grand Theatre
–

Listing details and ticket info...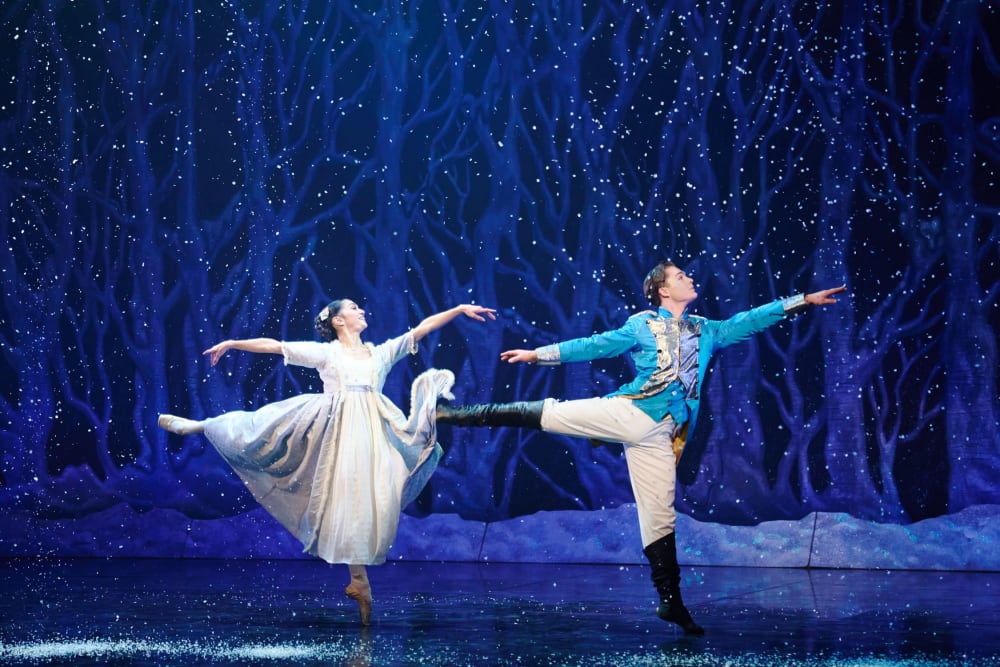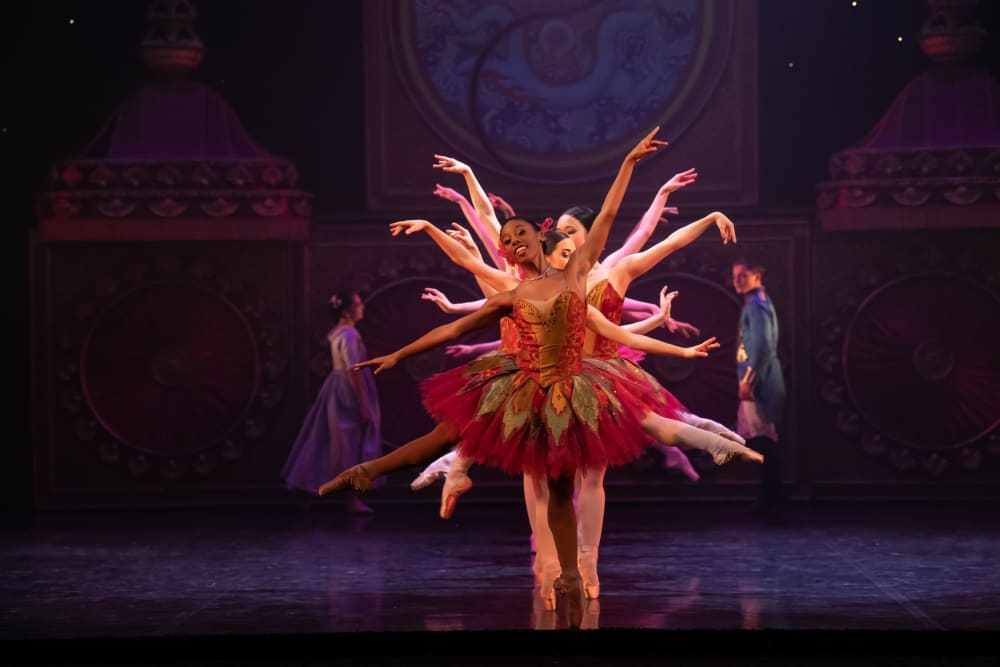 Having adored David Nixon's version of The Nutcracker when I first saw it in 2018, I was both excited and nervous about the prospect of seeing it again. It's a common experience to re-watch a beloved film or TV programme only to realise that it doesn't hold the same appeal, and I worried that this would be the case here. Fortunately, Northern Ballet's production of The Nutcracker remains a beautiful and spellbinding piece of work.
With gorgeous period costumes (courtesy of Nixon) and delightful Regency-inspired sets from Charles Cusick Smith, the first half of the ballet transports the audience to a luxurious family home in the early nineteenth century. It's the night before Christmas, and excitement is building at the Edwards family's festive party, climaxing with the arrival of Uncle Drosselmeyer (Gavin McCaig)—a toymaker and magician—who presents a nutcracker to his youngest niece, Clara (Rachael Gillespie).
The following morning, Clara discovers that her living room has been turned into a magical kingdom, equipped with a fairy-tale castle. Not only that, but her beloved Nutcracker has come to life and grown to man-size proportions. With the help of his toy infantry, the wooden man enters into battle with the Mouse King (Bruno Serraclara) and his army of rodents, ultimately defeating them.
With the villain defeated in the first act, the second half resembles a dance showcase. Once Drosselmeyer has transformed the Nutcracker into a handsome prince (Harris Beattie), he and Clara are transported to a magical garden where they watch a series of performances from a colourful array of performers, including the beguiling Sugar Plum Fairy (Saeka Shirai) and her dance partner, the Cavalier (Jonathan Hanks).
There is so much to enjoy and praise about Nixon's production. As this is the only staging of The Nutcracker I have seen, I'm not able to compare it with other, less traditional versions, such as Matthew Bourne's candy-coloured, Hollywood-inspired Nutcracker! However, I don't think Nixon's traditionalist take on Tchaikovsky's ballet is in any way dusty or antiquated; instead, it is a bright, vibrant and energised spectacle.
Nixon's direction successfully marries clear storytelling with exquisite and eclectic choreography. The war between the Nutcracker and the Mouse King elicited hoots of laughter from the audience, in large part due to Bruno Serraclara's mischievous performance as the rodent antagonist. The final scene of the first act, in which Clara and the prince are encircled by dancers dressed as snowflakes, is simply stunning.
The dancing in the second half is uniformly excellent, but specific high points include a thrilling pas de deux between Saeka Shirai and Jonathan Hanks, and a rousing performance from the Russian Dancers (Albert Gonzalez Orts, Jun Ishii and Matthew Topliss).
Reprising her role as Clara, Rachael Gillespie remains a compelling heroine, and she forms a charming partnership with Harris Beattie. Gavin McCaig excels as Dusselmeyer, investing the character with just the right level of swagger and showmanship.
Watching The Nutcracker again, I was freshly amazed by how much brilliant and iconic music can be found in a single ballet, with "Dance of the Sugar Plum Fairy", "Dance of the Reed Flutes" and "Waltz of the Flowers" following each other in quick succession.
Since its first production 130 years ago, The Nutcracker has become a festive institution, spreading joy to audiences all over the world. I would like to thank Northern Ballet for giving me such a wonderful evening at the theatre and further enhancing my anticipation for Christmas.
Reviewer: James Ballands