The Nutcracker
E T A Hoffman, music by Tchaikovsky
St Petersburg Classic Ballet
Sheffield Lyceum
–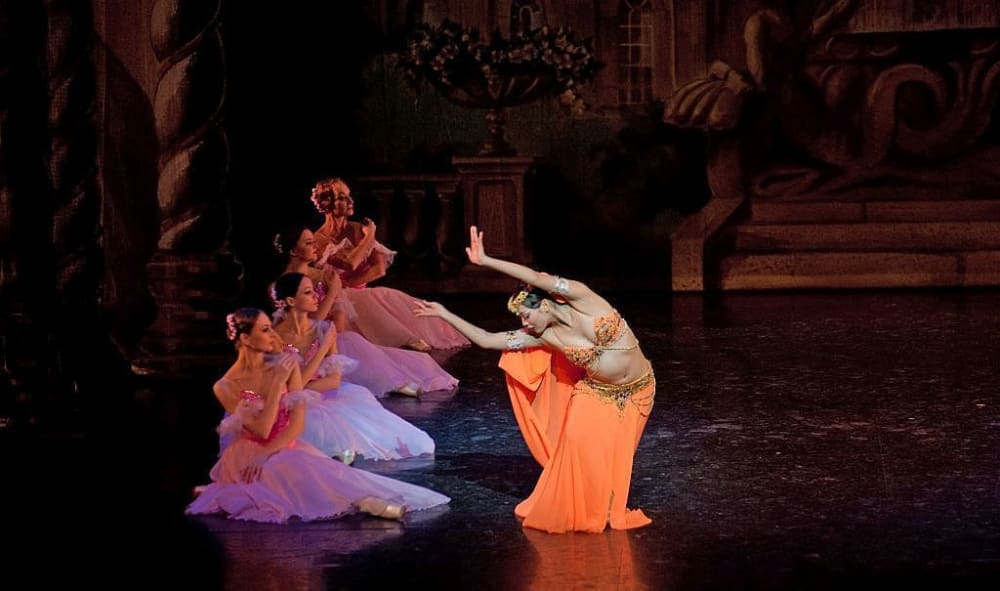 The Saint Petersburg Classic Ballet Company presents a touring version of Tchaikovsky's popular ballet The Nutcracker in a performance which displays the energy and artistry of a talented group of dancers.
Yulia Yashina is a delightful Clara, full of innocence and youthful excitement as she anticipates the opening of the presents that sit under the Christmas tree.
The action, based on a libretto by E T A Hoffman, draws together the significant elements of a child's Christmas, the family gathering, the dolls given as presents, the delicious sweet food and even a brief family quarrel. The party is entertained by the performance of national dances from Spain, Russia and the exotic East.
The drama develops when Clara falls asleep and dreams of an invasion of terrifying mice who eventually do battle against a small army of clockwork soldiers. Her dream leads her to a snowy landscape occupied by snow flake maidens. The second act includes dances, like that of the Sugar Plum Fairy, which are related to food.
The 'Classic' nature of the presentation is represented in the staging and costume as well as the prevailing style of the performance which takes us back to the nineteenth century. The set rejects modern technology and has painted backdrops and wing flats reminiscent of the groove and shutter sets of the Restoration period. A Christmas tree rises magically to twice its height, most likely by human effort.
The performance style includes a vocabulary of traditional mime gestures and emphasis on facial expression with occasional direct eye contact with the audience. Elaborate eye make-up dispels any suggestion of reality. Extension and elongation of arm gestures is a significant feature of the female performances.
As the Magician and Drosselmeier, Evgeniy Silakov is a dominating and slightly sinister character, a manipulator of events, dressed starkly in black in contrast to the brightly coloured costumes of the leading dancers, and the pastel shades of the corps de ballet. In a late solo, his leaps and controlled leg movements are very impressive.
Natalia Romanova is delightful as a dancing doll in the introductory sequence, splendidly rigid when her clockwork mechanism runs down, and even more accomplished in the later exotic Eastern Dance. Yulia Yashina distinguishes herself in the popular "Dance of the Sugar Plum Fairy".
Vadim Lolenko is a powerful Nutcracker Prince, effortlessly supportive in the pas de deux, and Arturs Shutelskis as the Mouse King leads his long-tailed mouse army with energy and gusto.
This is a youthful company and there are many opportunities for younger performers to shine. The Spanish and Russian dances are distinguished by the smiling faces and obvious enjoyment of the participants and the Chinese Dance by its Oriental style.
The large corps de ballet has many roles to play, from Christmas guests to snow maidens, their flexibility and artistry always in evidence. A full-bodied orchestral accompaniment is provided by the Hungarian Sinfonietta conducted by Guntars Bernats.
A thoroughly enjoyable Christmas treat.
Reviewer: Velda Harris