The Nutcracker
Pyotr Ilyich Tchaikovsky, composer
Ballet Memphis with the Memphis Symphony
The Orpheum, Memphis TN
–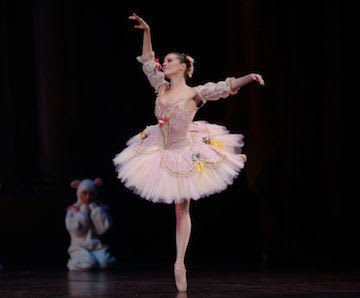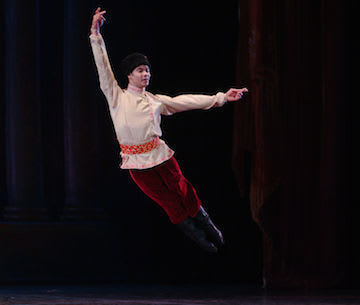 What would the holiday season be without a Nutcracker or two?
This particular version was two holiday gifts in one and thus a very special treat: it was a production of Ballet Memphis with the Memphis Symphony as the orchestra charged with reproducing Tchaikovsky's luscious music. Both organizations offered a great deal of pleasure to the family audience that saw it in Memphis's gloriously restored Orpheum Theatre.
The story of The Nutcracker is well known here in the States: every major city in the US offers a Nutcracker in December, it seems. At a Christmas Eve party, young Clara's godfather, Herr Drosselmeyer, arrives with a chest full of presents for all the children. Clara's is a magical nutcracker soon broken (deliberately) by her brother Fritz. Drosselmeyer binds it with a handkerchief and promises to fix it.
Later that night, Clara sneaks downstairs to look at the nutcracker and finds herself caught in a battle between the Nutcracker Prince (now her size since she has been shrunk to his scale), the gingerbread and toy soldiers and the Mice, led by the fierce Mouse King. After winning the battle, the first act concludes with a dance by the Snowflakes.
The second act is much emotionally weaker. Set in the Land of Sweets, it is mostly comprised of a number of speciality dances performed by coffee, ginger, tea and so on, each with fairly stereotypical nationalistic dances associated with the foods depicted. It concludes with a series of variations danced by the Sugar Plum Fairy and her cavalier and then Clara's farewell to the various sweets.
Nonetheless, Ballet Memphis pulled off both acts. They are one of the US's strongest regional dance companies—I've enjoyed their performances a number of times. The young dancers are both highly skilled and engaging, and seem to enjoy performing and being in front of their enthusiastic audiences.
While all the performers are strong (and the children enjoyable to watch), the height of the evening for me was the set of variations at the end of Act II. Besides being highly skilled dancers, Virginia Pilgrim and Brandon Ramey have an intimacy and connection that really works on stage. They also seem to be pushing their abilities to the max, with high lifts and toe work held long and extensions that are a real crowd pleaser. Hideko Karasawa is also exciting to watch as the Dew Drop Fairy with a real technical control that is a joy to watch.
There are some sloppy bits. Some of the stage movement and final moments of dances happen just a tad before or after the musical moment that should match them, and I was deeply worried when a dancer missed picking up a sword and left it on stage rather than coming back for it and getting it. That would have been bad in any production, but in a ballet it is downright dangerous for the performers. (A Snowflake saved the day by picking it up on her exit. Good for her!)
The production works, for the most part, though David Walker's sets are a bit cheesy, with the exception of the Land of Snow, which consists of trees covered with sparkles and gauze. It is by far the most magical of all the sets. (It is a difficult production to mount: The Nutcracker requires a number of transformations, set changes in plain view and a number of special effects including a Christmas tree that grows two or three times larger right in front of the audience.) Walker's costumes, though, are right on, and both gorgeous and imaginative.
The Memphis Symphony is also very strong, though it had its occasional problems, including something very wrong with the strings in the variations of the Sugar Plum Fairy and her Cavalier. Generally, however, the orchestra was very fine and did well in making this Nutcracker come to life.
The bottom line for any production of this ballet is simple—does it work for the audience? This one sure does. We enthusiastically applauded this Christmas tale once again. Every couple of years I find myself at a performance of The Nutcracker—I was glad to be at this one.
Reviewer: Keith Dorwick