The Ocean at the End of the Lane
Adapted by Joel Horwood from the novel by Neil Gaiman
National Theatre, Playing Field and Annapurna Theatre
Duke of York's Theatre
–

Listing details and ticket info...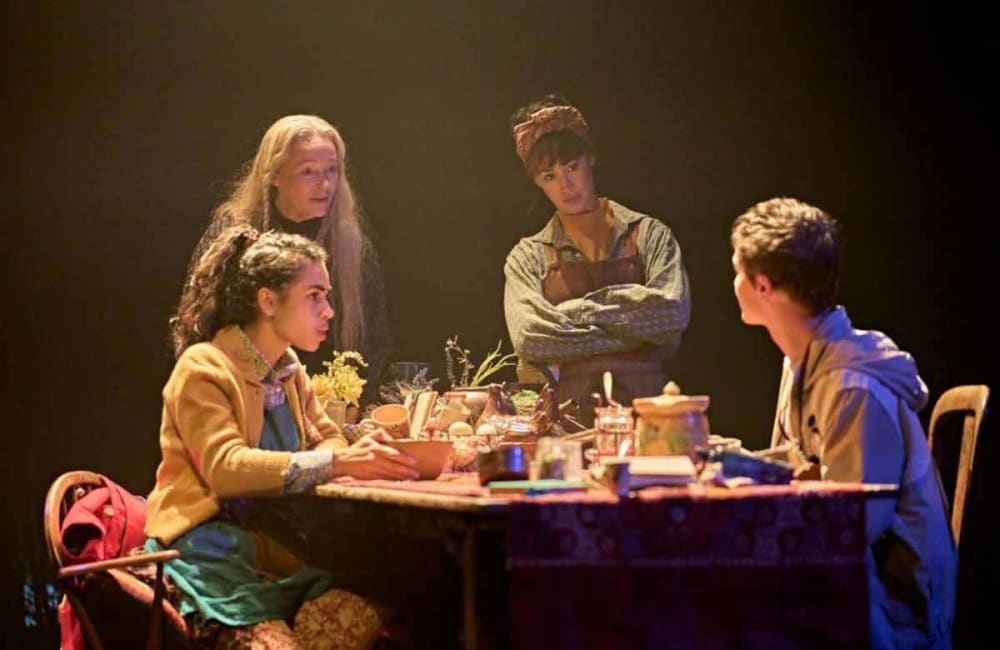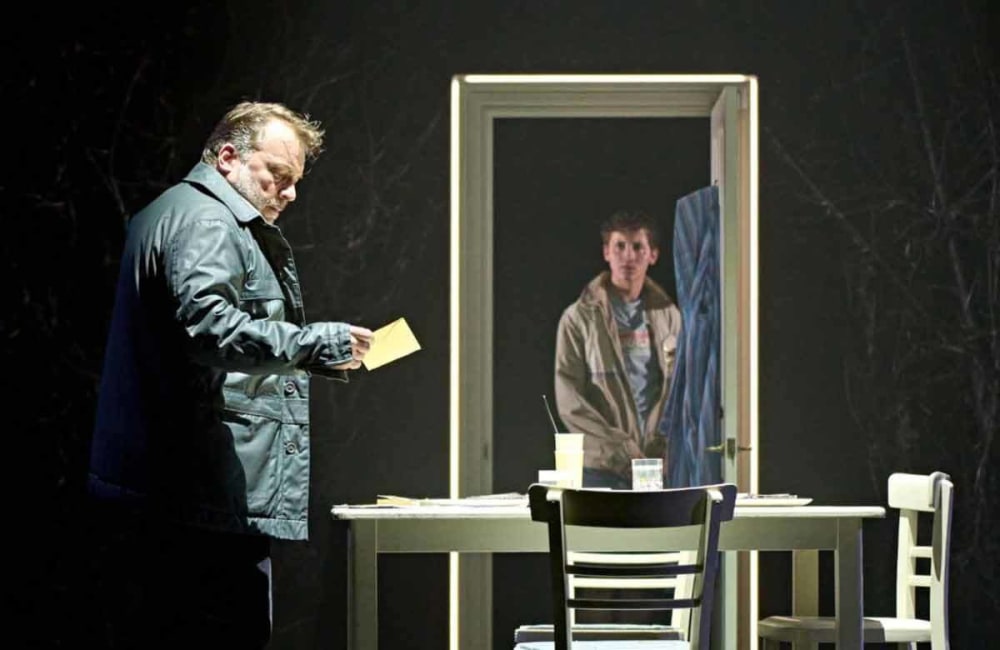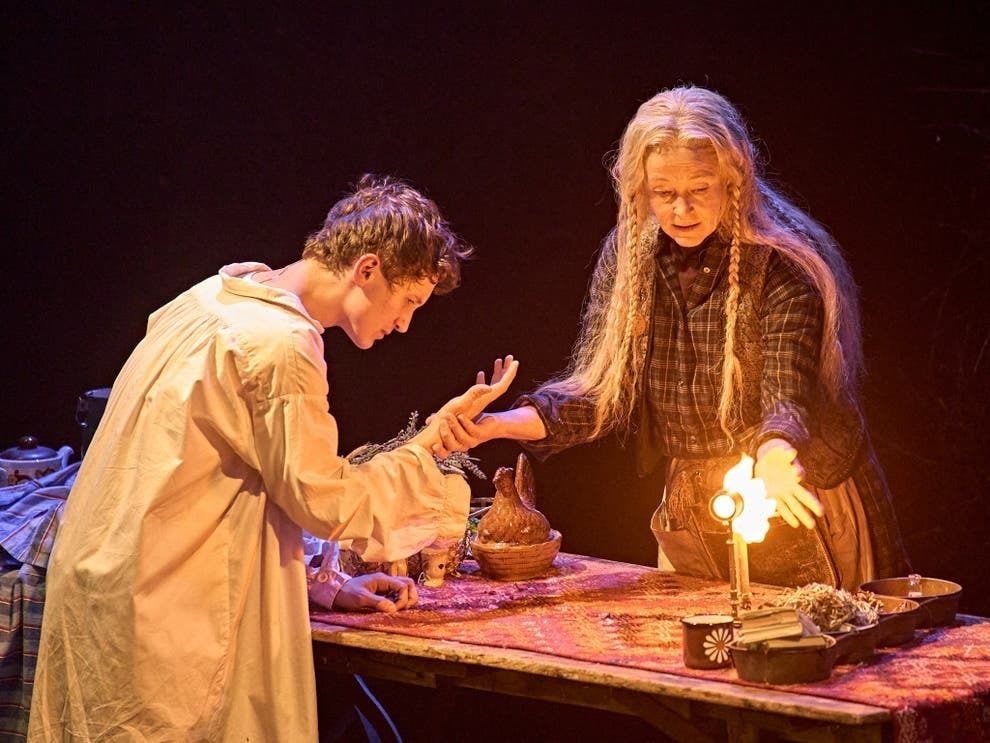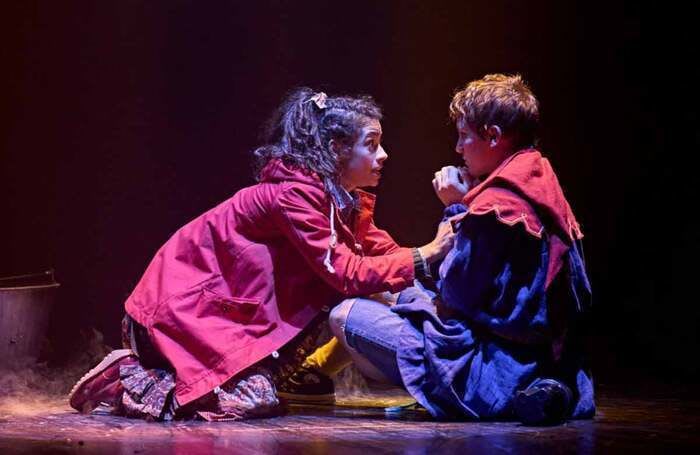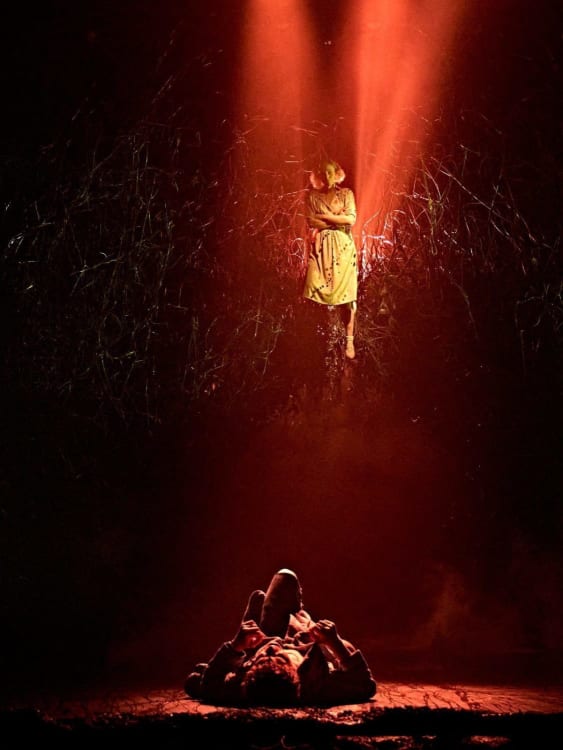 Nearly two years since it began its successful run at the National Theatre and delayed by the pandemic this adaptation of Neil Gaiman's magical novel at last reaches the West End with a changed cast and some refinements that draw the audience even more into the action.
It is a story that shifts between reality, memory and imagination. A middle-aged man has returned to where he grew up for his father's funeral and when wandering down the lane to a nearby farmstead, memory takes him back to boyhood. Suddenly, he is there on his twelfth birthday, a witness to a tragedy that his father tries to turn him away from, though soon he is going to be facing much greater challenges than their lodger's suicide. That is after meeting with the girl who lives at the farm with her mother and grandma: Letitia Hempstock, Lettie who gives him straight-from-the-cow warm milk.
At the end of the lane there is a duck pond, but what did Lettie call it? Her ocean, an ocean because it was magical, it could take you to another world. Lettie and her all-women family are a mystical matriarchy, they know about magic.
When a 50p coin appears in a fish's mouth and then he coughs one up on waking one morning, Lettie tells him it's something trying to get through from another world and together they set about stopping it—but he doesn't keep to her instructions and they are soon in a battle with the forces of darkness.
There is an alien that has used him to get through in the boy's own home, though his dad says she's come there to care for him and his younger sister. Since losing their mother, his dad has difficulty coping. He can't even make toast without burning it and frustration at his son's behaviour makes him violent.
There is a very dark side to this story but it is thrillingly presented through skilful theatre. There is puppetry that at different times is both frightening and lyrical thanks to Samuel Wyer and Finn Caldwell and illusions by Jamie Harrison that make the impossible happen.
The company ensemble we first see as mourners in the rain between the silvery thickets that line the lane become shadowy figures who materialise to move on the action like alien powers who can control furniture, doors and windows or magic up a bath filling with water. There is Jherek Bischoff's music, atmospheric and exciting, Ian Dickenson's sound design, Paule Constable's stunning lighting and Fly Davis set. They is all brought together to great effect under Katy Rudd's direction to make dramatic theatre. At its heart are a company delivering fine performances.
Nicholas Tennant is a dazed grown-up Boy, morphing into his bereft dad struggling to understand his bookish son: can't he see that boxing gloves aren't what this lad would want for his birthday? Grace Hogg-Robinson is the boy's selfish little sister, a real shrieker and Laura Rogers gives a cool menace to the blonde bombshell who arrives to give father a helping hand while hiding the malevolent monster.
The Hempstock household seems to offer what is missing at the boy's home: support and understanding, a table laden with tasty goodies. Penny Layden as grandma Hempstock looks a bit witch-like but she's gentle and kindly with a wry humour, while Siubhan Harrison's Ginnie is more restrained, very-practical with a feminist streak.
You'd never guess it but as Lettie, Nia Towle is making her theatre debut. She gives her a lively intelligence as well as meeting the role's vocal and physical challenges. Then there is James Bamford as Boy. He is a big lad, he may be a bit taller than his adult self (and indeed, we do seem to shrink under the weight of years) and his voice may have lost its childish treble but he effectively delivers the twelve-year-old, the outsider escaping his problems in reading, a boy who is anxious but doing his best to be brave. This pair of performers create a real bond and together they carry the audience with them.
Does it all really happen or is this adventure all in the imagination, something all in the head to match the struggles in real life? The Hempstock magic may wipe away memory but this production puts Gaiman's world on stage in a way you'll remember.
Reviewer: Howard Loxton