The Ocean at the End of the Lane
Novel by Neil Gaiman, adaptation by Joel Horwood
National Theatre
Sheffield Lyceum
–

Listing details and ticket info...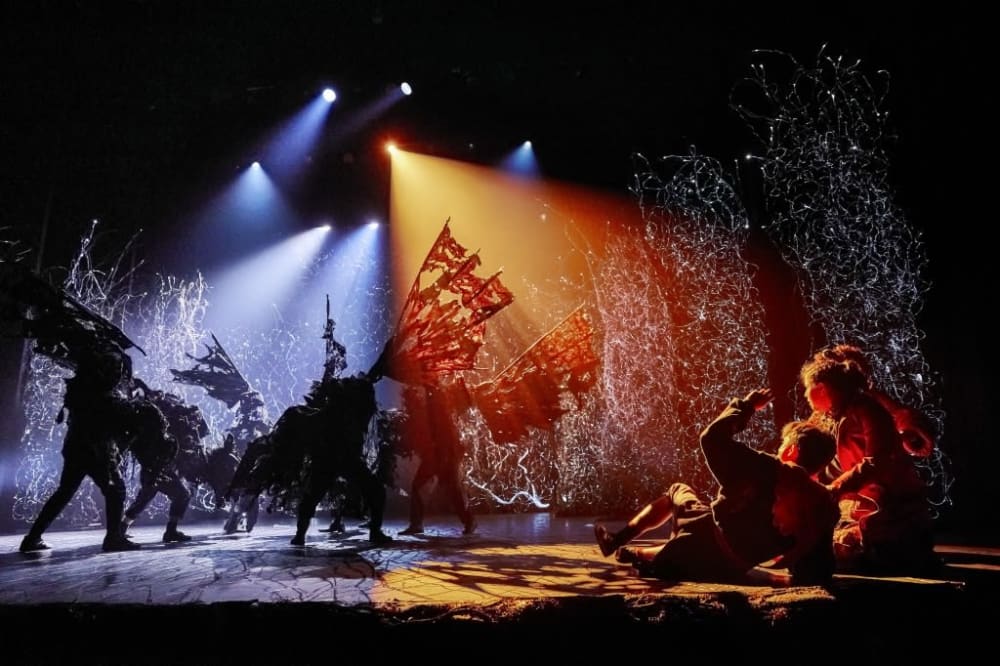 The National Theatre's acclaimed production of The Ocean at the End of the Lane is based on the novel by Neil Gaiman, who was inspired by an early childhood experience.
There was a farmhouse near the family home which dated back to the reign of William the Conqueror and was about a thousand years old. "What if the farmers who live there have been there since it was built?"
Years later, Gaiman weaves a tale influenced by myths and folklore, which includes fantasy and supernatural elements in the style of 'magic realism'. It is this that enables him to provide "a story about magic and farmhouse food, about history in all senses, about adults and children and survival."
The National Theatre's adaptation by Joel Horwood provides a clear account of the world occupied by the boy (Daniel Cornish), his Dad (Trevor Fox) and Sis (Laurie Ogden) before the terrifying 'fleas' or malignant supernatural beings are inadvertently released into the small community.
While the new nanny Ursula (Charlotte Brooks) is an evil, controlling spirit who is part of the dark conspiracy, it is the occupants of the farmhouse, Old Mrs Hempstock, her daughter Ginnie and granddaughter Lettie, who have a special knowledge about fleas, worm holes, Hunger Birds and other manifestations of the darkness and know how to counter their powerful effects.
Lettie (Millie Hikassa) gives an energetic and suitably eccentric performance as the girl who befriends the boy; Old Mrs Hempstock (Finty Williams) seems to have lived for eons and has well-trusted remedies for strange conditions; and Ginnie (Kemi-Bo Jacobs) presides over the table and conjures up magical meals.
The outstanding and thrilling aspect of the production is the staging and the choreographed episodes when the fearful creatures of darkness appear, accompanied by shrieking music and brilliant lighting effects. Much credit to director Katy Rudd and the whole creative team.
The pace and fluidity of the production is achieved by immaculate teamwork from the ensemble who make complicated changes while the action is moving from one set to another. In a scene in which Ursula is cruelly intimidating the boy, she appears and reappears with remarkable speed from one corner of the stage to another. The effect is cinematic. But this is stage magic.
Towards the end of the play, Lettie appears with a bucket, which is supposed to hold the Ocean. How could it possibly be big enough to immerse the boy? The answer is ingenuity. The shocking bathroom scene is also very cleverly managed and requires considerable athleticism from the boy.
The play is a rite of passage for the boy. He learns to be brave, to make a friend and to and to cope with his father's aggressive episodes. Gaiman reminds us that, although the exterior landscape has changed, the interior landscape, the responses and emotions of the characters are all true. "The view is from the inside." It is this that makes it particularly effective theatre.
Reviewer: Velda Harris