The Odyssey
Vic Bryson, Sarah Sigal and Michael Wagg
Teatro Vivo
The Albany
–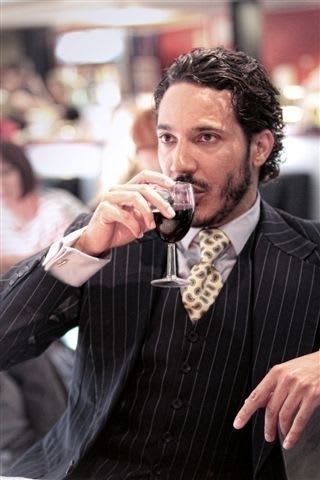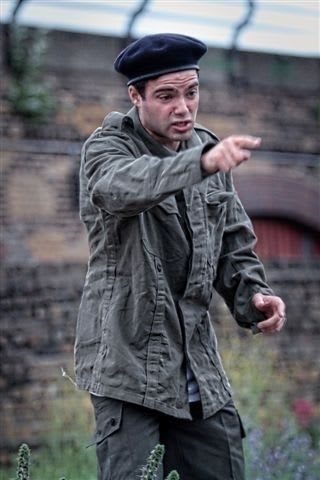 This reworking of Homer's epic is a promenade production in which Odysseus's son Telemachus sends the audience out into the streets of Deptford in an attempt to discover what has happened to his father. It is not, therefore, a straight telling of the story, the audience have to work that out for themselves from the fragments of information that they pick up on the way.
It begins and ends in the Albany café, which becomes the palace of Odysseus on Ithaca. Here, twenty years after Odysseus departed for Troy, the audience gather as guests along with the parasites who have come as suitors who want to marry Odysseus's wife Penelope. Penelope herself makes a brief appearance and, in conversations with her suitors and the maids, the situation is established and Telemachus asks for help. It goes on perhaps a little too long, but has to take time to inform both early-comers and those arriving at published start time. Eventually Telemachus dispatches four groups of helpers, each provided with some carefully chosen resources that may be needed. They go off to visit the places his father may have been. Can they find Odysseus or at least discovering what has befallen him?
There are gods and mortals along the way who may guide them forward or give information, sometimes demanding something for it, and Telemachus himself sometimes manages to join them. Eventually guided back to Ithaca they are there to witness the bloody ending of the epic in the palace.
The audience's journey does not retrace the voyage of Odysseus from Troy nor follow the journey that Homer sends Telemachus on, though it presents some of the situations and places from Homer. For those who know the Odyssey well there will be an added layer of interest in trying to identify the characters as you meet them, but this also imposes a problem for it inhibits questioning and influences behaviour. For instance, if you already know what happened to Polyphemus you are hardly going to mention Odysseus to him and will be very wary of entering his cave. You will certainly have recognized the identity of the homeless guy who turns up selling jokes, something you have to ignore or it undermines the rest. Things probably works best if you don't know the story but even I you do that doesn't mean you can't play along and enjoy what happens.
Despite its origins this is a contemporary Odyssey, with television newscasts, mobile 'phones and modern dress. No one questions why Odysseus has not used modern technology to get in touch. The plot is still set 3,000 years ago in legend. Twenty-first century elements are there to give a modern sensibility and meld the characters with the audience: chitons and sandals would make them too exotic. Similarly, though actually set in the streets of Deptford, when crossing a road Telemachus refers to it as a body of dangerous water and the audience are temporarily in his world. Easier perhaps for local residents than for those from further afield for whom these streets are also a new adventure.
The effect becomes a peripatetic experience of the real world with a layer of imagination so that it is always possible that the person in the street is actually part of the performance. A couple of guys and their playful dog, for instance, took on an unintended significance, and characters from Homer gained a new perspective. There is a soldier who blindly followed Odysseus who, having been assured there is no danger, was climbing over rocks to face the many-headed Scylla when he suddenly realised his general was kitted out with protective armour. Achilles, looking back would rather have led a long quiet life as a farmer than a brief flash of glory as a hero.
Among others encountered along the way, roles I believe played by community volunteers are what could be a child soldier, marching forever in the dust and chanting an unknown language, musicians and preachers all making their own comment on contemporary war. There is an encounter with a captivating Siren, not at all like the ones envisaged by Homer, a couple of female anthropophagus whom I couldn't put a name to, and a visit to the underworld where its guardians enumerate the long list of those Odysseus brought to their deaths.
Telemachus thinks of his father as a glorious hero, with no awareness of the wily Odysseus, those on the journey may begin to have a slightly different picture of heroes and glory and by the time the evening is over may be thinking more about ethnic cleansing in the Balkans or Africa. A summer evening exploring Deptford was brought to an end with the realpolitik with which Odysseus insists on the necessary death of Astana and instructs Telemachus on now necessary action. It is shattering to see the effect on the friendly young man who has been with us on our journey. Is this still what it means to gain manhood?
This is very much an ensemble piece. Director Sophie Austin has drawn performances from her cast that are fully interactive with their audience. The programme does not itemise casting but I believe I recognize William Close as the ingenuously engaging Telemachus and Mark Stevenson is an implacable Odysseus (and perhaps also Polyphemus, for most of the cast are doubling roles). Rebecca Peyton makes a garrulous Eurycleia, touchingly upset at the death of Argus, Jason Eddy is the philosophical Achilles, Tom Ross-Williams the still baffled disillusioned soldier and Michael Wagg the ghost of Hector—all very different from their Bullingdon Club type suitors.
Kas Darley a rather frantic abandoned Calypso (or is she Naussica, the character could be either) a contrast to Houda Echouafni's Penelope, stoically waiting with a drink in her hand (and perhaps not quite so faithful as Telemachus thinks her). Natasha Maggi is the official in charge of admissions to the Underworld, making her implacable and welcoming at the same time and Natalie Ball plays Andromache as well as a maid whose being two timed by one of the suitors.
A hard working cast who manage to be in the right place at the right time and smoothly interact with the audience.
Reviewer: Howard Loxton