The Odyssey
Phil Willmott
Gods and Monsters
The Scoop
–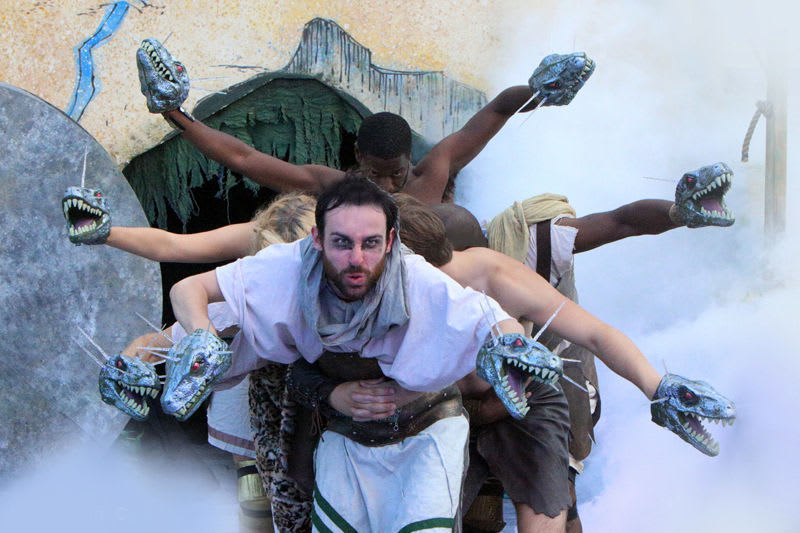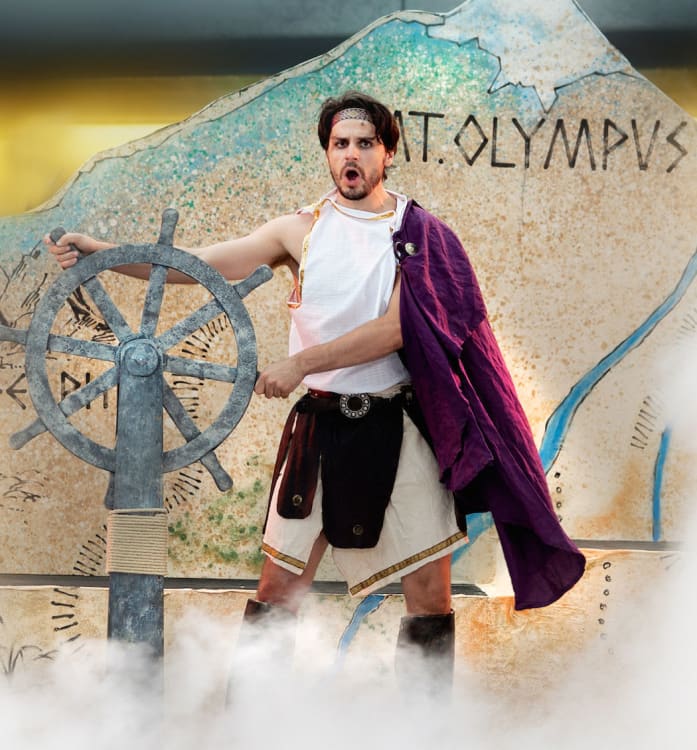 Freely adapted by director Phil Willmott from Samuel Butler's late Victorian translation of Homer, this year's Free Theatre show from Gods and Monsters packs wily Odysseus' epic journey into one evening.
There is no early evening separate play for younger audiences, but the first part of the story, which starts at 6PM, is planned to appeal to them. It sets the background to the story with Odysseus embarking for Trojan War, jumping rapidly over those years and then, optimistically singing "The Greeks Are Going Home", begins the story of their return voyage.
After a succession of adventures, not necessarily in Homer's order, it reaches Odysseus setting off in search of Circe's island before taking its first break.
After a half hour interval, the second part (at 7:30PM) is more adult, largely concerned with Odysseus' amorous entanglements with Circe, Calypso and Nausicca while his son Telemachus, now a grown youth, sets off to seek news of his father.
Part three (9PM) deals with events when Odysseus at last returns to his homeland, revealing himself to his son and punishing the horde of suitors who have been besieging his wife Penelope wanting to marry her and take over his kingdom while meanwhile exploiting her hospitality. It's a bloodthirsty revenge, however (almost) bloodlessly presented.
Like Shakespeare, Willmott asks the audience to use their imagination, he offers lively, very visual enactments (there is an excellent many-headed Hydra rising from mist-covered waters), colourful costumes and a beautiful model boat for a goddess to send Odysseus onward but there's much that's mimed: the stringing of Odysseus' massive bow, for instance, and its deadly firing, skilfully presented in a performance that blends enactment with the mind's eye.
The adaptation is indeed a very free one for, as it tells us, passing down a story through many tellings sees each version making changes. Odysseus' sister joins his crew for instance (in Homer she's married to crewman Eurylochos), seer Tiresias too. Also aboard is Ithaca herdsman Philotios, now made a butcher's boy who wants to be a ballad singer and, delightful inspiration, the dog Argos also bounds enthusiastically aboard.
There isn't time for all the Odyssey's adventures. In fact the script tries to pack in too many, in a deluge of information too much to absorb, especially when a whole episode, such as the giant Lastrygonians, is cut down to a single sentence.
You certainly get your money's worth but the middle section does become rather muddled. The format is very much storytelling passed from one performer to another, characters often describing what they are doing as they present it. It is smoothly done and at a brisk pace. Longer episodes of character dialogue would be very welcome but bold characterisation with a comic edge helps hold the attention.
Henry Wyrley-Birch plays Odysseus as a classical hero, rather than the cunning schemer, which makes him suitably noble compared with his less disciplined crewmen. Lawrence Boothman is extravagantly Scots as the cynical Eurylochos, P K Taylor a testy Tiresias, Lincoln James Herecles and Molly Crookes female warrior Ktimene (and goddess Athena) and Alec Porter presents a Philotios who deserves a boy band to back him and Toyin Ayedun-Alase also joins them rowing Odysseus' ship (as well as playing the king's loyal servant Antiphata).
Rebecca Layoo is a right royal Penelope, left behind in Ithaka with her son Telemachus who, almost grown up, is played by Adrian Decosta. They and all their colleagues not only share narration but play a host of other characters: gods and goddesses, kings and queens, monsters and seductive beauties and there is an intriguing recasting of Odysseus on his return to Ithaka when he is transformed into an old man.
The Lotus Eaters and the Siren stories have been run together to make one. It brings great danger for Odysseus and his fellows but great fun for the audience as flower garlanded islanders singing their luscious lotus song with sexy undulations. The Cyclops involves some puppets but his blinding is pretty horrific, even though it comes in the first play but Aeolus and his bag of winds is an excuse for fart jokes, always popular with youngsters.
Children's favourite, and mine too, must be Argos. How he gets back to Ithaca to play his part in the final stages of the story has no explanation but it is great to have him on the journey and Adrian Dacosta's lollop-tongued canine is absolutely irresistible.
This production forms part of the London Bridge City Summer Festival. The Scoop is open air so subject to the weather but performances Wednesday-Sundays take place unless very heavy rain makes them dangerous. There is no booking. It can seat 1,000: just turn up. You can see the whole three shows in one evening (6-10PM) or catch them separately on different nights.
Reviewer: Howard Loxton